Bothell man fundraises for mechanical CPR device for EMTs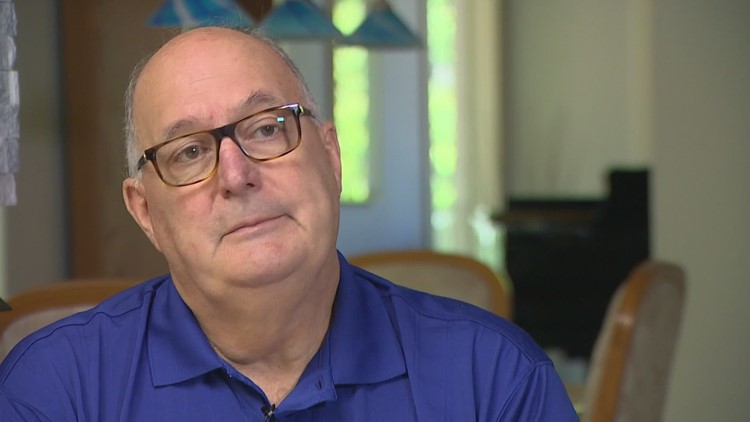 Ron Baker is raising money to better provide for the volunteer EMTs who saved his life.
BOTHELL, Wash. — As Ron Baker and his wife Fay embark on the journey of a lifetime, it quickly leads to a painful medical emergency and a renewed drive to help others.
Baker, from Bothell, said: "The first thing the doctor told me was that I was a lucky son of a gun.
In five weeks, the couple traveled 8,000 miles across 13 states. But the last 50 miles of the trip are the most memorable. Baker and his wife are in a remote area of western Utah digging for fossils when he started having chest pain.
"I called 911 and realized there was absolutely no cell service where we were," Baker said.
The couple started driving, but they were 50 miles from the nearest hospital in tiny Delta, Utah, a town with a population of about 3,600.
When they finally connected an ambulance, Baker lost consciousness and paramedics performed CPR on him for more than 20 minutes.
"The way I understand it, they just keep spinning. People just keep working on it. They never let my heart stop," Baker said.
By the time he got to the hospital, however, Baker had become flat. Doctors administered cardiogenic shock three times to revive him.
"I'm dead," Baker said. "They told me I was their miracle."
The severity of Baker's death and that of others in a similar situation occurred the next day when two EMTs volunteered to visit him at the hospital.
"They said, 'Ron, we usually don't talk to the people we pick up. Most of them don't."
That part of Utah is so remote, EMTs say too many people die on the way to the hospital.
"I told my wife, we have to do something for these people," Baker said.
That "something" was a mechanical CPR device that applied continuous chest compressions and freed the paramedics to perform other life-saving procedures. It was especially relevant because those paramedics performed CPR tirelessly on Ron to keep him alive during the trip to the hospital.
"The machine dramatically improves survival rates," says Baker. "Every second is."
One problem in securing life-saving devices is cost. Each device costs about $20,000.
"I can't sit here right now."
Fay and Ron Baker just celebrated their 36th wedding anniversary and Ron Baker will turn 70 in a few weeks.
As the couple looks back on their terrifying ordeal, they say they are grateful that there are still many more memories to be made.
"They call me their miracle," Baker said. "I said, if I'm a miracle they're miracle workers because they're the ones who made this happen."