Brittney Griner moves to Russian penal colony; exact location unknown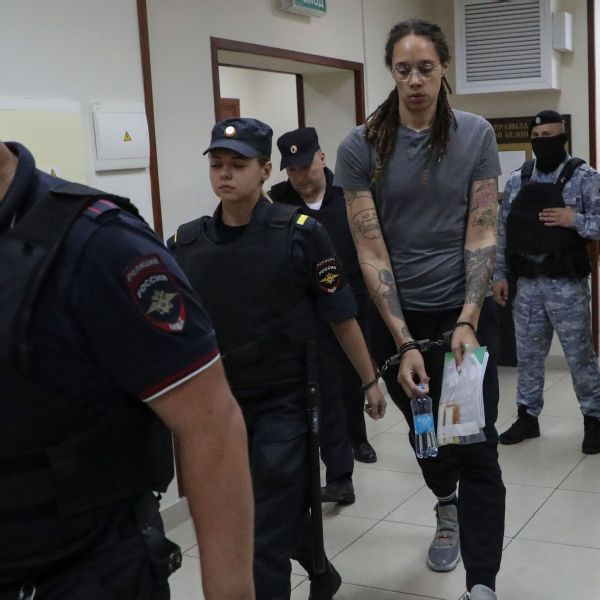 Brittney Griner is about to be transferred to a Russian penal colony — a move her family has feared since Griner's drug-related conviction in August — but her lawyers don't know where she is or where she's going, her Russian legal team announced early Wednesday in Moscow.
The transfer began on Friday, her attorneys said, a day after US embassy officials visited her and well ahead of the schedule they expected after Griner's Oct. 25 appeal was denied. Typically, her lawyers said, transfers took weeks or months. Griner's attorneys and US officials did not know until Tuesday that she had been moved.
Griner's family may not know where she is for some time; According to their lawyers, "Notification is sent by official mail and normally takes up to two weeks to arrive."
Russian penal colonies are known for having far harsher conditions than the Moscow prison, where Griner has been held since her incarceration in February.
"Every minute that Brittney Griner has to be unlawfully detained in Russia is a minute too long," White House press secretary Karine Jean-Pierre said in a statement early Wednesday morning. "While the government works tirelessly to secure her release, the President has directed the government to persuade her Russian captors to improve her treatment and the conditions she may endure in a penal colony."
Griner's agent Lindsay Kagawa Colas also released a statement Tuesday night, saying, "Our primary concern remains the health and well-being of BG. As we work through this very difficult period of not knowing exactly where BG is or how she is doing, we ask for the support of the public to continue to write letters expressing their love and care for her."
Colas said her team remains in "close contact" with the US government and the Richardson Center, a private organization led by Bill Richardson that works to bring imprisoned Americans home. Both the State Department and Richardson, a former US ambassador to the United Nations, "are using every available resource to determine their whereabouts, ensure their safety and get them home," Colas said.
"We are grateful for everyone's support and hope that BG and all wrongly imprisoned Americans will show mercy as they face nine months of imprisonment and return to their families over the holiday season."
Griner's last contact with anyone from outside the prison was on Thursday, when US embassy officials were able to visit her. She had last seen her lawyers a day before.
Her family declined to issue a statement in the United States late Tuesday.
Griner pleaded guilty to drug smuggling in July. US officials said in May that Griner was wrongly imprisoned, calling her trial and appeal political theatre. After an appeals court upheld her conviction two weeks ago, US Secretary of State Antony Blinken said the decision was "another judicial failure that compounds the injustice of her detention."
US officials said they made a "serious" offer in June in exchange for Griner's freedom but have yet to receive what they believe to be a legitimate counter-offer, which the White House reiterated in its statement Wednesday despite additional attempts.
"In the ensuing weeks, despite a lack of good faith negotiations by the Russians, the US government has pursued this offer and proposed alternative potential avenues with the Russians through all available channels," the statement said. "The US government remains steadfast in its work on behalf of Brittney and other Americans incarcerated in Russia — including fellow inmate Paul Whelan."
Officials said they hoped that after Tuesday's midterm elections, Russia would be more inclined to negotiate in good faith, knowing that Vladimir Putin's administration did not want to give President Joe Biden a potential political victory.
Griner was arrested at an airport near Moscow on February 17 as she attempted to enter Russia to join her club team in Yekaterinburg.
In a statement, her lawyers said: "Neither Brittney's family, including her wife Cherelle, nor her Russian legal team will have any further explanations or press availability at this time."
https://www.espn.com/wnba/story/_/id/34982248/brittney-griner-moves-russian-penal-colony-exact-location-unknown Brittney Griner moves to Russian penal colony; exact location unknown