Brittney Griner's nine-year prison sentence 'compounds the injustice' against her, Secretary of State Antony Blinken says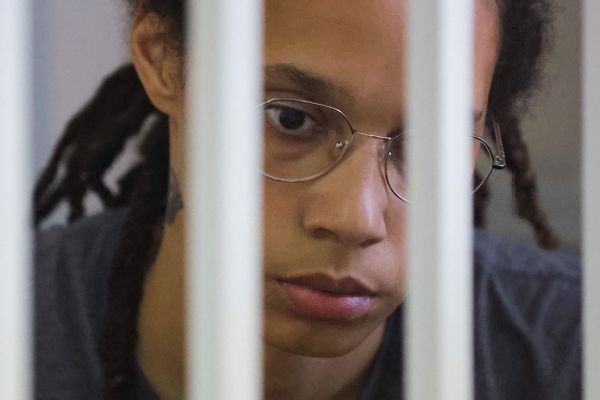 US Secretary of State Antony Blinken says the nine-year prison sentence against WNBA star Brittney Griner "adds to the injustice" she has suffered since her arrest in Russia earlier this year.
"It highlights our very significant turnaround with the Russian legal system and the Russian government, which is using wrongful arrests to advance its own agenda by using individuals as political pawns," Blinken said Friday at a meeting with the Association of Southeast Asian Nations in Cambodia.
Griner was found guilty Thursday and sentenced to nine years in prison and a fine of 1 million rubles (about $16,700). She was arrested at a Moscow airport on February 17 after e-cartridges containing hash oil were found in her luggage.
The verdict and sentencing were anticipated moves toward an exchange to bring Griner back to the United States, as Russia would not proceed with a deal until her trial was complete.
Russian Foreign Minister Sergei Lavrov appeared to confirm this Friday when he said Russia was ready to discuss a prisoner swap privately. Lavrov said President Vladimir Putin and US President Joe Biden had previously agreed on a diplomatic channel to be used to negotiate a possible exchange.
"We are ready to discuss this issue, but within the framework of the channel agreed upon by Presidents Putin and Biden," Lavrov said in Cambodia. "If Americans decide to resort to public diplomacy again … that's their business, and I would even say it's their problem."
Blinken has suggested the possibility of a prisoner swap for Griner and another American jailed in Russia, Paul Whelan. Sources have told ESPN's TJ Quinn that a deal would also include convicted Russian arms dealer Viktor Bout, who is serving a 25-year sentence in the United States.
White House national security spokesman John Kirby said Thursday after Griner's sentencing that the United States had made a serious proposal to Russia without giving further details.
"We urge you to accept it," Kirby said. "They should have accepted it weeks ago when we first did it."
Russia and the United States conducted a prisoner swap in April, swapping former Marine Trevor Reed for Russian pilot Konstantin Yaroshenko, who was serving a 20-year sentence in the United States. American officials had sought this exchange after Reed was reportedly in poor health, and it was taken by Griner's supporters as a sign of an open diplomatic channel between the two countries.
Kremlin spokesman Dmitry Peskov declined to comment on the court's verdict on Griner. When asked if she could be pardoned, he said the clemency procedure was laid down in Russian law.
Griner's defense attorneys have also appealed. The defense team said that in sentencing, the court ignored all the evidence it presented and Griner's guilty plea.
Biden on Thursday called Griner's sentence "unacceptable" and urged Russia to "release her immediately so that she can be with her wife, loved ones, friends and teammates."
The Associated Press and Reuters contributed to this report.
https://www.espn.com/wnba/story/_/id/34350486/brittney-griner-nine-year-prison-sentence-compounds-injustice-secretary-state-antony-blinken-says Brittney Griner's nine-year prison sentence 'compounds the injustice' against her, Secretary of State Antony Blinken says