Broken, bloodied and ultimately beaten but John Ryder earned huge respect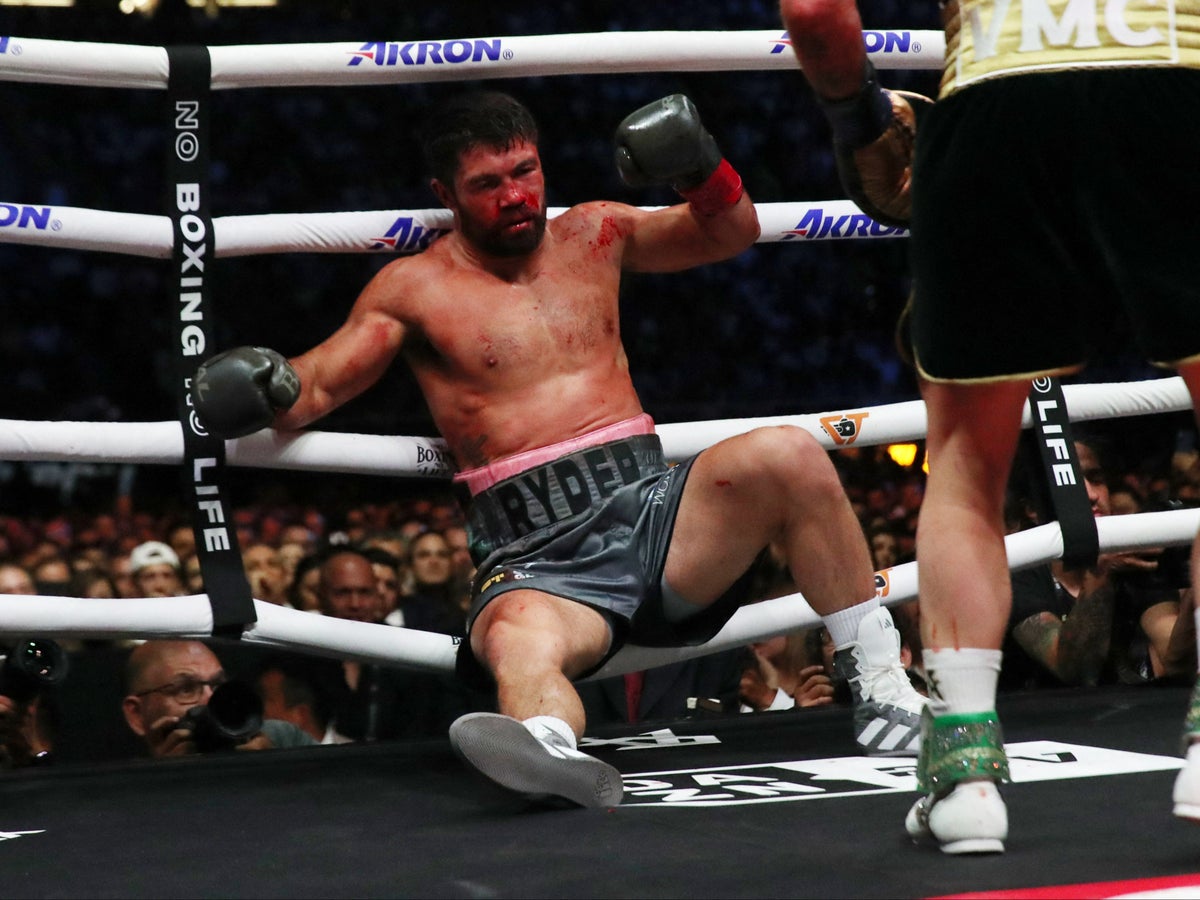 Blood was still dripping from John Ryder's broken nose as he sat down to address the media crowd gathered in the bowels of the Estadio Akron just before midnight local time.
The bone was shattered in the second round when Saul "Canelo" Alvarez landed with a sharp right hand. He was dropped heavily three rounds later as he swallowed back a steady stream of his own blood to keep breathing.
"I felt it go immediately," Ryder said, wiping blood from the table in front of him. "It knocked me out for a few rounds but it is what it is."
Despite all that, Ryder made it through all 12 rounds of his fight for the Mexican icon's four super middleweight belts on a night he will remember for the rest of his life. It was a performance that led Canelo to cite Ryder as the best of the eight British men he now wins.
By the time Canelo made that assessment at his press conference in the early hours of Sunday morning, Ryder was already back at the fight hotel, battered, injured and with a bandage around his nose, but surrounded by the friends and family who had made the trip. By then he would have seen the tremendously positive response to his brave performance from around the boxing world.
And although the north Londoner suggested before the fight he would only fight as long as he wins, Ryder has vowed to carry on after bolstering his reputation in defeat.
"I think I'll keep going," he said. "I'm having a lot of fun in this fight even though I had a broken nose. Ultimately, however, I will sit down with the team and my family and simply evaluate.
"I don't regret anything, I could have simply done without being hit by that blow in the second round, then it could have been different. But I'm just glad to have another day and fight another fight. I'm sitting here looking like an absolute victim with my nose in a cast, but listen, I dared to dream and fell short.
"The prevailing feeling is that I'm disappointed, but I'll sit down with my team now and see how it goes.
"Getting away with a win was the ultimate goal, going the distance is not. I struggled with that for a while, but it wasn't that close on the scorecards. moral victory? Maybe yes. But I came here with a dream and I didn't achieve it.
"I'm just devastated. I've put so much into the sport over the past few years and I haven't always landed on the green. I came here with a dream, but I fell short – this is boxing. I won't be the first and I won't be the last."
It looked like Ryder might be on the verge of a break in round five when a direct, hard one-two combo sent him staggering back against the ropes and then onto the canvas. But the man known as the gorilla says it was the spirit of another famous British super middleweight that got him through the crisis.
"That's all the time I've been with Nigel Benn," said Ryder, who trains at Tony Sims' gym alongside Conor, the former world champion's son.
"I was like, 'What would Nigel Benn do? He came out swinging. He would probably knock him out though. Unfortunately I didn't do that. Listen, I'm in the gym with great fighters and idols so I can benefit from the best in the business."
Canelo had predicted during fight week that he could get rid of Ryder within six rounds and even said he would retire from boxing if he was beaten at Akron Stadium. And Ryder believes his inability to ascertain that break is evidence the 32-year-old is on the decline after 63 fights as a pro.
Speaking of Canelo, Ryder added: "He was very good but I think he's past his best but he still had enough in the tank tonight.
"Why is he past his best? Because he couldn't get me out of there. His plan was to stop me and he didn't. I know I got a great shot in the fifth round but I came back with momentum and had some good rounds after that."
But Canelo only smiled when told later about Ryder's assessment.
"It's a win for them not to get knocked out, right?" said the Mexican. "But we have to give him credit. He came to fight. His preparation was very good and I respect his fight.
"He's strong. He did everything in the ring and I expected that. I've seen him fight with the other guys and he's tough. I think he's the best British fighter I've seen ever met."
This was Canelo's first fight in his hometown of Guadalajara since 2011 when he defeated another Brit, Ryan Rhodes, across town at Arena VFG. Since then he has become a true boxing superstar and the sport's biggest attraction.
This weekend in Cinco de Mayo, more than 50,000 people packed the stadium where the Mexican first division club Chivas play their home games. And while he didn't get the break he wanted, Canelo said: "Tonight was more than I expected. I'm just proud to fight here with my people and bring this kind of fight to them. You deserve it and it's more than I expected."
Now looking ahead to their second date this year, Mexico's Independence Day, which falls on September 16, Canelo has confirmed he's hoping for a rematch with Dmitry Bivol, who defeated him 12 months ago.
"That's my goal this year," he said. "But you know, if that fight doesn't happen – we'll see – but that's my goal for this year."