Brooks Koepka 'choked' at the Masters – only to return stronger than ever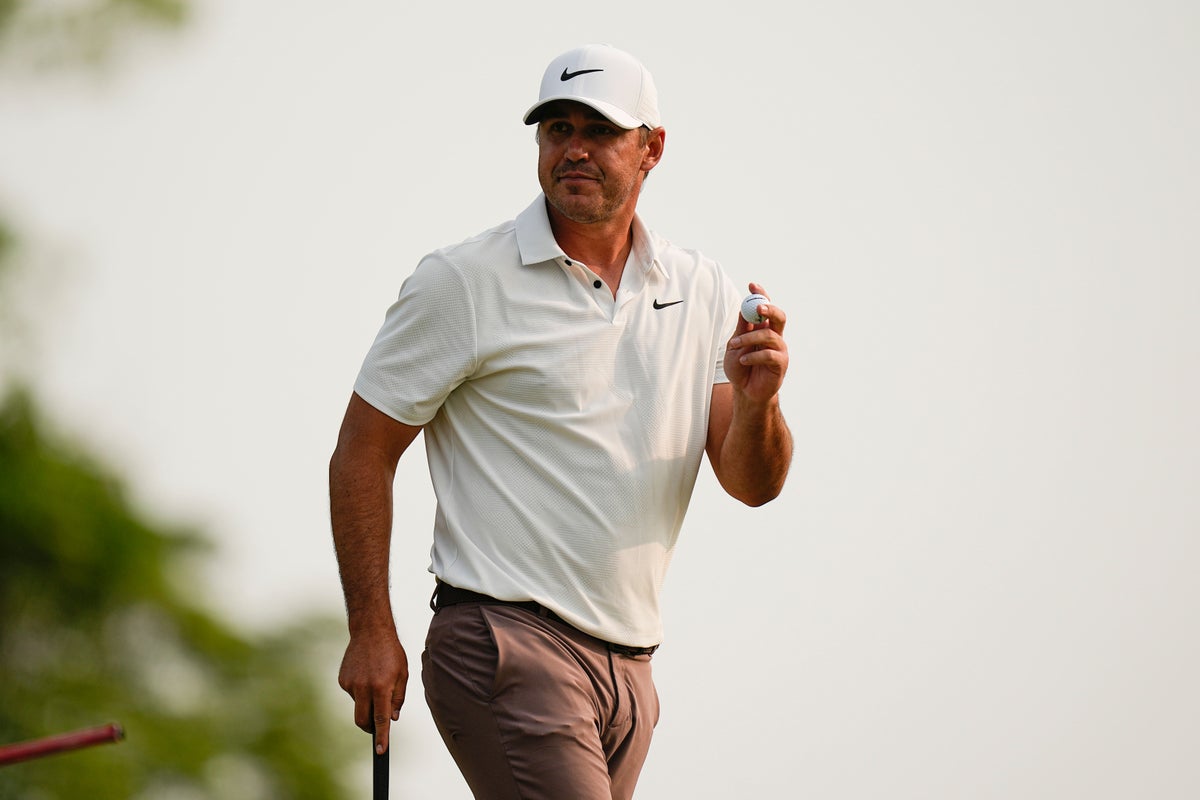 Six weeks after feeling "choked" in the final round of the Masters, Brooks Koepka kept his cool as he overcame a spirited challenge from Viktor Hovland to win the US PGA Championship at Oak Hill.
Koepka hit a final 67, finishing nine under par to claim his third US PGA title, fifth overall Major title and first for a player in the Saudi Arabia-sponsored LIV Golf League.
Hovland traded blows with Koepka until a costly double bogey on the 16th, but a birdie on the 18th gave the Norwegian a deserved share of second place with Scottie Scheffler at seven unders.
Koepka took a lead over Hovland and Corey Conners in the final round after having that double lead after 54 holes of the Masters in April.
The 33-year-old managed a final 75 at Augusta National and finished second to Jon Rahm. He felt like he was suffocating under the pressure, but drove those demons away at the first opportunity.
The former world no.
Hovland also birdied on the fifth to close the gap and was only a single shot away when Koepka continued his drive on the sixth at Allen's Creek and failed to make par.
Koepka doubled his lead with a birdie on the 10th, only to find himself closing in on the next plug in a bunker on the green.
After shooting to within 12 feet, Koepka saw his par attempt fail with the lip, and although he immediately recovered to birdie on the 12th, he couldn't shake a feisty Hovland.
The 25-year-old, in contention for a third consecutive Major title, used the par-five 13th to keep the pressure on and both men birdied from the short 14th to get out of it to race two horses.
But in a copy of what happened to Conners in round three, Hovland drilled his second shot into the face of a fairway bunker on the 16th to set up a double bogey.
Koepka's birdie gave him a four-shot lead and he could afford to bogey on the 17th and par on the final shot for an impressive win.
Scheffler was within two points of the lead thanks to birdies on the 10th, 13th and 14th, but had to wait until the 18th to grab another shot and post an excellent 65.
World No. 1 Rahm commented for CBS after a final 71 that gave him seven over par and was full of praise for Koepka after his brilliant start.
"He's a player who, when he goes into the race, is like a shark in the water," said Rahm.
"He smells blood, especially at classes like this. It suits his mentality to keep calm, move forward and seize opportunities when they present themselves.
"He was aggressive and I don't think people realize how dangerous some of these holes are. Being that accurate (to the second): moving a meter straight up the hill is incredible."
Open champion Cameron Smith recorded his lowest round of the week so far with a final score of 65 and stressed that it should come as no surprise that he and other LIV players like Koepka were able to compete at the highest level.
"I gave up that narrative about six months ago," Smith said with a smile. "I think there were a few people trying to push it a little bit.
"We're still out there. We haven't forgotten how to play golf. We're all great golfers and we know what we're capable of and I think that's what we're trying to do."
Rory McIlroy started the day five strokes behind Koepka and got off to the ideal start with a birdie from tap-in distance on the first but missed two of the next three holes and eventually secured a third straight 69.
McIlroy at least had the best seat in the house for an exceptional performance from playing partner Michael Block, the 46-year-old club professional who scored a hole-in-one on the 15th in a closing 71 that secured a spot in the Valhalla field next year .
Justin Rose was just three points from the lead when he birdied in game one and chipped in game two to save par, but had to settle for a final 71 to finish one-under.
Compatriot Tyrrell Hatton was left to mourn a nightmarish opening round of 77 points after scores of 68, 69 and 67 proved what was possible and left him tied in 15th place.