Buenos Aires protester dies of heart attack apparently suffered while being detained by police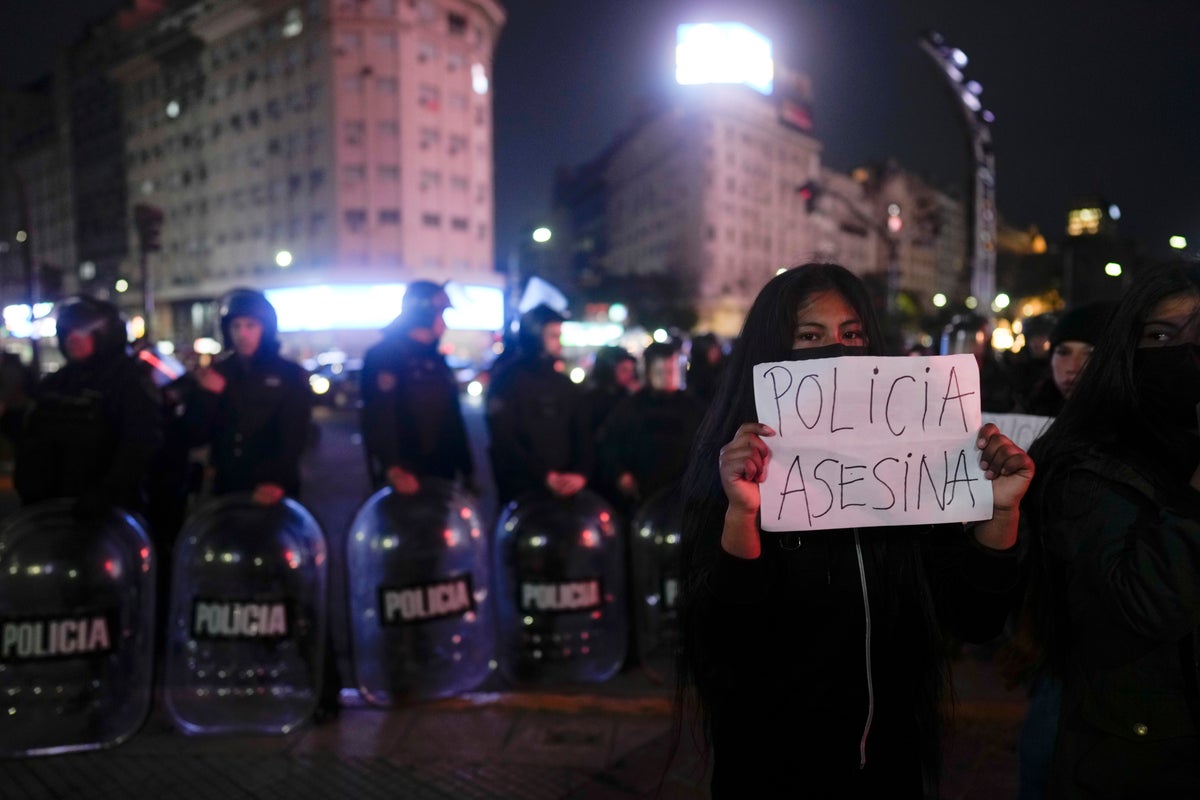 A left-wing political activist who attended a protest just days before Argentina's national primaries died Thursday of a heart attack he suffered while being arrested by police, authorities said.
Video posted to social media shows Buenos Aires Metropolitan Police holding the man face down on the sidewalk as the person filming starts screaming, "He's purple!" He's purple! He will suffer an attack. It's purple!"
Video shows officers turning the unresponsive man over and performing CPR on him before taking him to a hospital. He later died, the city government said in a statement.
"The causes of death are related to cardiac arrest due to risk factors," the statement said. It described the man as "between 40 and 45 years old" but did not give his name because he did not have a document with him.
Police detained the man and several others around the capital's famous obelisk as they tried to break up the protest, which several left-wing groups had called for.
The death could spark anger ahead of Sunday's primary elections, which will see Buenos Aires Mayor Horacio Rodríguez Larreta among the top two candidates to run for president of the main opposition coalition.
"I would like to highlight and fully support the actions of the municipal police, who have been professional in containing the acts of violence," the mayor said in a statement released on social media.
City Security and Justice Minister Eugenio Burzaco said in an interview with local broadcaster América that protesters responded "with sticks" when police tried to disperse the protesters.
"Then the police arrested five attackers and after a few minutes one of them went into cardiac and respiratory arrest," Burzaco said.
People at the scene identified the victim as Facundo Molares, a photographer. The protesters denied trying to block the road or doing anything to provoke the police.
"We came together to hold a meeting with our colleagues to discuss the situation in the country… we don't know why (the police intervened). We didn't do anything, we didn't block the road. We weren't violent, we didn't do anything," said one activist, Delia Delgado of the Teresa Rodríguez organization.
Later in the day, activists gathered around the obelisk holding a large sign that read, "Facundo was murdered by the state."
The death came as Argentines suffered the killing of an 11-year-old girl in a robbery in a Buenos Aires suburb on Wednesday. Her death prompted all major political coalitions to cancel their final campaign events ahead of Sunday's vote.
___
Associated Press writer Débora Rey contributed to this report.