Buggy crash sends glass into Andrew Hudson's eye ahead of race at World Athletics Championships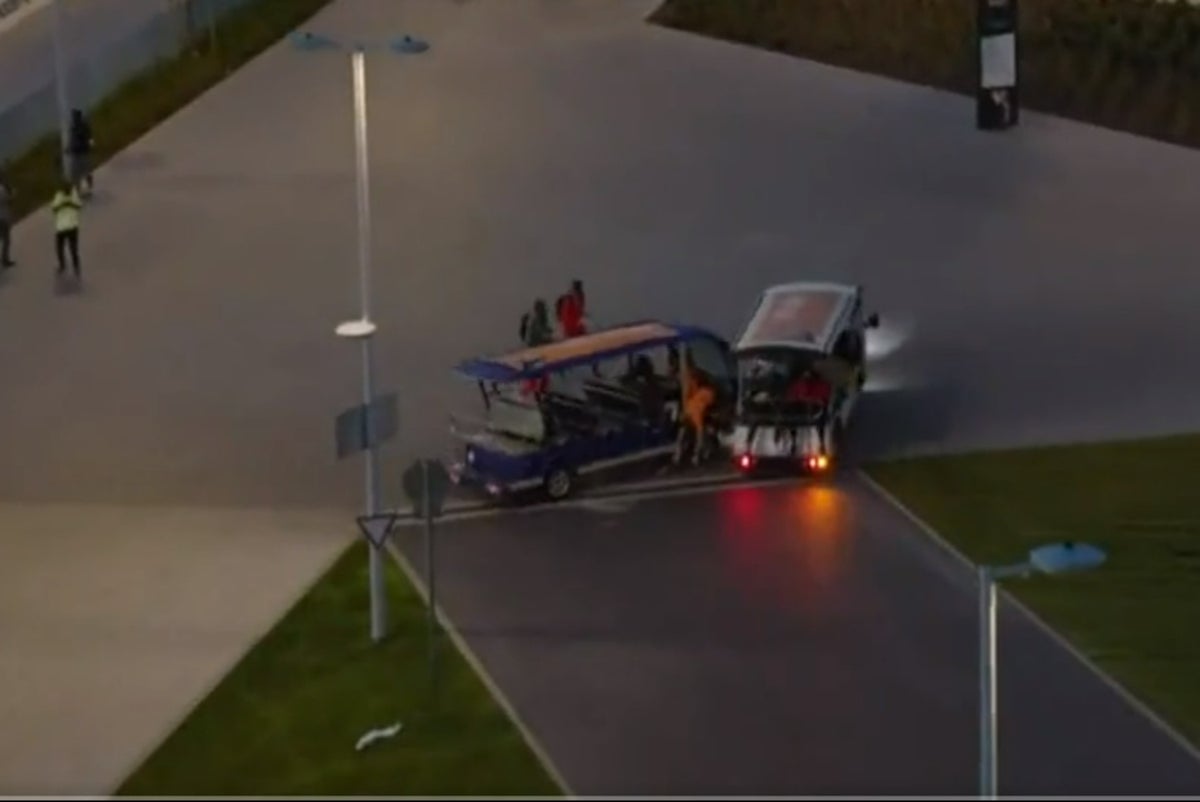 In a collision with a cart transporting the men's 200-meter sprinters to their semifinals at the World Athletics Championships, broken glass flew into Jamaican sprinter Andrew Hudson's right eye, forcing him to run with blurred vision.
The 26-year-old, who was competing in a World Championship for the first time, said doctors flushed out part of the glass after the accident and that despite being unable to see with his right eye, he still decided to race .
He finished fifth but course officials decided to advance him into Friday's final, which will feature nine sprinters, not the usual eight, with American Noah Lyles the favourite.
"I did my best," said Hudson after finishing in 20.38 seconds. "I sat in the middle of the room for about 20 minutes trying to decide whether I was going to compete or not.
"I worked hard to be here. And even under certain circumstances, everyone has obstacles in life. If I can walk, I'll do my best. So I tried."
Aerial video taken outside the stadium shows the cart traveling along when another cart coming from a lane on the left hits the athletes' cart and a volunteer in the first cart tumbles out. The video then switches to the athlete's car, where Hudson presses his fingers to his right eye.
World Athletics said the sprinter was examined by doctors and cleared to compete. It was said that the volunteer was doing "well too". A spokesman for Budapest's local organizing committee said they were "investigating the incident and reviewing transport procedures."
"I feel like everything happened in slow motion," Hudson said. "Unfortunately I was sitting on the side where another buggy crashed into us,
"A piece of glass got into my right eye. I went to the doctor for about 20 minutes. Every time I open my eye, my vision is pretty blurry. I was trying to get the glass out of my eye. I went back to the doctor, the doctor said I had some broken glass in my eye.
"He tried to come out as best as he could. World Athletics asked me if I would run or not. It was kind of like running away or losing my place. I worked so hard to be here so I figured I'd at least try.
"It was scary. It's my eyesight. That's more important. I won't run in track forever, but it just happens."
The race was pushed back by about half an hour – in the series of three semi-finals it was last instead of first.
"It was a big shock," said Tarsis Orogot, who finished third. "We don't pay attention to that. We were all just locked in and then someone pushed us in out of nowhere."
"It's throwing everyone off," said fourth-place finisher Brendon Rodney. "You're running late, so what are you going to do?"
All Hudson could do was line up and leave. He then said he planned to return to the medical tent to further assess the damage. He'll be in the final on Friday – if he's able to race.
"I do not know what happened. It's a blur, literally," Hudson said. "The race was chaos. My vision is blurry. I will make sure my eyesight is fine.
"It's my first World Cup, so it will be unforgettable… Maybe next time I'll walk instead."
Heavy favorite Lyles won the semifinals with the fastest time of the night, 19.76 seconds, giving him a chance to defend his 200m title and add it to the 100m crown he won earlier this week had won.
"Wurved a fall and still set the fastest time to the final," Lyles posted on Instagram. "Thank you God for watching over me."
It's not the first time something unrelated to sprinting has grabbed more headlines than the race itself. In 2015, Usain Bolt celebrated his 200m title at the World Championships in Beijing when he was on the sidelines was knocked over by a photographer who was riding a scooter. Bolt appeared and laughed at that.