Buoy Beer Company building collapses in Astoria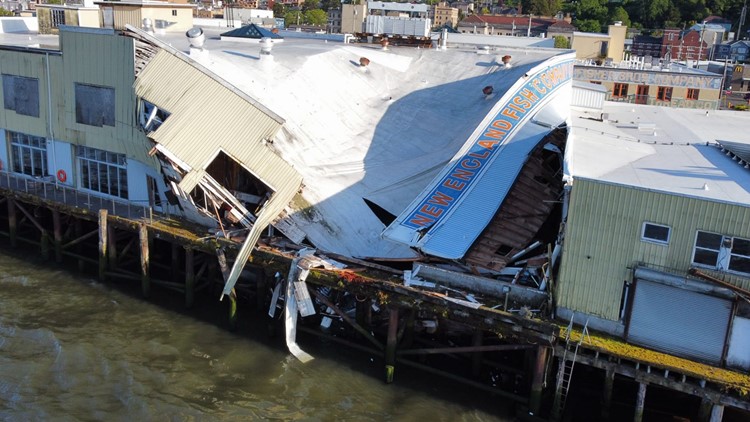 The brewery said on social media that everyone is safe. The extent of the damage to the building is still unclear.
ASTORIA, Ore. — Much of the Buoy Beer Company's Astoria brewery and restaurant collapsed Tuesday night when the roof of the large warehouse-style building collapsed.
The U.S. Coast Guard and first responders were dispatched to the building, which is on the water near the mouth of the Columbia River, just after 6 p.m., Astoria City manager Brett Estes said.
The brewery said on social media that employees were unharmed.
"Everyone is safe," Buoy said in social media posts, including a photo showing the massive extent of the building collapse.
Estes added that the restaurant was closed for the day and he doesn't think anyone was in the building at the time of the collapse. He said officials are working to determine the cause of the collapse.
The Astoria Fire Department confirmed that there was an initial gas leak when that portion of the building collapsed, but crews were able to shut the gas off relatively quickly. A significant water leak was also discovered.
The popular waterfront brewery taproom and restaurant will remain closed indefinitely.
RELATED: New mom, baby survive roof collapse after heavy snowfall in Leavenworth
RELATED: Jury awards $150 million to victims of 2019 Seattle crane collapse, families
https://www.king5.com/article/news/local/buoy-beer-building-collapse/283-af7ab8e1-0abf-4060-9b6c-15c6467e9ea8 Buoy Beer Company building collapses in Astoria