Burgers and fries get a plant-based makeover – Makini's Kitchen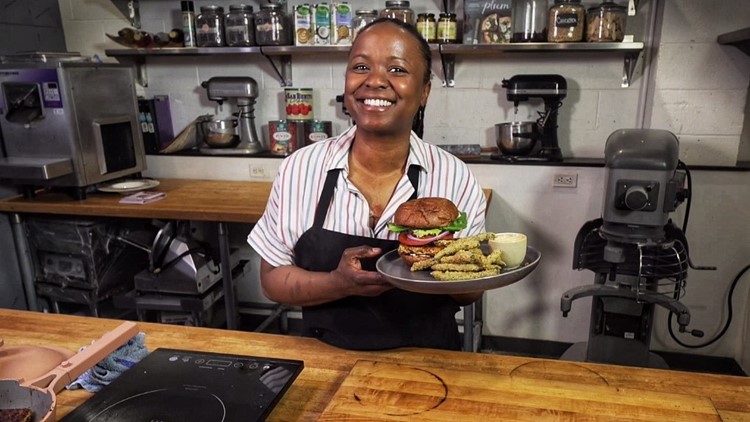 SEATTLE — There are many recipes for burgers and fries, but our plant-based chef Makini Howell of Plum Bistro has one without meat or even potatoes. She shows you how to make it from Makini's Kitchen.
Blackened Tofu Burger
4 hamburger buns
Blackened Tofu
1 tomato sliced
Very thinly sliced ​​purple onion
lettuce
Your favorite vegan ranch spread
2 lb of your favorite firm tofu (make sure you get a good quality firm tofu.) I like Hodo firm tofu for this. For better flavor absorption and bite in your texture, freeze your tofu overnight and thaw before using
1 1/2 cup butter softened
3 tablespoons fresh thyme leaves chopped
2 tablespoons plus 1 teaspoon of paprika
2 tablespoons plus 1 teaspoon cumin
2 tablespoons plus 1 teaspoon garlic powder
2 tablespoons plus 1 teaspoon onion powder
2 tsp salt
1 teaspoon cayenne pepper
1/2 cup Worcestershire sauce
4 tablespoons soy/tamari sauce
1 tablespoon lemon juice
3 tablespoons plus 1 teaspoon freshly chopped cilantro
1 cup vegan cream
In a bowl, mix butter, fresh thyme, paprika, cumin, garlic powder, onion powder, salt, and cayenne pepper. Use a fork or your hand and mix the ingredients until well combined. Add the Worcestershire sauce, soy (or tamari for gluten-free), lemon juice, fresh cilantro, and heavy cream and mix all ingredients until well combined.
Open the tofu, drain excess water (DO NOT squeeze), then set it on its side and carefully slice lengthwise into 1/2 inch thick slices. Different blocks of tofu vary in thickness, but most often you'll get 2 or 3 slices. Take each of these slices and cut them into triangles. =Lay out the tofu triangles in a large bowl. The butter rub should now be a little soft, like a very thick sauce, baste or rub the tofu overnight with Cajun Blackened Butter Marinade.
When you're ready to make burgers, toast your burger buns in the skillet or in the oven.
Once the tofu is marinated, heat some oil in a skillet over medium-high heat and add your tofu, it should be beating and sizzling, pan-fry until tofu is cooked through, about 3-4 minutes, or until tofu is set-a-rich The heat shouldn't be so high that the tofu turns black. At this stage, allow the tofu to cook through first, then turn up the heat just enough to crisp the outside. Put some butter rub in the pan and blacken the tofu.
Once everything is ready, assemble your burger by adding ranch to the bun, 2 sticks of tofu, sliced ​​tomato, sliced ​​onion, lettuce, and top with more ranch dressing. Serve with Green Been fries!
French fries with green beans
1 packet french green beans or regular green beans, trimmed and washed
1 cup plant milk. That's why I like soy
1/2 teaspoon apple cider vinegar
2 cups black pepper breading
2 cups panko
½ teaspoon salt
oil for frying
Pour the milk and vinegar into a small bowl and allow to thicken.
Once you have washed your green beans, blot the remaining water off of them.
When ready to cook, add the frying oil to a deep skillet until it is about 3/4 inch deep. Heat it until it reads 350 degrees on a candy thermometer. Or if you don't have that, the oil shimmers and appears much thinner and starts to smoke slightly, then it's done.
While the oil is heating, prepare the breading by mixing the flour with the onion powder, garlic powder, black pepper, and salt in a shallow bowl. Mix it thoroughly. In another bowl, add panko and salt and mix.
Working in small batches at a time, dredge your green beans into the milk and then into the flour mixture, then back into the milk and panko, once coated with flour and panko, drop into hot oil and cook, until the beans begin to swim and turn a rich golden brown. Remove from the oil and place on kitchen paper. Serve with your favorite dipping sauce.
https://www.king5.com/article/entertainment/television/programs/evening/burgers-fries-plant-based-makinis-kitchen-recipe/281-e707a839-cf0c-4ffc-a825-dd8a44a2950a Burgers and fries get a plant-based makeover – Makini's Kitchen