News
Burn pit legislation expected to pass after GOP briefly blocked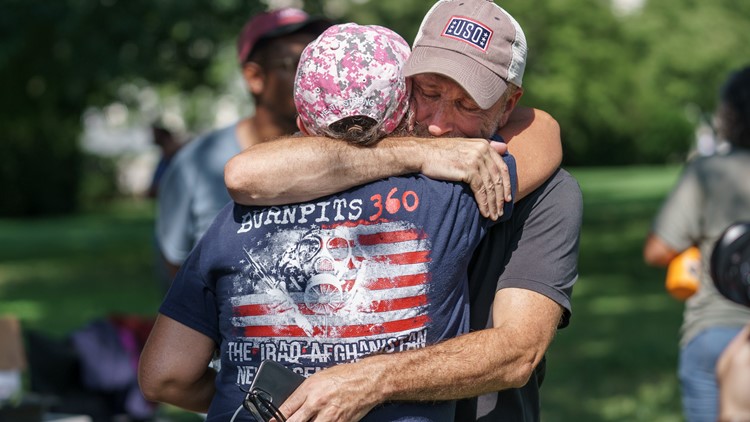 The Senate has overwhelmingly approved the bill before, but it required revision for a technical solution. The process then derailed when Republicans blocked it.
WASHINGTON — A bill to improve health care and disability benefits for millions of veterans exposed to toxic burn pits is expected to receive final approval in the Senate on Tuesday, ending a brief standoff over the measure that had enraged supporters and inspired some to move outside the to camp in the Capitol.
President Joe Biden has pushed for the legislation, saying the measure "fulfills our sacred obligation" to care for veterans and their families.
The Senate overwhelmingly approved the law once before, but it required revision for a technical fix. But the process stalled when Republicans made a late-night attempt to change another aspect of the bill last week, preventing it from moving forward. The abrupt delay outraged veterans' groups and advocates, including comedian Jon Stewart. It also put GOP senators in the awkward position of delaying the top legislative priority of service organizations in this session of Congress.
A group of veterans and their families have been camping out at the Capitol since that vote. Senate Majority Leader Chuck Schumer, DN.Y., said he has good news for them and announced a final vote for Tuesday night.
"Veterans who have been exposed to noxious fumes from fire pits will be treated by the VA as they should have been from the start," Schumer said.
Some Democrats have questioned whether Republicans blocked the bill out of defiance, after announcing just hours earlier that key Democrats had agreed on a way forward for a health, energy and tax bill that the are Republicans and that may not be able to be stopped.
"Wait a minute. You're not going to help our veterans because we want to reduce the cost of prescription drugs, because we want to reduce health care costs, because we want to protect the planet? Of course, you wouldn't agree with any of this, but would you? vote against our veterans?" said House Speaker Nancy Pelosi, D-Calif., at a news conference last week. "It's really immoral, almost criminal."
Republican senators dismissed the charge, saying the changes they were seeking would not affect spending on veterans in the bill.
The bill contains two main components for veterans who served in Iraq and Afghanistan. Veterans who served near burn pits will receive 10 years—instead of five—of improved health care from the Department of Veterans Affairs after they leave the military.
Second, the legislation directs the VA to presume that certain respiratory diseases and cancers are associated with exposure in cremation pits, allowing veterans to receive disability payments to compensate for their injury without having to prove that the disease was a result of their service was.
Approximately 70% of disability requests related to exposure to burn pits are denied by the VA due to a lack of evidence, scientific data and Department of Defense information.
The military used burn pits to dump things like chemicals, cans, tires, plastic, and medical and human waste.
Hundreds of thousands of Vietnam War veterans and survivors will also benefit from the legislation. The bill adds hypertension, or high blood pressure, as a putative medical condition linked to exposure to Agent Orange. The Congressional Budget Office projected that about 600,000 of Vietnam's 1.6 million living veterinarians would be eligible for higher compensation, although only about half would have a diagnosis severe enough to warrant higher compensation.
Veterans who served in Thailand, Cambodia, Laos, Guam, American Samoa and Johnston Atoll are also likely to have been exposed to Agent Orange. That's another 50,000 veterans and survivors of deceased veterans who would receive compensation for illnesses believed to have been caused by their exposure to the herbicide, the CBO predicted.
The law is expected to increase government deficits by about $277 billion over 10 years and does not include offsetting spending cuts or tax hikes to fund it.
When the CBO evaluated the bill, it projected that nearly $400 billion would be spent on VA services as mandatory spend rather than discretionary spend. The Committee on Federal Budget Responsibility, a bipartisan financial watchdog, said reclassification to mandatory would "both ease the pressure to keep these costs under control and make it easier for appropriators to spend more elsewhere in the budget without compensation."
Sen. Pat Toomey, R-Pa., is seeking a vote on an amendment he said would not change the spending earmarked for veterans programs but how the government accounts for those spending.
However, the dynamics Toomey spoke of applied to the bill when the Senate voted on it in June. Senators then voted in favor of the measure by an overwhelming majority of 84 to 14, raising questions as to why Republicans voted against moving forward with the restructuring effort last week.
Veterans advocacy groups, a key voting bloc in the upcoming midterm elections, were furious, increasing political pressure on lawmakers to act.
At a Capitol Hill news conference the day after last week's procedural vote, speakers used terms like "bad guys" and "reprehensible" to describe Republican senators who voted against moving the measure last week but voted almost exactly in June voted for the same bill.
"Veterans are angry and confused by the sudden change from those they thought had their backs," said Cory Titus of the Military Officers Association of America group.
Sen. Kirsten Gillibrand, DN.Y., said the veterans camped at the Capitol were exhausted and wanted to go home.
"But they won't. You won't go home until the job is done," Gillibrand said.
https://www.king5.com/article/news/nation-world/senate-voting-tuesday-on-bill-to-aid-veterans-exposed-to-burn-pits/507-2a776369-7210-4ba8-94c7-ec34d5928b7f Burn pit legislation expected to pass after GOP briefly blocked