Business owner shoots, kills suspected robber in Seattle's Ballard neighborhood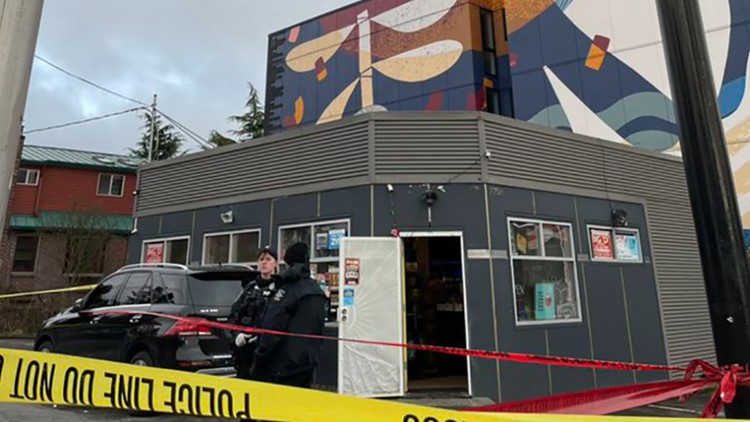 The King Smoke Shop co-owner was also shot during the robbery. He was taken to Harborview Medical Center, where he is currently in a serious condition.
SEATTLE — One robbery suspect died and another was seriously injured following a shooting in the Ballard neighborhood of Seattle on Monday afternoon, according to the Seattle Police Department.
Police arrived at the King Smoke Shop at 7758 15th Ave NW shortly after 4 p.m. after receiving a report of a man being shot outside the store. When officers arrived, they discovered the business's co-owner had also been shot.
Seattle police said it appears a 30-year-old male suspect entered the business and attempted to rob the store. The suspect shot back at the employee.
Police tried to take measures to save the suspect's life, but he died at the scene.
Community members came to the aid of the business owner by making a tourniquet from the belt while waiting for the medical staff to arrive. The 38-year-old man was taken to Harborview Medical Center in serious condition.
This is an evolving story. Check back for updates.
Download our free KING 5 app for updated news stories from across western Washington.
Clock: KING 5's Top Stories playlists
https://www.king5.com/article/news/local/seattle/2-shot-injured-seattle-ballard/281-28d70a54-c574-4bc0-af17-2b1bef6d5520 Business owner shoots, kills suspected robber in Seattle's Ballard neighborhood