California sues oil giants, claims they deceived public on climate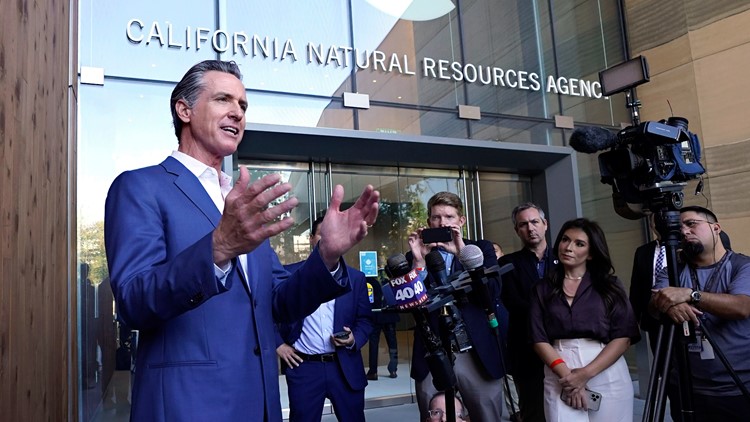 Gov. Gavin Newsom said Exxon Mobil, Shell and other energy giants lied about the dangers of fossil fuels for decades and taxpayers should not have to pay for the damages.
LOS ANGELES – The state of California has filed a lawsuit against some of the world's largest oil and gas companies, claiming they misled the public about the risks of fossil fuels now blamed for causing hurricanes and Wildfires linked to climate change cause billions of dollars in damage, officials said Saturday.
The civil lawsuit filed in state Superior Court in San Francisco also seeks to establish a fund — funded by companies — to pay for recovery efforts after devastating storms and fires . Democratic Gov. Gavin Newsom said in a statement that the companies named in the lawsuit — Exxon Mobil, Shell, Chevron, ConocoPhillips and BP — were responsible.
"For more than 50 years, Big Oil has lied to us — covering up the fact that they knew all along how dangerous the fossil fuels they produced were to our planet," Newsom said. "California taxpayers should not have to endure billions of dollars in losses – wildfires that wipe out entire communities, toxic smoke that clogs our air, deadly heat waves, record droughts drying up our wells."
The American Petroleum Institute, an industry group also named in the lawsuit, said climate policy should be debated in Congress, not in courtrooms.
"This ongoing, coordinated campaign to bring meritless, political lawsuits against a bedrock American industry and its workers," the institute's senior vice president Ryan Meyers said in a statement said in a statement. "It is nothing more than a distraction from important national conversations and a colossal waste of California taxpayer resources." .
That was echoed in a statement by Shell, which said the courtroom was not the appropriate venue to address the issue of global warming.
"Addressing climate change requires a collaborative approach across society," the energy giant said. "We agree that action now is needed on climate change and we fully support society's need to transition to a lower carbon future."
California's legal action joins similar lawsuits filed by states and cities in recent years.
"California's lawsuit adds momentum to holding Big Oil accountable for its decades of deception and ensuring access to justice for people and communities suffering from extreme weather caused by natural disasters. fossil fuels and slow-onset disasters like sea level rise," Kathy Mulvey of the Union of Concerned Scientists said in an email.
The 135-page complaint argues that the companies have known since at least the 1960s that burning fossil fuels would warm the planet and change the climate, but they downplayed the potential threat. in public statements and marketing.
It said the company's scientists had known since the 1950s that climate impacts would be catastrophic and that there was only a very narrow window in which communities and governments could respond.
Instead, the lawsuit said, the companies waged a disinformation campaign that began at least as far back as the 1970s to discredit the growing scientific consensus on climate change. and dispute the risks associated with climate change.
State Attorney General Rob Bonta said in a statement that the companies "fed us lies and falsehoods to enhance their record profits at the expense of our environment." . That's enough."
Allegations in the lawsuit include blaming companies for creating or contributing to climate change in California, false advertising, damage to natural resources and business practices illegally intended to deceive the public about climate change.
Richard Wiles, president of the Center for Climate Integrity, said in a statement that "California's decision to take Big Oil companies to court is a turning point in the rapidly expanding legal battle to compel Big polluters are responsible for decades of climate lies. … Californians are living through a climate emergency caused by the fossil fuel industry, and now the state is taking decisive action to make those polluters pay the price ."
Largely democratic California was the birthplace of the modern environmental movement, and the Newsom administration is pushing to expand solar and other clean energy as the state aims to cut emissions 40% below 1990 levels by 2030. While the state is considered a leader in addressing climate change, Newsom has not always aligned with environmental advocacy.
There have been tensions over updating the state's aging water supply system, conflicts over new permits for oil and gas wells and what to do with water from rivers swollen by powerful storms, in which activists warn that diverting too much water would be a death sentence for salmon. and other threatened fish species.
Newsom had been a leading voice in shutting down the Diablo Canyon Nuclear Power Plant — the state's last — but changed course last year and helped pave the way for a longer-than-expected operation. plans to close in 2025, leading to criticism from senior leaders. Environmental groups sought to shut it down.