News
Can I travel out of state for an abortion? Abortion restrictions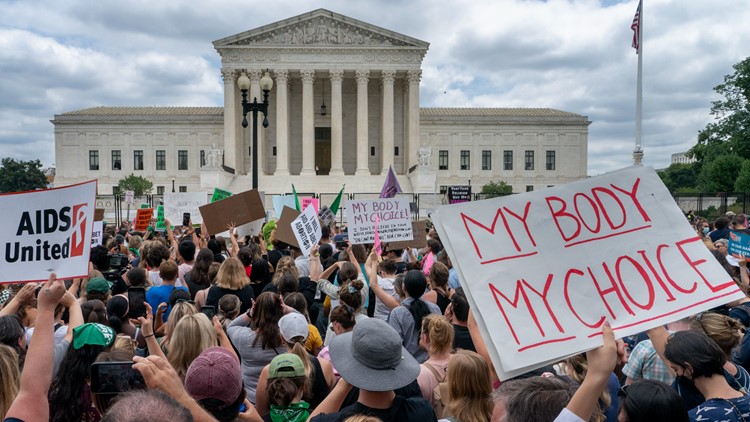 Dobbs sets the stage for states to define what life is and potentially opens the door for lawmakers to restrict abortion even further.
WASHINGTON – After Roe v. Now overturned by the Supreme Court, a number of states are now moving towards enforcing "trigger laws" that will significantly limit abortion within state lines. But some could potentially go further by making it more difficult — and potentially criminal — for people who want abortions to do so out of state.
While there are currently no laws restricting such travel for access to abortion, previous legislation to this effect has been considered in at least one state with a trigger law. And the Dobbs v. Jackson wording gives states the ability to define exactly when life begins and gives prosecutors the power to charge abortion-seekers with conspiracy to commit murder.
Here's a breakdown of how some legal experts believe the Supreme Court ruling paves the way for states to restrict abortion beyond state lines.
Have states tried to ban abortion outside of the states?
Yes. GOP lawmakers in Missouri have tried multiple times to append amendments to bills that would allow any party to sue those who either received or helped perform an abortion, including out-of-state health care providers.
According to Politico, anti-abortion activists in states like Texas have also worked with state legislators to enact Missouri-style proposals.
Efforts have so far failed, but Rachel Rebouche, interim dean at Temple University Law School, said Dobbs is now paving the way for states to restrict out-of-state abortions because "any travel ban would be based on the idea that a state can." Ban abortion."
But Rebouche added that getting legislation criminalizing out-of-state abortions passed would be an uphill battle, as such a law would likely face several legal hurdles.
"It is perhaps a bit premature at this point to issue outright bans immediately," she said.
Any state attempting to do so would almost certainly face federal resistance.
During a speech at the White House on Friday, President Joe Biden warned states not to pass laws or restrictions that would restrict a woman's access to reproductive health services in other states.
Biden said his administration is willing to help women travel abroad to receive such treatment, but he didn't explain exactly how he intends to do so.
A number of large companies have also told employees that they will cover travel expenses for people who want an abortion. The Walt Disney Co., Netflix, Paramount, Comcast, Sony, Warner Bros and Meta are among the media companies that have confirmed they will cover travel expenses for employees seeking abortions.
Could states try people for murder for obtaining or assisting in having an abortion?
According to David Cohen, a law professor at Drexel University, states could use existing laws to restrict out-of-state abortions rather than enacting bans that would likely be challenged in federal courts. These could include charges such as conspiracy to commit murder.
Cohen said one mechanism state legislatures could do is pass or rewrite legislation that explicitly defines fetuses as human life. From then on, therefore, for some prosecutors, receiving, performing, or assisting in an abortion could legally be classified as a type of murder.
"Basically, Alito's view is that there is simply no constitutional problem with how a state defines the beginning of life," Cohen said. "If you have a state that treats a fetus as a human being, anything that kills that human is murder."
Abortion restrictions, which allow for civil penalties, are currently limited to those who help with the abortion process, such as activist groups and health care providers, but Cohen added that he was concerned the precedent would not last long.
"I think in the near future we're going to see some states trying to go after the patient and not just the people who are helping them or performing the abortion," he said.
Could travel for other reproductive health services also be restricted?
Rebouche said the limit for reproductive services like contraception would depend on how state legislatures or courts define what causes an abortion.
For example, an IUD could be considered a type of anti-abortion contraception because it can expel a fertilized egg, unlike condoms, which prevent fertilization. In these cases, obtaining or helping a person obtain an IUD could soon violate state law, even if the procedure is performed out of state.
"I think there's a lot of controversy about whether or not that happens and what types of IUDs are used, but there's certainly a possibility that the definition of abortion will be expanded," Rebouche said.
Cohen added that state laws defining life could even be extended to treatments related to treating miscarriage or in vitro fertilization, with out-of-state health care providers facing civil penalties if they help patients born from a State come up with strict definitions of what counts as abortion.
https://www.king5.com/article/news/nation-world/how-states-could-limit-out-of-state-abortions/507-46e54b41-ab4c-4d6a-9498-97ca2b29ab44 Can I travel out of state for an abortion? Abortion restrictions