Can LAFC stop Lionel Messi? 'He's an extraterrestrial'
Giorgio Chiellini answered the question with a frown and a big smile.
How to stop Lionel Messi, he was asked. For Chiellini, it was like being asked how to swim without getting wet.
"I tried to do it. Sometimes it works, sometimes it doesn't," said the LAFC centre-back. "One thing is certain: you cannot stop him with just one man. It is impossible."
It's the painful lesson teams across North America have learned since Messi, arguably the greatest soccer player of all time, joined MLS InterMiami End of July. In 10 games spread across three competitions – the Leagues Cup, US Open Cup and MLS regular season – Messi has recorded 11 goals and six assists in 804 minutes, contributing a score every 47 minutes.
Before Messi, Inter Miami had a record of 8-14-4 and averaged 1.08 goals per game. With him, the team played 6-0-4 and averaged 2.7 goals per game. His success transformed not just one team, but the entire league. However, he will be put to the test on Sunday when LAFC, the reigning MLS and Supporters' Shield champions, are the latest team to attempt the impossible by stopping him.
Theories differ as to why this is impossible.
"It's hard to describe what his greatest strength is. "Unique players do unique things," said LAFC captain Carlos Vela, who has faced Messi more than a dozen times in Spain and with the Mexico national team.
"Obviously his ability and the way he plays," added LAFC coach Steve Cherundolo, who helped the USA keep young Messi scoreless in a 2008 friendly against Argentina. "It's an illusion to think you can stop him for 90 minutes. He'll have a chance or two. This is exactly how this game works [what] He's been able to hold his own against every team throughout his career."
For Chiellini, the answer is out of this world.
"He's an alien," he said. "He's not a normal guy."
"He was and is really different from other players," he continued. "It's like LeBron or Jordan. You are different from the others."
Widely regarded as the greatest defender of his era, Chiellini is the rare player to have vanquished ET and kept them goalless in their last three meetings for club and country. But as good as the Argentine legend is, Chiellini said LAFC couldn't afford to worry only about him on Sunday. When Messi arrived from Europe, he was followed by former Barcelona teammates Jordi Alba and Sergio Busquets, world and European champions themselves. They joined a team that already consisted of former MLS top scorer Josef Martínez and World Cup veterans DeAndre Yedlin and Kamal Miller.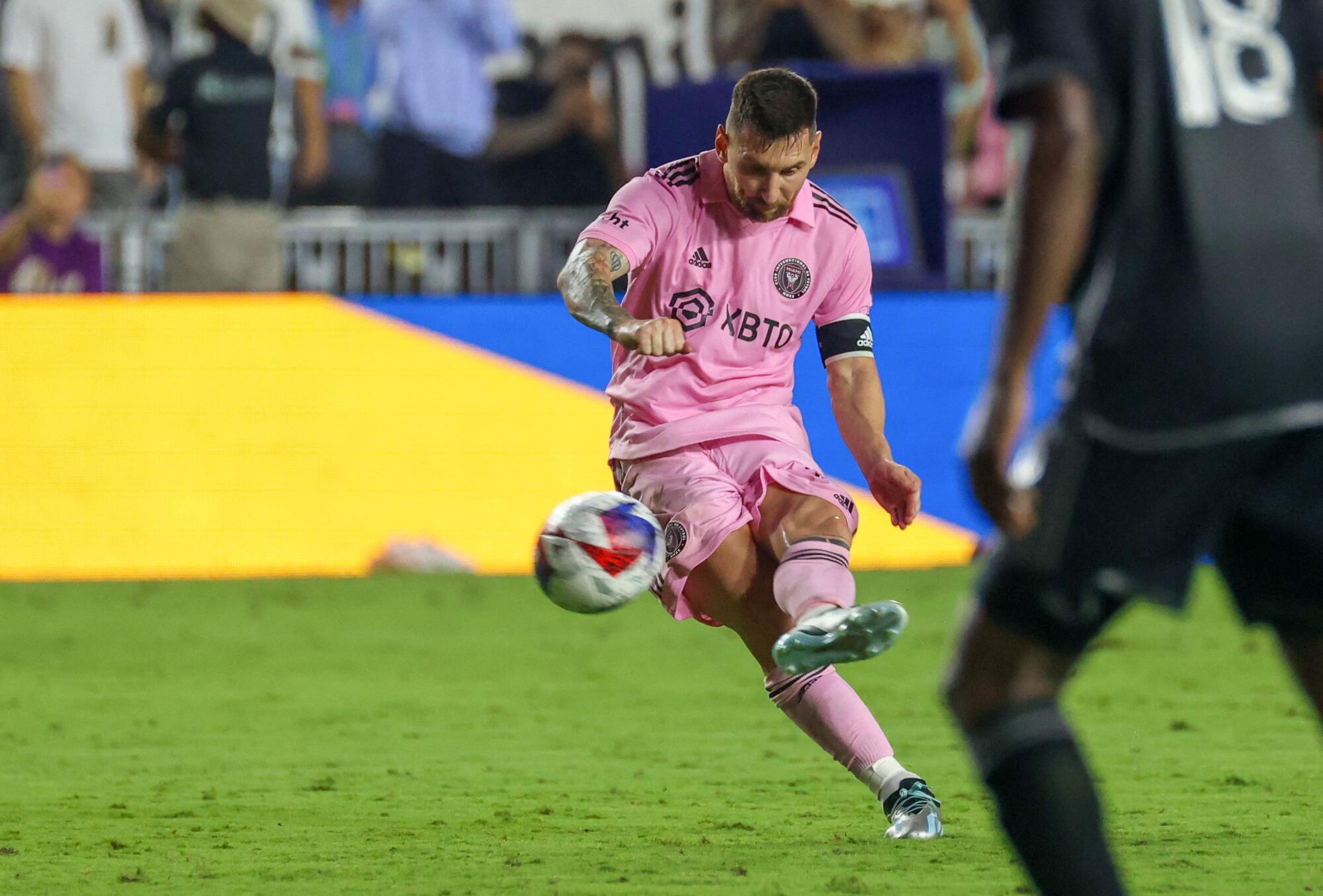 Less than a month before the Barcelona trio arrived, Inter Miami sacked manager Phil Neville and replaced him with Tata Martino, who won an MLS Cup with Atlanta after guiding Messi and co to two trophies in Spain. The team, emphasized Chiellini, consists of more than just one player.
"We have to respect that. But we don't have to be afraid of them," he said. "We can't just focus on Messi. The game is LAFC vs. Miami.
"Miami has built a strong team. [The new players] are like cherries on the cake, but the cake was good last month."
However, Messi, seven-time World Player of the Year, is the one everyone flocks to BMO Stadium to see – in some cases paying an average of $717 in the secondary market for the privilege, making Sunday's game the most expensive in the MLS is making history, according to online marketplace TickPick. That price is just $31 less than what it would cost to attend every Chargers home game at SoFi Stadium this season. One buyer spent nearly 10 times that, buying three field-level seats for $2,339 each.
In his brief and unbeaten stint in MLS, Messi has more than lived up to the hype, scoring in eight out of ten games in all competitions. In his career, his 818 goals for club and country are the second-best of all time behind Cristiano Ronaldo, and Messi is the only player in history with more than 400 assists in his career.
Last season, his last season with Paris Saint-Germain, Messi was the only player in Europe's top five leagues to record 20 goals and 20 assists – and that along with a remarkable World Cup where he beat Argentina with seven goals goals in as many games to win the Golden Ball as Outstanding Player for the second time in three tournaments.
Now he's practicing his Messi magic at Inter Miami, who arrived bottom of the 29-team MLS table but have since gone unbeaten in a franchise-record 10 games. This begs the question: is Messi too good for MLS at 36?
"Messi is the best player of all time. So we shouldn't be surprised that he got into MLS and dominated," said former Galaxy midfielder Sacha Kljestan, now an analyst at Apple TV. "He's dominated every defense he's ever played against. But Messi doesn't do it alone.
"He scores goals because he's put in good positions with the likes of Sergio Busquets and Jordi Alba who have helped raise the level of everyone around them."
However, Messi's game has changed. Although he's only 1.70m tall – and that's a stretch – he remains the tallest man on the field as he relies more on his intelligence and tactical acumen than any physical attributes, despite his left leg at nearly any spot of the field deadly remains attacking third party. At times he appears to be running through games, seemingly disinterested in everything that's going on around him.
Yet when an opportunity presents itself, he almost always lands in the right place to seize the opportunity.
"The role he plays in each team is important so he can use his football IQ to find the right spots at the right moment," said Cherundolo. "Combine that with his technique and physical ability, [it] makes him the best player in the world. Not everyone in the modern game has the ability to earn the right to roam around but affect the game in this way offensively. So that does [him] a little dangerous and tricky."
Chiellini added: "He could seem sleepy for 85 minutes out of 90, but in those five minutes he could be devastating. That's a top player."
His impact on MLS over the past two months cannot be overstated.
Apple TV, the league's broadcast partner which is helping to pay for the $150m Messi is reportedly set to earn over the next two and a half years, has increased the number of subscribers to its MLS Season Pass streaming service since Messi joined Service doubled to over 2 million league. The team, whose negotiations for a 25,000-seat soccer stadium in Miami had long been stalled, announced last week that construction had begun on a $1 billion sports and entertainment complex next to the city's airport. The stadium is scheduled to open in 2025, the last season of Messi's contract.
The team's Instagram following, which numbered about one million at the start of the summer, is now approaching 15 million, behind only the Golden State Warriors, the Lakers and the Cleveland Cavaliers among US professional sports fans. franchises. And Messi's pink MLS jersey, featuring the logo of crypto finance firm XBTO on the chest, set a sales record within 24 hours of signing.
Inter Miami were the last in the league to be in attendance last season and now play to standing-only spectators everywhere. That's the closest MLS can get to a rock band, with the bearded Messi both fronting and lead guitarist. That's why Messi has his own huge bodyguard, a former Navy SEAL named Yassine Chueko.
While Inter Miami, which had a losing record and no playoff wins in their first three seasons, was little known in much of the world before Messi's arrival, it is now mentioned alongside world giants Barcelona and PSG, the other clubs Messi played for has.
"This is a big step for the league that takes the league to a new level," said Kljestan, who made his MLS debut a year ahead of David Beckham.
"There was a moment in MLS before David Beckham came on and then after. And I think there is a "before Messi came" and an "after".
When Beckham signed with the Galaxy in 2007, MLS changed its financial structure, allowing teams to sign three designated players whose salaries did not count against the league's frugal salary cap. The next 15 seasons featured players such as Kaká, Zlatan Ibrahimovic, Steven Gerrard, Thierry Henry, Wayne Rooney, Robbie Keane and Javier Hernández and Gareth Bale followed Beckham to the United States
Now others, like world champion Antoine Griezmann, another former Barcelona team-mate, have said they want to join Messi in the United States. What was once a trickle may soon become a flood.
"Many other stars around the world will see Messi come here, he dominates but also has fun and enjoys his life off the field. That's a big draw," said Kljestan.
Chiellini agrees, which is why he reckons Messi will continue to make a positive impact in MLS long after the Argentine superstar retires – perhaps in his South Florida condo.
"He's happy," said Chiellini, European champion, Italy captain and nine-time Serie A winner with Juventus. "I'm just as lucky. We, players like us, have played under pressure for many years and it is here that we discover many other aspects of life to really enjoy. I saw him with his family in the supermarket, which is not possible in Europe.
"You could really enjoy life a lot more. It's really a good choice to come here."
But now that he's here, how can you stop him? Chiellini frowned and smiled again.
"It's not possible," he said. "We will need the commitment of the entire team. That's the only way it could work."