Capitol Hill Block Party lineup, tickets, set times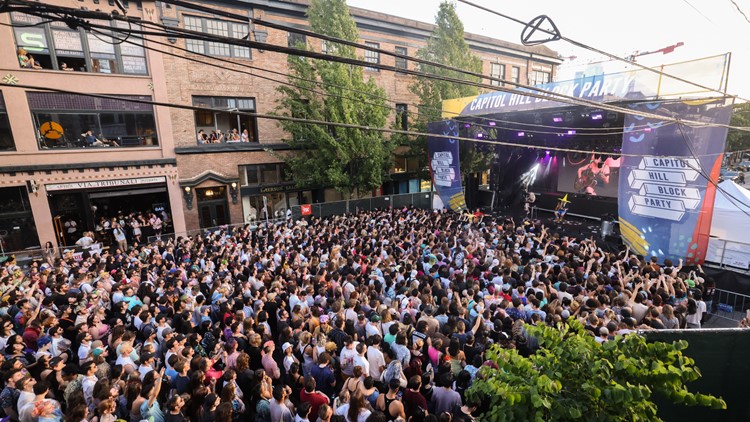 SEATTLE — Three Days of Seattle Capital Hill Block Party, what the festival calls "the best weekend of summer," begins on Friday for its 25th year. The party starts at 3 p.m. Friday.
The block party takes place between Broadway and 12th Avenue, East Pine Street and East Union Street.
Whether you're celebrating peak summer in Seattle or can't wait to meet your favorite artist, here's what you should know before you go.
Tickets are only available through Capitol Hill Bloc Party Website. You can buy a multi-day ticket or a single-day pass. Shared admission puts you in the party, but VIPs will have a dedicated registration line, drink tickets, access to two lounges and their own restrooms.
The three-day pass is $225 for the regular admission and $370 for the VIP ticket. A two-day ticket is $180 for general admission only. One-day tickets are $95 for regular admission and $155 for VIP tickets.
Performers include: Sofi Tukker, Denzel Curry, Louis the Child, Goth Babe, Channel Tres, Jean Dawson, Empress Of, Rebecca Black, WAVEDASH, Momma, Husband, Muna, BETWEEN FRIENDS, JAWNY, RedVeil, Coco & Clair Clair, Elohim, overflow tab, Underline, PinkPantheress, Rico Nasty, Drama, Surf Mesa, Slayyyter, Jadu Heart, Sofia Kourtesis, binki, Mavi, Madeon (DJ Set), renforshort, Annika Bennett, Plastic Picnic, Eliza McLamb, Sea Lemon, Samurai Del, i///u, Avery Cochrane, Taylar Elizza Beth, Acid Tongue, The Kerrys, Fluung, Mooncakes' Drag Showcase, Stella Mar, Shelf Nunny & Sky Dyv, Lemon Boy, Paper Idol, Conversation Pit, This Blinding Light, Fluencie, Coral Grief, Samara Lennoxx, Weep Wave, Daizha, N3ptune & Rusty Steve, Early Internet, Mia Day, TERMINATOR, CHRVNS, Crissy P, Talaya., Fortress of the Bear, Harley, Mr. Dinkles, Flesh Produce, BRUJITA XO, Karma Rivera, Jaws of Brooklyn, Salt Lick, David July, Lane Lines, Lightweight Champion, Puck, Kimmortal, Hana Bryanne, Hannah Duckworth, Zia Victoria, The Della Kit, Links and Art Gecko.
Parking is available at several parking lots nearby and across the street throughout the neighborhood.
Also, transit is accessible and available. Capitol Hill Light Rail Station is about a 10-minute walk away. Use King County Metro trip planner for more information.