Capitol rioter shot at local deputies after FBI informed him of Jan. 6 charges
A Texas man charged in the Jan. 6 riots last week opened fire on sheriff's deputies who, according to a new criminal complaint, went to his home to check on him before he was scheduled to be turned over to the FBI.
Nathan Donald Pelham of Greenville, who originally faced four felony charges related to the riot, is now facing another felony charged with being a felon in possession of a firearm after the April 12 incident, a criminal complaint filed this week shows.
An FBI special agent wrote in a filing that he called Pelham on April 12 and asked him to surrender in a few days. That evening, the agent said, local authorities went to Pelham's home after his father applied for a welfare check.
When the deputies arrived, Pelham fired multiple shots at them, prosecutors said.
One of the police officers said that a shot "came so close to me that I could hear the distinct whistling sound as the bullet flew past me and then struck a metal object on my right side," according to a court filing.
The new gun charge against Pelham will likely give federal authorities a quick way to keep him locked up before his trial. He could face more charges related to the shooting on the line.
Court records show that Pelham waived a detention hearing and a federal judge ordered his detention.
Initial charges against Pelham included disorderly conduct and parades, demonstrations, or picketing outside the Capitol. He appeared in at least one photo from the riots wearing a hat with a logo associated with the Proud Boys, the FBI said.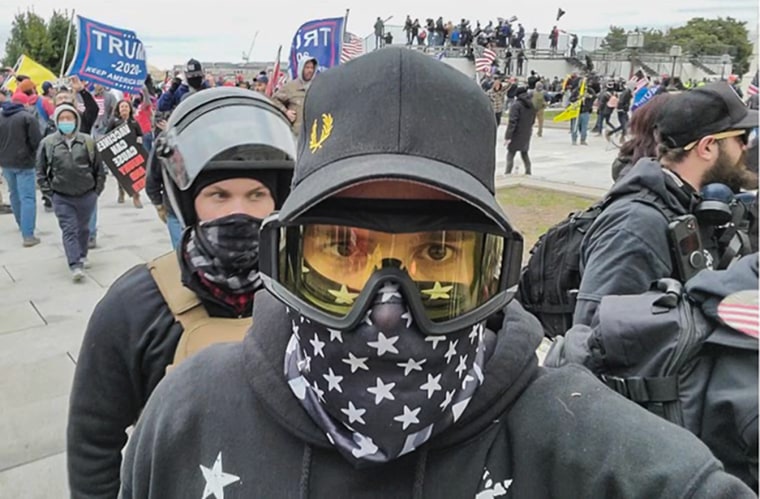 Many of the Jan. 6 defendants who pleaded guilty to the same misdemeanor charges against Pelham received only suspended sentences.
Pelham's attorney did not immediately respond to a request for comment Thursday.
Two months after the Capitol riot, Pelham attempted to leave the United States and enter Canada, but was refused entry by Canadian authorities and subsequently arrested by U.S. Customs and Border Protection agents in Port Huron, Michigan, the FBI said.
During an interview with two FBI task force officers, Pelham admitted to appearing at the Capitol on January 6 and walking up the steps of the Senate Chamber side of the building. Pelham said he never touched or breached a barricade and said he was never told he was entering a restricted area, according to court documents.
Pelham previously claimed he did not enter the Capitol and said he was willing to take a polygraph to prove he wasn't lying, according to court documents.
After obtaining a search warrant, authorities said they found text messages on Pelham's phone that suggested he entered the Capitol, according to court documents.
"If you have a video of you being inside, don't post it," his wife reportedly wrote a day after the riot. "I know I'm smart, honey," Pelham replied, according to court documents.
Pelham later said he was only inside for 10 to 11 seconds, but footage showed he was inside for more than 7 minutes, the FBI said.
More than 1,000 defendants have been indicted in connection with the January 6 attack on the US Capitol and hundreds more arrests are expected.