Chicago pharmacist convicted of stealing, selling COVID-19 vaccination cards: DOJ
A pharmacist in the Chicago area has been found guilty of stealing and selling COVID-19 vaccination cards, the Justice Department announced Monday.
Tangtang Zhao, 36, of Chicago, stole CDC-issued COVID-19 vaccination cards from the pharmacy where he worked and sold them to buyers nationwide through an online marketplace, according to the DOJ.
"Over a three-week period in March and April 2021, Zhao posted a list of more than 650 COVID-19 vaccination cards that he advertised as "genuine" and "right from the CDC." In total, he sold 630 tokens to about 200 unique buyers, who paid Zhao more than $5,600," according to a Justice Department press release.
According to the DOJ, a federal grand jury convicted Zhao on dozens of counts of theft of government property. At trial, the government showed eBay messages that Zhao had sent to buyers of fake vaccination cards, court records show.
Zhao's attorney, Gal Pissetzky, told ABC News in a statement that his client was "disappointed with the verdict" and planned to appeal.
"Empty COVID-19 vaccination cards are not government property, where the government does not maintain oversight and control over the cards once they are delivered to vendors like Walgreens," Pissetzky said. "The government does not monitor the cards at all and has no control over how the cards are handled."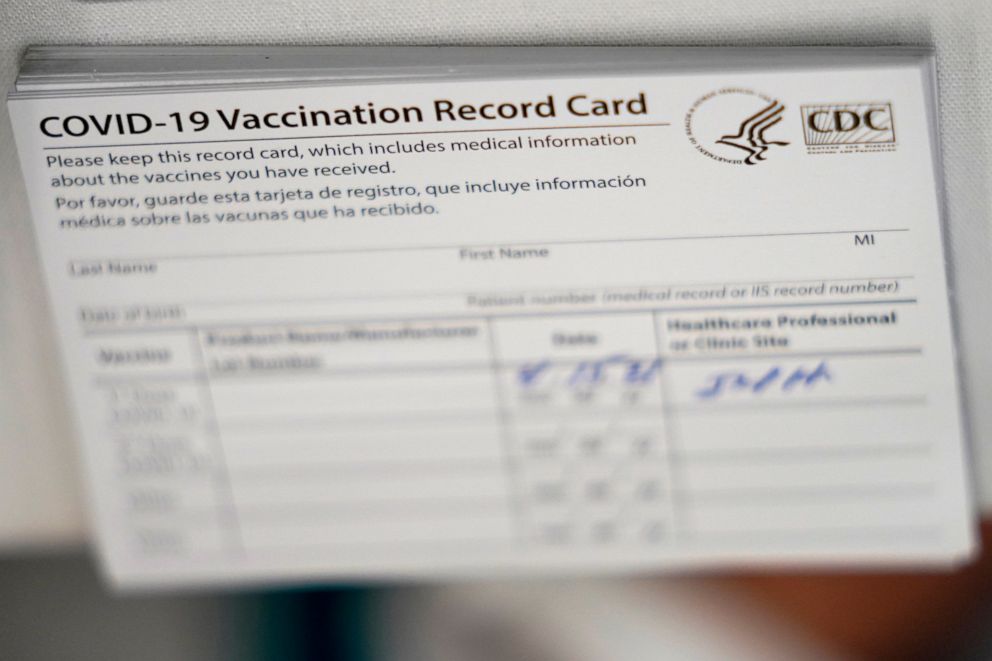 Zhao is expected to be sentenced on November 28 and faces a maximum sentence of 10 years in prison, according to the DOJ.
The Department of Health and Human Services' Office of Inspector General (HHS-OIG) told ABC News in August 2021 that it is beginning to receive "an increasing number of reports of individuals creating, purchasing, and using fake COVID-19 vaccination cards", warning that the spread of fake cards may occur. leaving the victim's personal identity vulnerable.
According to the U.S. Attorney's Office for the Eastern District of New York, employees and owners of a midwife practice in upstate New York were indicted on federal charges in April for accused of running a fraudulent COVID-19 vaccination clinic.
Between June 2021 and March 2022, Sage Femme Midwifery, based in Albany, created more than 2,600 false entries in the state immunization database and distributed fake COVID-19 vaccination cards from the Centers for Disease Control and Prevention for unvaccinated people. including individuals living in Brooklyn and Staten Island, according to court documents.
The FBI and HHS-OIG investigated the case involving Zhao.
Mary Kekatos, Alexander Mallin, Kaitlyn Folmer and Sasha Pezenik of ABC News contributed to this report.