Chiefs, Eagles land in Phoenix, prepare for Super Bowl 57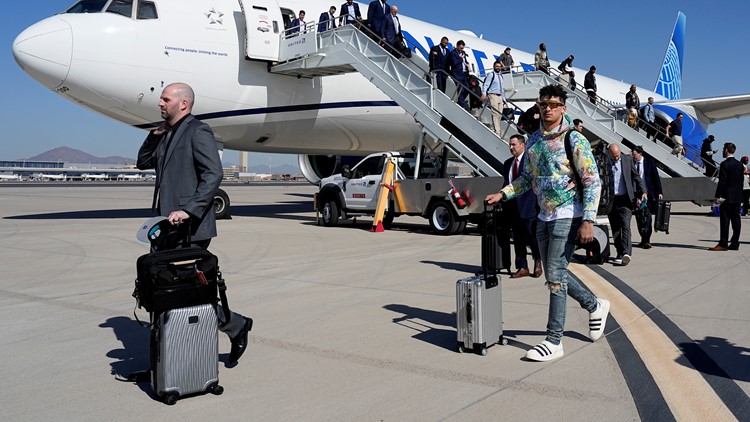 Shortly after Kansas City landed in Phoenix, the pilot hung a Chiefs Kingdom flag out the window as everyone got off the plane and walked the runway.
PHOENIX (AP) — A few minutes after the Kansas City Chiefs and quarterback Patrick Mahomes landed in Phoenix, the pilot hung a "Chiefs Kingdom" flag out the window as players, coaches and staff climbed off the plane and over the runway went.
About an hour later, it was the Philadelphia Eagles who arrived in Arizona with an "It's a Philly Thing" flag fluttering on the runway as quarterback Jalen Hurts, coach Nick Sirianni and others made their way to a fleet of buses .
Super Bowl 57 is just a week away.
The Chiefs meet the Eagles on February 12 in Glendale, Arizona.
Both teams landed at the Goldwater Air National Guard Base in Phoenix in ideal winter weather – bright sunshine and temperatures around 70 degrees. Team personnel stopped occasionally to take photos and videos on the runway.
Former Chiefs star Christian Okoye was on hand to hand out hats to Kansas City players as they stepped off the plane. The former running back star lives in Southern California and made the short trip to Phoenix.
"They called me and wanted me to come over and say hello to the team," Okoye said. "So I said, 'Yeah, of course' — my team is over here getting ready to win the Super Bowl."
Oddsmakers expect a good game, although they disagree with Okoye, giving the Eagles a slight advantage. Philadelphia opened as a 1 1/2 point favorite, according to FanDuel Sportsbook.
The Chiefs reached their third Super Bowl in four seasons when Harrison Butker scored a 45-yard field goal with three seconds remaining to push Kansas City 23-20 past the Cincinnati Bengals in last weekend's AFC Championship game.
The Eagles defeated the San Francisco 49ers 31-7 in the NFC title game. They've looked dominant in the playoffs so far, beating the New York Giants 38-7 in the divisional round.
Philadelphia is back in the Super Bowl five years after beating the New England Patriots 41-33.
Now a mostly new generation of Eagles — led by Hurts and Sirianni — will come to Arizona to try and win another title.
Both teams will attend the "Super Bowl LVII Opening Night" Monday in downtown Phoenix, where all players and coaches from both teams will be available for the annual media extravaganza.
Then it's down to business. The Chiefs will practice at Arizona State football facilities throughout the week, while the Eagles will conduct their preparations at the Arizona Cardinals' training facility.
There's no shortage of storylines as Kansas City coach Andy Reid takes on his former team — whom he guided to Super Bowl 39 — in a game that's also the first Super Bowl duel between black starting quarterbacks, featuring Mahomes and Hurts .
There's also a brother-vs-brother showdown between Chiefs tight end Travis Kelce and Philadelphia center Jason Kelce.
https://www.king5.com/article/sports/nfl/superbowl/chiefs-eagles-land-in-phoenix-prepare-for-super-bowl-57/281-04035aca-0e12-4cfd-8963-a850c74c7131 Chiefs, Eagles land in Phoenix, prepare for Super Bowl 57