China and Ukraine force rivals Japan and South Korea to rethink
The former (a G7 member) invited the latter as a guest to this weekend's summit. The event follows two historic summits between Kishida and South Korean President Yoon Suk Yeol, during which both leaders visited each other's capitals for talks over sake and beer.
That was a big deal. These were their first formal meetings in more than a decade, beginning the process of resolving bitterness over Japan's 1910-1945 colonial occupation of South Korea.
President Joe Biden called it a "groundbreaking new chapter" at the White House in March. Without mentioning China by name, he spelled out strengthening the partnership as one of the "free and open" democracies against authoritarianism – a key theme of his government.
At a trilateral meeting of the G7 summit, Biden invited Yoon and Kishida to another meeting in Washington, a senior US official said. In a statement released after the talks, the White House said leaders "discussed how to take their trilateral cooperation to a new level," including through renewed coordination in the face of "illegal nuclear and missile threats." North Korea.
Japan announced late last year that its military spending will double to 2% of its gross domestic product – a historic departure from its supposedly "pacifist" constitution. It caused displeasure in Beijing with the decision to station Patriot missile batteries on islands near Taiwan. And there's even talk of opening a NATO liaison office, Koji Tomita, Japan's ambassador to the US, said last week, in a small but symbolically significant gesture of Western solidarity.
In South Korea, feeling that North Korea's arsenal is becoming a growing threat, more than 70% of respondents support developing its own nuclear weapons, according to a Chicago Council on Global Affairs poll last year.
This prompted Washington to announce a new defense pact with the Seoul government that would allow US nuclear-capable submarines to be sent to the country – provided it reiterated its promise not to try to get its hands on nuclear weapons.
South Korea is heavily dependent on China for trade and has thus been wary of dealing with its huge neighbor in the past. But relations between the two have soured recently, particularly after South Korean President Yoon suggested that China was trying to "use force to change the status quo in Taiwan." This sparked a controversial convening of the ambassadors, with the Chinese Foreign Ministry calling the comments "false" and "completely unacceptable".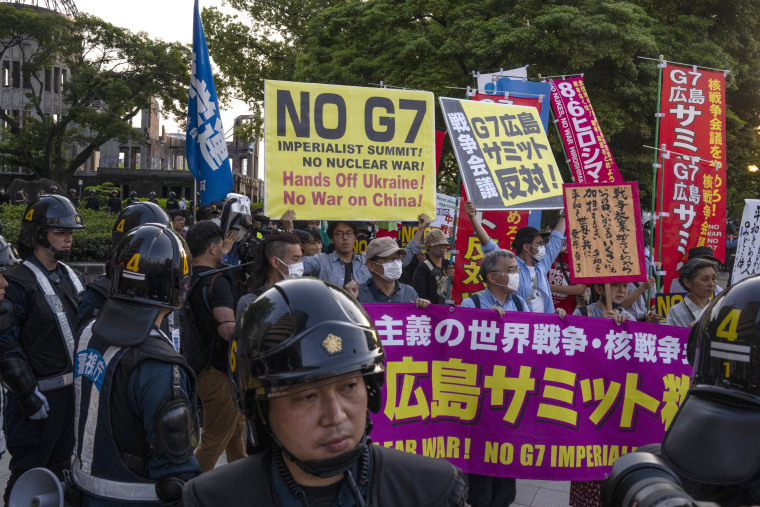 Simon Chelton, a former British defense attache in Tokyo, said it would be wrong to attribute the developments solely to concerns about China, North Korean missile tests or US prompts – but rather to a more complex mix of all three brewing over years if not decades.
"The reason Japan is now increasing spending is not a spontaneous reaction to what Biden is saying, it's not a sudden whim," said Chelton, who is now an associate fellow at the Royal United Services Institute, a think tank in London. "It's a gradual build-up that goes back many years. In Japan, everything always happens gradually."
China sees these moves merely as an excuse for Japan and South Korea to join the American line to contain Beijing. Foreign Ministry spokesman Wang Wenbin said at a briefing last week that the trio used North Korea "as an excuse to strengthen military cooperation." He accused US allies of increasing the risk of a "regional bloc confrontation" and undermining "the already fragile mutual trust" between them and Beijing.
The state news agency Xinhua wrote on the same day that "the US has long tried to assemble an anti-China clique" and described the alliance as "a conspiracy".
Many pundits agree that the strengthening trio is due in part to China — and with good reason.
"China's military modernization over the past two decades, which has entailed double-digit annual increases in military spending, coupled with greater assertiveness over China's contested territorial claims, creates unease about Beijing's hegemonic ambitions," said Temple University's Kingston.
That uneasiness has prompted an unlikely bonhomie that not only shatters yesterday's bitter rivalry, but could also shape today's geopolitical status quo – starting this weekend.