Chip Kelly era at UCLA finally showing some promising signs
It was ugly, borderline unwatchable. It was infuriating and unfathomable that this was an offense by Chip Kelly in the sixth year of his UCLA tenure, wasting a golden opportunity to knock off back-to-back Pac-12 champion Utah in what will be the Bruins' final visit to Salt Lake City for quite a while.
No. 22 UCLA's 14-7 loss to the No. 11 Utes on Saturday summed up the Kelly era in Westwood up to that point. Every time the program has a chance to make a statement and join the conference's upper echelon, it recoils from the moment. Bruins fans have every reason to be fed up and wonder if the breakthrough under Kelly will ever happen, especially with an intimidating move to the Big Ten looming next season.
But I have to say, as brutal as it was, whether you're an impartial observer or a zealot, UCLA actually made small strides on Saturday.
Yes, as crazy as it may sound, the Bruins are closer to their ultimate goal, assuming that goal is to field a complete football team that has a real chance of winning the grueling road games like this that eventually lead to championship seasons.
This whiff on the big stage felt different than the others because UCLA brought legitimate defense to the contest. It felt different because despite all the offensive mistakes, the Bruins still should have found a way to win the game.
I had never seen UCLA play Utah or Oregon, the conference powers of Kelly's era, and thought the Bruins should have won.
Kelly's critics will rightly point out that Utah played without veteran quarterback Cam Rising, so the Bruins' dominant defensive performance on the road must be viewed in that context. That's me, but UCLA's defense under first-year coordinator D'Anton Lynn still put up an inspiring performance compared to what we've seen in the past.
UCLA linebacker Kain Medrano was a one-man squad against the Utes, forcing a fumble and keeping speedy Nate Johnson in check on a key stop on fourth down. The Bruins held Utah to 3.1 yards per rush – excluding their four sacks – and recorded 11 tackles for loss and two turnovers.
"We've come a long way, you know," said Medrano, a senior who will be eligible for an extra year next year because of the COVID-19 season. "Coach D-Lynn's first year here, you can just watch it and see what he's brought and done to this defense, how he's changed it and how close we are as a defensive unit."
Late in the fourth quarter, after UCLA's offense finally woke up and got within 14-7, the defense did what the best units do: It immediately forced a three-pointer and got the ball back to freshman quarterback Dante Moore, who took it his seemed to find a groove.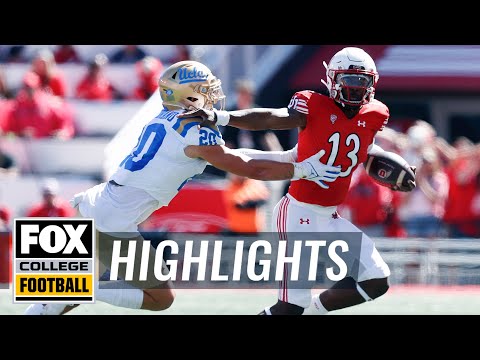 "When they get that stop on third-and-1, not many defenses can do that," Moore said. "I love the defensive side of our team, but we have to respond when they get a good stop for us."
All afternoon, the offense did not honor the defense, which of course is the opposite of what it has been in recent years when Dorian Thompson-Robinson put the program on his back week after week.
Moore, the talented five-star prospect from Detroit, could actually get some help along the way — if Lynn can develop the defense the way he has.
Moore was understandably not ready for the combined challenge of a Kyle Whittingham defense and the atmosphere at Rice-Eccles Stadium on Saturday. On this potentially game-winning drive, Moore recorded three sacks in four plays.
Moore throws a nice ball when he has a clean pocket and an open receiver in sight, but he needs to make better decisions when under pressure, and he undoubtedly will.
"One thing about Dante is I think he's a really mature kid," Kelly said. "I think if you talk to him on the sidelines, he had good answers and knew what we were doing. I'm sure there are some pieces he wants back. But there are calls I want back. Rice-Eccles and Utah, their defense, everything they have, I would say it's a tough place to play. We will understand this. But that's exactly what you want. You want to play games like that."
You don't have to wait long. After their departure, the Bruins added teams Washington State and Oregon State (or the "2Pac," as they now call themselves) to the rankings. The one in Corvallis, in particular, will give UCLA a chance to show that it has risen from this disappointment.
Then we'll know if a miserable Saturday in Salt Lake was actually a positive step, but that's how it feels. Moore gives the offense a ceiling that clearly matches what the Bruins achieved with Thompson-Robinson, and now we've seen signs of life from the defense.
"I believe in this football team," Medrano said.
Now the rest of the team can believe in their defense. If this momentum continues, it could lead to the breakthrough win that UCLA fans have been waiting for for six years.