City Section showcases its budding resurgence at track and field finals
If you've been a Los Angeles resident for a long time, you know the glorious history of City Section athletics.
In the 1970s there was sprinter Billy Mullins from Hamilton and hurdler Philip Johnson from Gardena. In the 1980s, fans filled stadiums and placed bets in the stands as sprinters Quincy Watts of Taft and Bryan Bridgewater of Washington dueled in the 100m and 200m. There were the Howard sisters Kennedy, Denean and Sherri from Granada Hills and the hurdler Choo Choo Knighten from Locke sets the standard in girls' racing.
At City section finals on Thursday, there were plenty of vacancies in the bleachers on both sides of El Camino College. Yes, talent levels have dropped significantly, but if people only knew what they were missing – a sign of resurgence.
"The City Section is back – a little bit," announced former Dorsey coach Ralph Tilley.
The first record to fall in years was achieved in the boys' 4x100m relay when the Granada Hills team, consisting of Jordan Coleman, Dijon Stanley, Kanye Martin and Jayden Smith, broke Taft's 2002 record with a time of 40.68 broke. The Highlanders are the favorites to win a state championship at this event.
"It's going to be hotter next week," Stanley said.
Stanley wanted to set a record in the 400 but failed with a 46.17. The record of 46.08 remains with David Gettis of Dorsey, a three-time state champion who set the record in 2005.
"It's my favorite race," said Stanley. "I felt great and wanted to get the record, but the wind on the backstretch was in my face. I ran smoothly and thought I made it, but just missed it. That gives me more incentive for the national meeting."
Stanley, who wants to play football after Utah, is hoping to join Gettis next week in his final high school performance as the city section state champion. He also won the 200m in 21.14.
"I want everyone to remember me," Stanley said. "Even if I go, I will come back."
Yes, Stanley is returning on October 21st to play at the Coliseum in a Pac-12 football game against USC.
One of the most heartwarming stories is that Coleman won the 100 in 10.67 minutes. At the start of the track and field season, he was barely on the list. He just kept getting better. He finished second in the 200cc race.
"I'm kind of incredulous," Coleman said. "When I was younger, I didn't know I could be that fast."
Defending girls 100m champion Reign Redmond of Georgia led a Carson sweep. She won the 100m in 11.75, ahead of Christian Gray second (12.02) and TaAhjah Fann third (12.08). Redmond also made the 200 in 24.43. Redmond isn't taking anything for granted at next week's state championships in Clovis.
"I stay humble because someone can surpass me," she said.
In order for City Section athletics to return to a high level, schools must recruit their best athletes to compete.
Birmingham could have a new high jump star in basketball player Deshawn Banks. He won the city title 6-6. Not bad for someone just learning the sport.
"I saw him sink a basketball and his head was over the edge," said athletics coach Don Boardingham. "I said, 'Can you come out?' "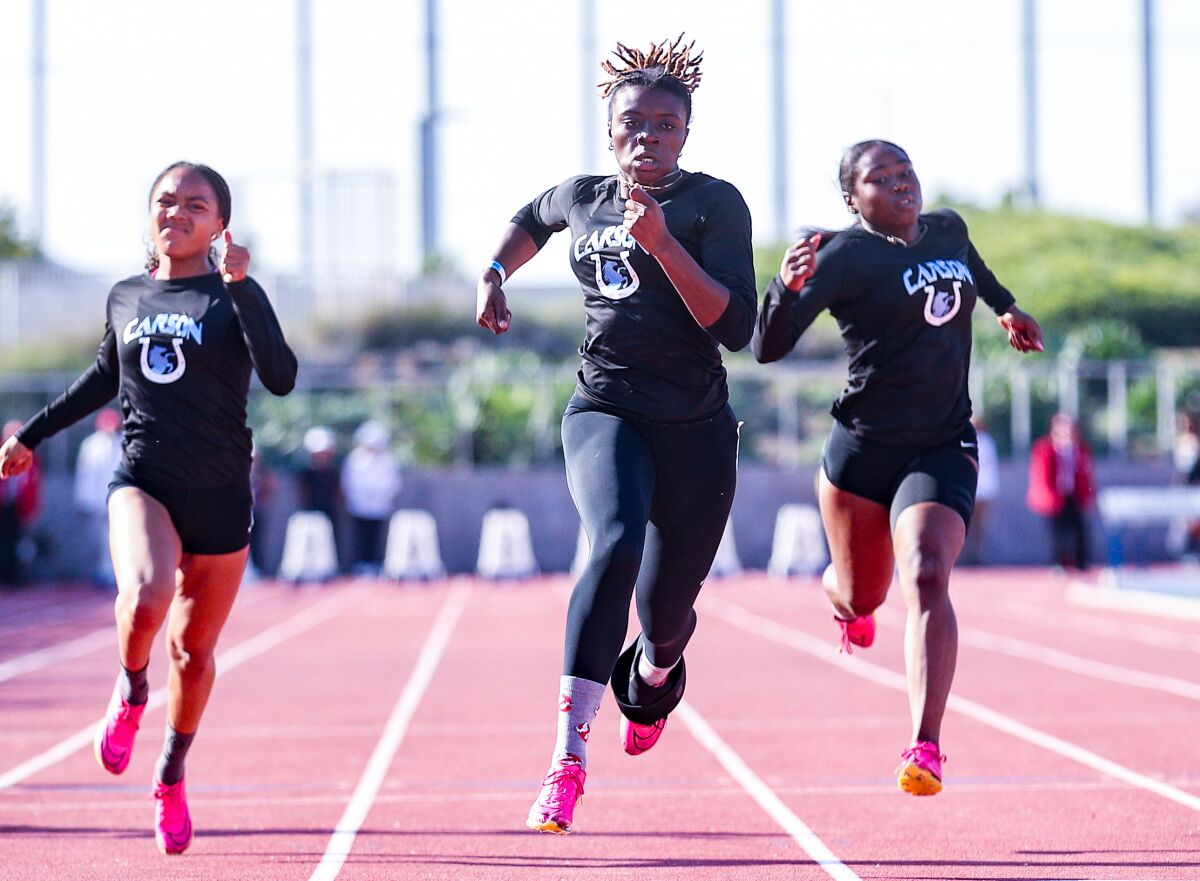 Granada Hills won the boys' team title, drawing on many players who helped the football team win a Division I championship that fall. Carson won the girls title. Both teams are expected to compete for state titles, which is an amazing development for the city section.
"We can't always [set a personal record]' said Coleman. "We can't always break records. But today we can become champions."
For old-timers who remember the many Olympians from the city section, Thursday was a good start to a perhaps brighter future.