City University of Seattle enacting program to address issues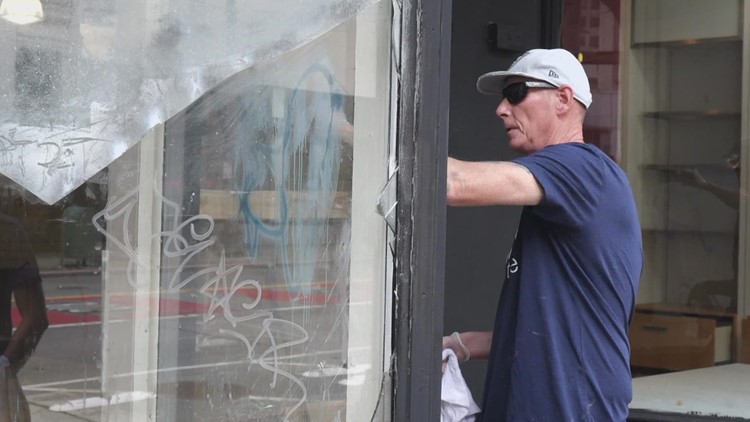 A unique pilot program in Seattle combines some concerns in hopes of a "win-win" solution.
SEATTLE — A unique pilot program in Seattle combines several concerns in hopes of a "win-win" resolution.
"Helping the homeless find jobs while cleaning up the city is one way to empower people," said Kathy Cox of the City University of Seattle.
The school champions a project that its Enactus team created for a national competition in New York.
City University's Enactus team won first place in the early-stage competition in April and is now bringing that idea to life on the streets of Seattle. Enactus is a student organization that brings together college students, academics and industry leaders to focus on a shared mission of creating a more sustainable world through entrepreneurship.
The students began with a needs assessment and found that two of the city's main issues affecting the community are homelessness and graffiti vandals.
The team developed "Project Clean Up" to address both issues simultaneously. The project even looked at the link between graffiti and crime rates, both of which have risen since the pandemic began. Homelessness is also on the rise and with rising inflation it was time to put a good idea into action.
The City University of Seattle said the Enactus team is working with Uplift Northwest to build a start-up company where Seattle's homeless can get training and employment to clean up graffiti. Uplift Northwest is a Seattle-based nonprofit organization formerly known as the Millionair Club Charity.
Since 1921, the organization has provided life-changing opportunities for men and women. Executive Director Gina Hall said its true purpose was to instill dignity and hope.
"The average age of the person who joins Uplift Northwest is 44 years old. So if they get an education and a job, they can take control of their lives and make their own decisions."
The organization looks forward to implementing the new graffiti cleaning business as it will employ more of the men and women potentially affected by poverty and homelessness in the Puget Sound.
The pilot is funded by several grants, including $25,000 from the Metropolitan Improvements District and $50,000 from the National University System, City University's parent company. The team is currently cleaning up the Belltown United neighborhood and hopes to expand the scale and reach with a successful implementation over the summer.
https://www.king5.com/article/news/local/seattle/city-university-seattle-enacting-pilot-program-address-local-concerns/281-9b931aa9-f124-4ab9-9a90-e61a85adaf57 City University of Seattle enacting program to address issues