Cleanup begins after Hurricane Ian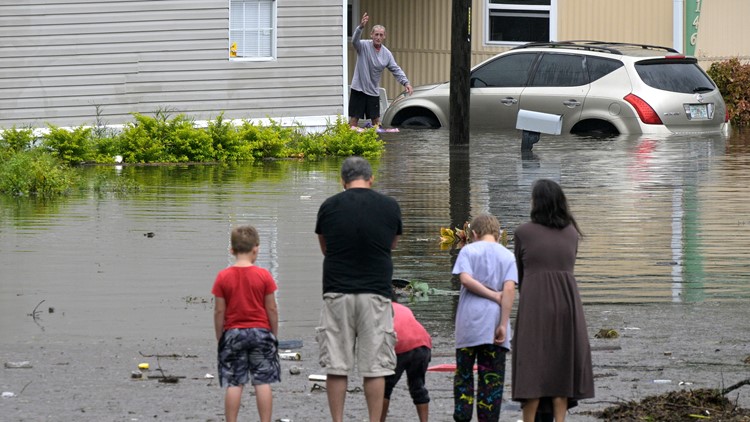 We still don't know the full extent of the damage Ian caused as he sped through Florida, but it's extensive.
FORT MYERS BEACH, Fla. — Hurricane Ian was over southwest Florida for just a few hours.
It will take months to repair all the damage. Maybe longer. And some of the destruction can't be cleaned up at all.
From trees being ripped out of the ground, to signs being ripped apart, traffic lights crashing down streets and some buildings simply being destroyed, the impact was everywhere and almost nothing was spared. The only difference between one place and the next was the severity of the problems.
"We're going to get through this," said Deputy Mayor Richard Johnson of Sanibel, Florida. "And we'll come out the other side better than we went in."
Maybe, but it's going to be a massive undertaking, ranging from cosmetic to crucial and everything in between.
Fort Myers Beach is simply destroyed. shops are gone. Obviously jobs will be lost, at least temporarily. The cleanup will take weeks, and that will almost certainly have to precede any recovery effort.
"All of our staff are safe and although the restaurant has suffered incredible damage, the structure of the building is intact," the owner of Nervous Nellie's, a beachfront seafood restaurant, said in a statement. "We hope that we can work our way through it and come back stronger than ever."
Across the region—Naples, Fort Myers, Sanibel—the extent of the damage is unmistakable. Countless signs outside of businesses along US 41, the area's main thoroughfare, have been damaged, torn, or simply gone. The steel posts that hold the street signs in the ground are bent backwards, no problem for Ian's wind and strength. The doors to the storage unit garages were twisted, causing belongings in some of the rooms to fly through the air. Most traffic lights are off, in some cases cables are dangling to the street.
And in one instance, a metal traffic sign directing drivers to Interstate 75 was crushed by an electronic traffic sign warning drivers of a lane closure.
"I saw a few things," said Clark Manchin, a construction project manager, as he surveyed the chaos. "I've never seen that before."
Patience quickly wore off. A 7-Eleven employee begged the people who filled her store: No $20, please. Just small bills. "If I run out of change, we'll have to close," she pleaded. There was no gas, no hot food and – because there was no running water – no coffee or toilets either.
"I didn't take it as seriously as I should have," said Mark Crow of Naples. "I haven't stocked up. I didn't board. It's a mess, man. It's bad."
Luckily, much of the damage was cosmetic. The 150-foot-tall (50 meters), 250-yards (220 meters) deep nets that encircled a top golf course in Fort Myers were shredded and swayed in the afternoon breeze, not far from where a tattered American flag flies one was Pole in an office complex. At Florida Gulf Coast University, a row of bleachers – once on the sidelines of the football field – flew halfway across the field, shattering one of the goals.
Other damage was much worse. Debris from a wrecked golf cart floated in low water at an RV park in Fort Myers on Thursday, long after the storm had abated. Fallen power lines and the destroyed poles to which they were attached blocked the entrance. And down the road was a barn style building that was under construction. Its walls collapsed, the roof crushed the lumber to the ground.
The damage assessment and the clean-up work are just beginning.
"We have to be patient," said John Henshaw, Sanibel councilman. "We have to think about where we will stay and live for a longer period of time. I don't know exactly what that is. We'll learn more as we go through this process."
https://www.king5.com/article/news/nation-world/florida-hurricane-ian/507-6417510f-ce79-420f-8f65-da11eb224b4c Cleanup begins after Hurricane Ian