Coach of No. 1 UCLA Bruins soccer to face old Stanford team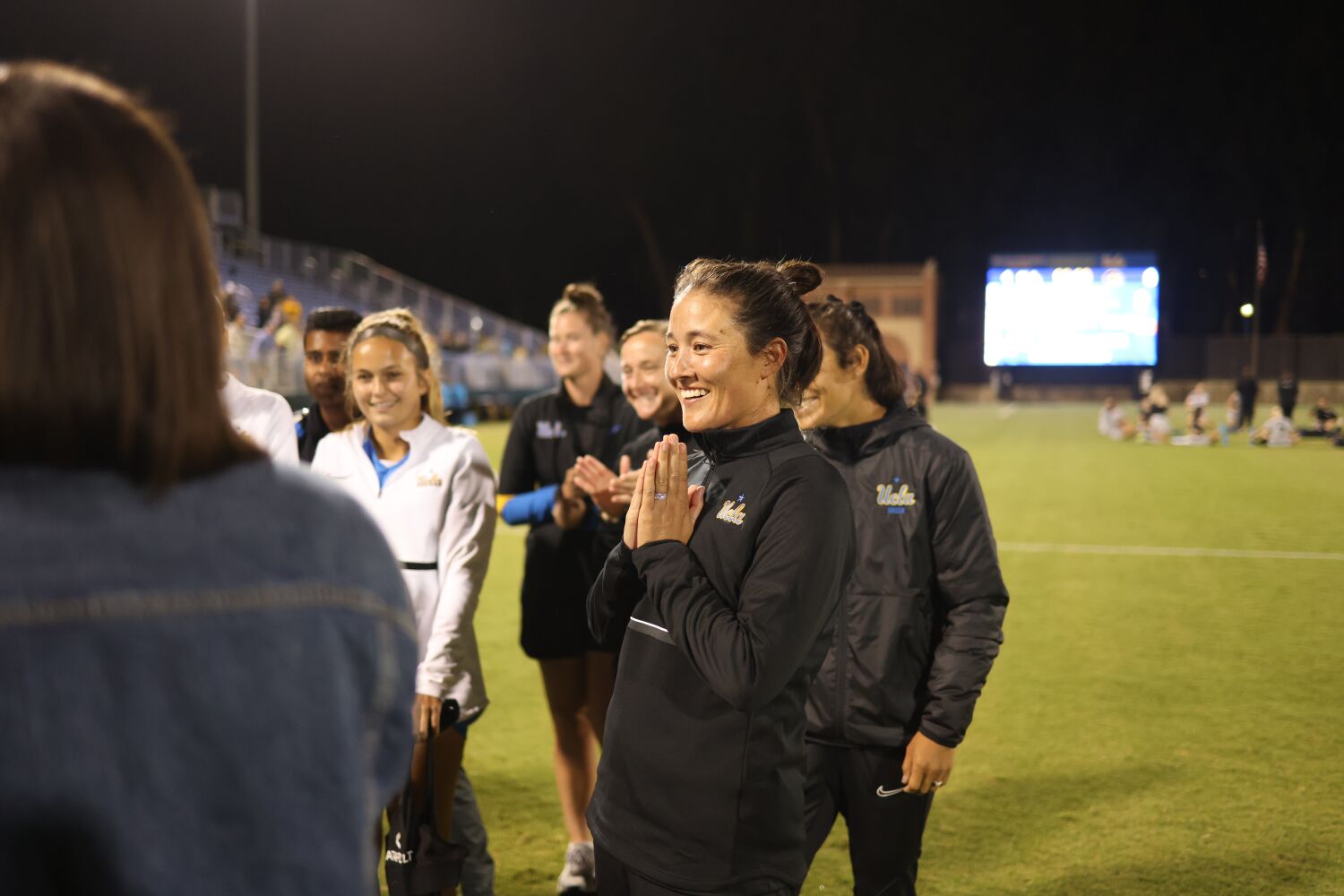 She lives near the beach, but the quiet surroundings aren't enough to help Margueritte Aozasa relax. That's a coach's burden.
"A lot more sleepless nights than a head coach," UCLA's freshman year leader joked last month.
After seven years as a Stanford assistant, Aozasa made a dream transition into her first head coaching position, guiding UCLA to a program-best 13-0 start and the top finish in the country. The Bruins (5-0 Pac-12) travel to No. 9 Stanford on Friday in a key conference game that also marks an emotional homecoming for Aozasa, who was an assistant at Stanford for seven years.
The Bay Area native said she feels "every emotion I can think of." She is proud to be returning to her old turf in Palo Alto, grateful for the school where she honed her coaching skills, and excited to see mentors and old friends again. There's melancholy too: the game's theme is to raise mental health awareness in honor of former Stanford and Newbury Park goaltender Katie Meyer, a player who coached Aozasa and who died by suicide in March.
While helping the Cardinal to two national championships, Aozasa learned how to break down the game and teach it in its simplest form from Stanford coach Paul Ratcliffe. When she moved to UCLA, Aozasa wanted to inherit Stanford's thoughtful decision-making and structure but give her players freedom.
The result is a fluid playstyle that worked perfectly.
The only NCAA Division I team without a loss or a tie, the Bruins have weathered a difficult schedule that included top-10 wins away in Duke and North Carolina. They have three straight shutout wins and lead the Pac-12 with 3.08 goals per game.
The players are "in a groove where they play with a lot of confidence, they play with a lot of composure, but that comes from their willingness to work hard for each other," Aozasa said. "It's just about having that foundation, that trust between the players."
Players who were wary of the managerial change didn't blindly trust the new team when it came in January. The staff even told the players they had to earn the team's trust. Aozasa placed a strong emphasis on building relationships and creating a space for players to get to know each other outside of football. They engaged in lighthearted activities like building towers out of marshmallows and straws and sat down for team bonding talks that midfielder MacKenzee Vance said never happened under the previous workforce.
Vance identified an exercise in which players and staff identified as animals based on their handling of conflict. Leos are loud and verbal. Rabbits scurry away. Porcupines are prickly. Turtles retreat into their shell.
"That gave us a language to use in conflict, which was really nice for building relationships and building trust," said Aozasa, who identifies as an owl who approaches conflict intellectually.
By the spring quarter, players were ready to embrace Aozasa's vision for the program.
"They are just such good people. Down to earth people," Vance said last month. "I feel like we need that here in this program. Someone who will take control, show us love and family and still expect us to grind and give 100% every time on the field and that's what they ask for every day."
The standard for the Bruins is such that even a 1-0 shutout against Arizona on Sunday was called "just an all-around poor performance," Aozasa said. A crucial goal from Sunshine Fontes in the 83rd minute saved the perfect start, but the manager was worried about the lack of discipline the side showed by giving up important habits. The Bruins need a better performance at Stanford (11-2-1, 4-1-0), where the Cardinal is 7-0 and outscoring his opponents at 25-4.
https://www.latimes.com/sports/ucla/story/2022-10-12/ucla-womens-soccer-coach-margueritte-aozasa-stanford Coach of No. 1 UCLA Bruins soccer to face old Stanford team