Coco Gauff through to first US Open final after protest disrupts semi-final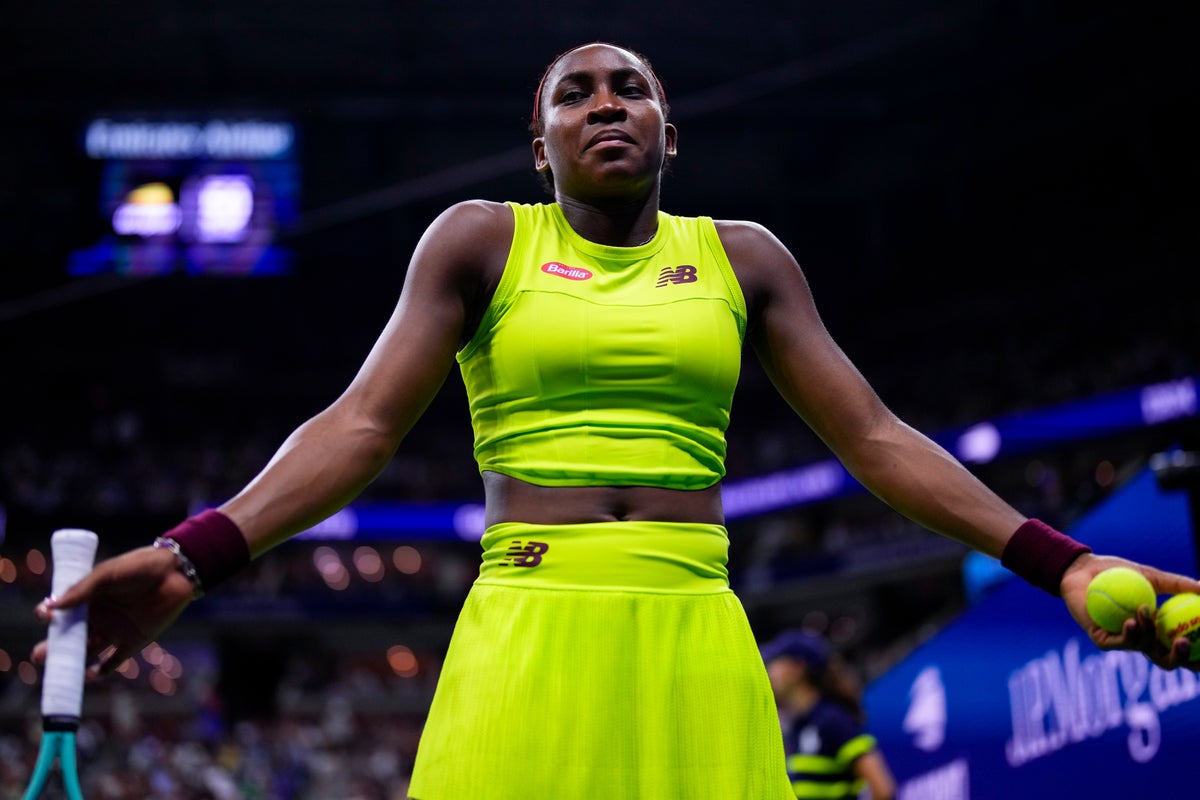 Coco Gauff has reached her first US Open final, but only after her round of 16 match against Karolina Muchova was suspended for more than 45 minutes because a protester in the stands taped his feet to the ground.
American teenager Gauff's 6-4, 7-5 victory was overshadowed by a small group of spectators wearing T-shirts reading "Stop fossil fuels" who began shouting, disrupting play.
Gauff and Czech number 10 Muchova initially remained on the pitch for about ten minutes while security forces tried to deal with the situation.
At one point, the Arthur Ashe crowd began chanting "throw them out," with protesters apparently having a hard time moving despite being surrounded by about 12 police officers.
It soon emerged that while three of the protesters had been removed, a fourth had his bare feet stuck to the concrete.
"Are they going to talk to them or are they going to remove them?" Gauff asked head judge Alison Hughes and tournament referee Jake Garner.
Then she spoke to her trainer, Brad Gilbert, and said, "They say they're negotiating like it's a hostage situation. What should I do?"
Gilbert was then heard yelling at Garner, "This is a joke, Jake."
Both players eventually left the court, with Gauff leading 6-4 and 1-0. They returned at 8:50 p.m., when the third protester had finally been removed, and after a warm-up, play resumed 50 minutes after the final point.
Speaking to ESPN, tournament director Stacey Allaster said: "As we saw, we had environmental protesters in the box area.
"There were three. Two were removed. They left quietly. When the security forces got there, they found that one of the protesters had physically stuck himself to the cement floor with his bare feet."
A USTA statement said: "After the first game of the second set in the Gauff-Muchova match, play was suspended due to a protest from four spectators.
"Three of the four protesters were escorted from the stadium without further incident. The fourth protester secured his bare feet to the bottom of the seat.
"Due to the nature of this action, NYPD and medical personnel were required to safely remove this individual from the stadium.
"The four protesters were taken into New York police custody. A total of 49 minutes passed before the game resumed."
It is not the first time that a major tennis tournament has been disrupted by demonstrators.
At Wimbledon this year, Just Stop Oil activists caused two matches, one involving Britain's Katie Boulter, to be interrupted after they ran onto the court throwing puzzle pieces and confetti.
Last year's French Open semi-final between Casper Ruud and Marin Cilic also had to be canceled after a woman tied herself to the net.
At least both players appeared to be able to put the incident behind them when play resumed.
Muchova was treated for an abdominal injury apparently suffered during the stoppage.
The number 10 seeded Czech secured a match point with the Gauff serve and five more in the next game alone.
But the 19-year-old converted at the sixth attempt as Muchova reached her second Grand Slam final with a long lead.
"Thanks guys, this is crazy," she told the crowd. "I grew up watching this tournament, so it means a lot to me to be in the final."