College green program shows how anyone can give discarded items new life
When college students leave their campus for a much-needed summer break, some tend to leave behind the remnants of their dorm life.
Used and worn pillowcases, lamps and other trinkets end up in landfills, according to environmentalists, adding to the growing global waste problem.
However, a professor at Barnard College and student volunteers are working to give a second life to the leftovers in that dorm.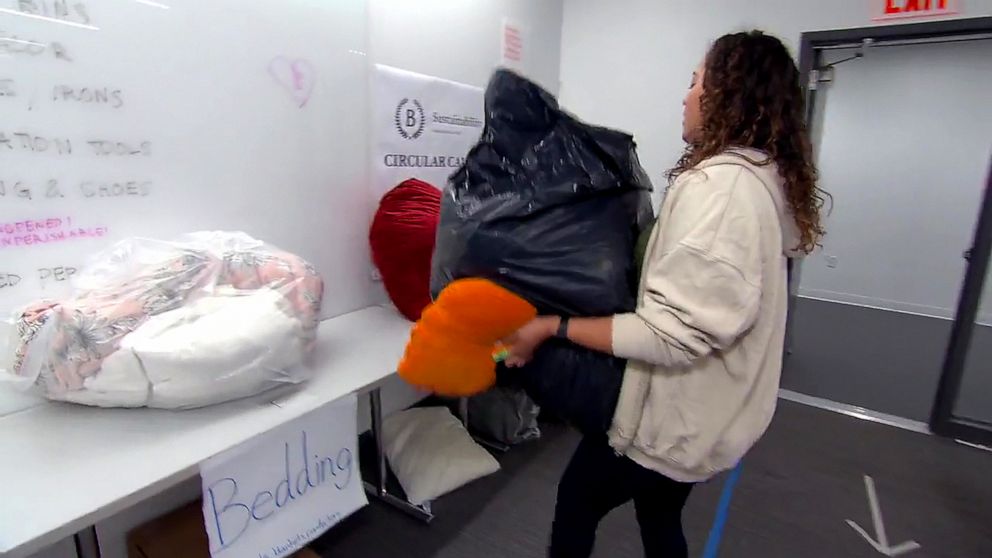 "We asked them to bring it in here and we sort it out and we save as much as we can so the fall can be sold to incoming students. And what we can't save, we donate. contribute locally," Sandra Goldmark, Facility Manager for Climate Action and Sustainability, who runs the school's "Give and Go Green" program, told ABC News.
Goldmark says students are handling more than 20,000 pounds of used goods, and last year they resold nearly a third of the proceeds. Students have sorted, cleaned and, in some cases, refurbished everything from microwaves to oversized pillows.
Goldmark says her goal is to help the world rethink our relationship with "stuff" and how to create that reusable circle at home. The school's program is similar to other circular economy offerings such as online buy nothing groups and social networking forums.
Goldmark notes that buying secondhand makes a big difference. For example, about 12 million pounds of furniture is thrown away annually, and 80 percent of those discarded items end up in landfills, the association reports. US Environmental Protection Agency.
"55% of global emissions come from the production and use of everyday items such as food, cars and clothing," she said.
Goldmark also promotes the repair and recovery of damaged items and donates them to interested users. She runs a design lab for students, where they can learn how to repair everything from ceramics to wires to lights.
"I think starting with the repair and starting with the repair is a really simple, tangible thing that you can do and anyone can do at any scale," says Goldmark. .
The professor said she hopes that more institutions and organizations will take note of this program and continue to spread the word about the benefits of the circular economy.
"If we can create a system that makes it easy for you to pick up used forks and decorative pillows as well as get new ones, that would be a big step forward," she said.