COLUMN: Jimmy Carter was good fit for post-Watergate America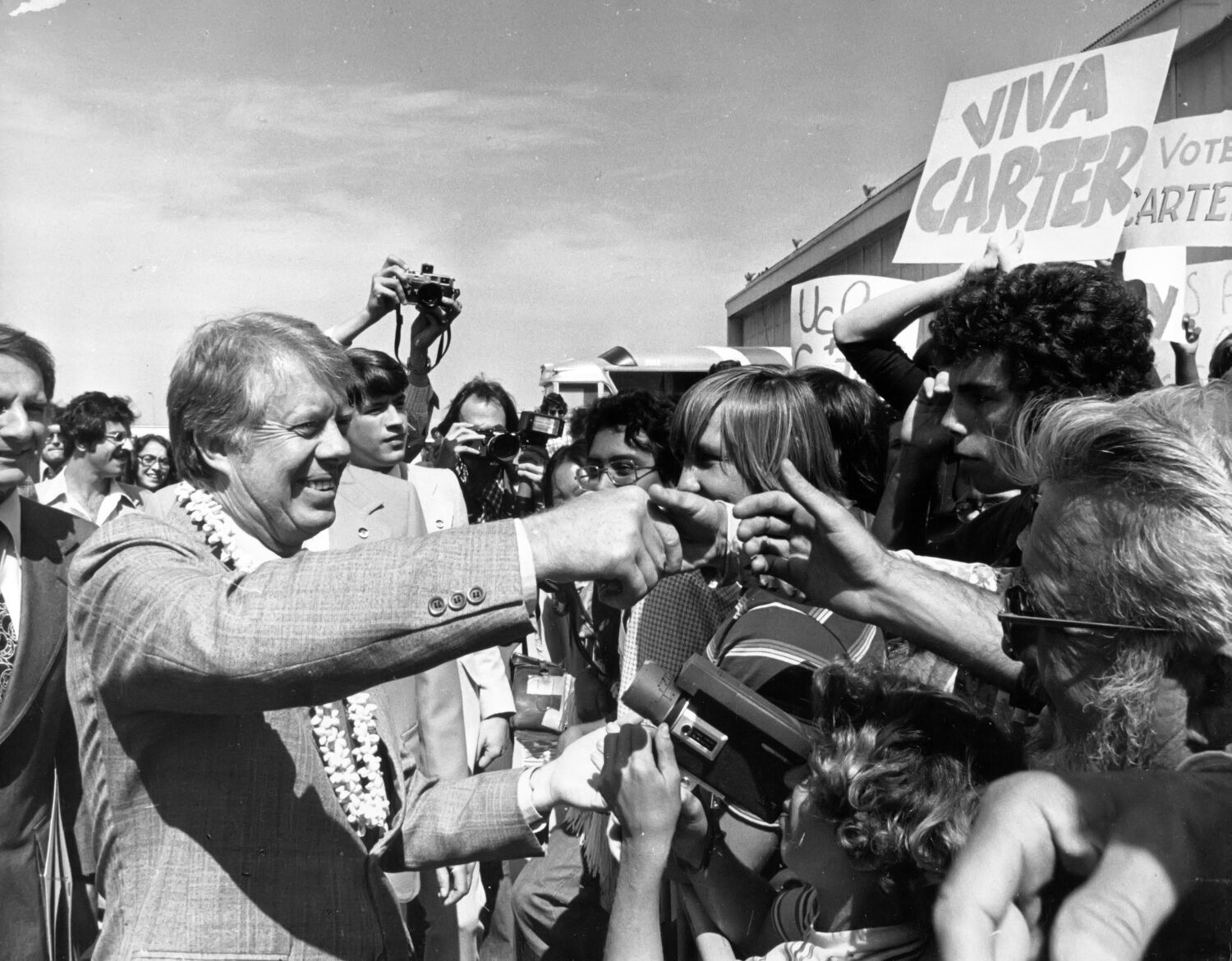 SACRAMENTO —
"My name is Jimmy Carter and I'm running for President." And he would grin. Always that friendly, down-to-earth grin.
That's how the peanut farmer and former Georgia governor began every campaign speech I heard during the unique 1976 election year.
And I heard many of them covering Carter for The Times from early January through the Democratic convention in mid-July. I then covered Carter's November opponent, Republican President Gerald Ford, whom the sure-footed Washington underdog narrowly defeated.
I've thought a lot about 1976 since it was announced last weekend that the 98-year-old former president had entered an at-home hospice and decided to forego "additional medical procedures."
Carter was a great presidential candidate in 1976 – politically the right person at the right time. It is unlikely that we will find or experience such a candidate anytime soon, if ever.
A Jimmy Carter would probably not be accepted by voters today. They would see his smile as a sign of weakness.
But it fitted perfectly with the cynical mood of 1976. It was a staunchly anti-Washington period following disgraced President Nixon's Watergate scandal and years of anti-Vietnam War protests. The country was also weary from a decade of civil rights struggles.
People were looking for a quiet, no-nonsense, honest leader and thought they found him in Carter.
As it turns out, the fierce, idealistic, perhaps naïve Democrat from tiny Plains, Georgia, was not a good match for the sharp elbows in Washington and was thrashed by another former governor, California Republican Ronald Reagan, in 1980.
Thereafter, Carter became arguably America's greatest ex-president with his humanitarian and diplomatic contributions. And that's how most Americans will remember him.
But back in 1976, during the nation's first Iowa congregations, Carter had to identify himself because few outside of Georgia had heard much about the guy. He started the campaign with just 4% national support in a Gallup poll. But within the next two months, he would outstrip a crowded field — including California Gov. Jerry Brown — to become the party leader.
Even after gaining high name identity, the grinning Carter identified himself at the beginning of every speech—including his acceptance speech for the nomination—because it became his trademark. And it reminded people how quickly he had climbed the steep political ladder.
Then he would immediately follow: "My wife, Rosalynn, and I have been married for 29½ years. She's the only woman I've ever"-pause-"loved."
To be honest, I found the "my only love" part a bit strange. Was it really necessary to tell voters that he only loved one woman? But voters must have eaten it up. He won contest after contest in states against more established rivals.
Another integral part of Carter's stock exchange speech was this solemn declaration: "I want a government filled with compassion and decency and openness and honesty and brotherhood and love like the American people."
As a Sunday school teacher, he might throw in a few quotes from the Bible, too.
And he always promised in another characteristic line – this one, spoken without a grin: "I will never mislead you; I will never tell you a lie."
OK, but frankly, he's left many people confused as to exactly where he stands on many issues, including hot topics like abortion and public school integration bus driving.
In Des Moines, after Carter won the Iowa caucuses, the state's Democratic chairman — who was neutral in the race — was asked if he thought many Iowans had misunderstood Georgia's abortion position.
"Misunderstood, misunderstood? Carter has three different positions on this," the party leader replied.
One morning, while campaigning at the Wisconsin elementary school in Milwaukee, I overheard Carter outline a stance on school bus service that seemed to appeal to a predominantly black church community.
Then, at noon, speaking to white voters in a bowling alley, he received a nod of approval, claiming that bus travel should be voluntary and locally controlled.
Carter's winning campaign built on the thesis that voters, especially in 1976, were not really concerned about how specific the presidential candidates were on these issues.
"What voters are looking for," he said in a television interview, "is someone who can lead government competently, who understands their problems and who is telling the truth. … We are not dealing with ideologies this year."
I found it easy and exciting to cover Carter. Unlike many politicians then and especially now, he was very approachable and not afraid to joke with reporters. In the early days of the campaign, he traveled many miles to be interviewed by a newspaper reporter from a small town in Iowa. He later set up routine press conferences on downtown sidewalks.
He realized that this is a way for a candidate to engage with the public.
Carter was a farm boy at heart, but showed in elementary school in Illinois that he could also deal with machine bosses – namely Chicago Mayor Richard J. Daley. Elsewhere, Carter attacked political professionals. But in Chicago, he and Daley developed a strong political alliance.
At the other end of the world there was the charming and cozy Plains with 683 inhabitants. One fascinating day, I accompanied Carter to his hometown.
City dwellers gathered around a loading dock to watch reporters, seated in swings and rocking chairs, quizzing the future president. A freight train interrupted.
"We have to wait for the train to pass. That doesn't happen often," Carter said. "But it's a Plains custom to watch the train go by."
I remember Carter in 1976 for his energy and confidence—a small-town peanut farmer who knew he could take on the big boys.
And I'll always picture that eternal, welcoming grin.
https://www.latimes.com/california/story/2023-02-23/column-jimmy-carter COLUMN: Jimmy Carter was good fit for post-Watergate America