Column: 'Skid row is the largest retirement center in the country'
Earlie King Jr. says he was in his late 20s when he settled down in a downtown alley.
He had no intention of growing old there, but it happened.
When King finally moved home about three weeks ago, he was 65 years old. Stepping out of the back alley of Los Angeles, where he and his friends scraped a living offloading deliveries to toy district retailers, felt like leaving home.
"This place just becomes a part of you," King said to me after Sieglinde von Deffner, the Skid Row coordinator for LA County's Housing for Health program, introduced us and took him to a nearby one-bedroom apartment building brought.
It's a temporary arrangement, and King hopes to move into a new apartment building nearby once construction is complete. But demand far outstrips supply, and King has been homeless for so long that the transition to indoor living is confusing.
"I had trouble sleeping last night," he told me. The mattress felt odd after spending half his life on a cardboard-covered wooden pallet.
King's gray stubble and uncertain future put him in good company on Skid Row. Based on information from government and nonprofit officials, about 2,000 older adults — a disproportionately large number of whom are black — live in tents, cabins, shelters and single rooms. And in limbo.
"Skid Row is the largest aging center in the country," said Wendell Blassingame, 74, who distributes masks, psalms and information about housing and social services from his volunteer post in the small park at 5th Street and San Julian Street.
There are, of course, larger retirement homes, but Blassingame, once homeless and now living in a one-room apartment, meant that as a complaint rather than literally. Growing old in a safe and comfortable environment is challenge enough. On Skid Row, the terrain is rough, a drug market thrives amidst the misery, and physical and mental hardship is the order of the day. And women have it the worst, Blassingame said, because they are used and abused.
Older adults make up one of the fastest growing segments of California's homeless population. And Skid Row is a good place to see where we're going if the state fails in its 10-year strategy to reverse high poverty rates, health care inequalities and the housing affordability crisis already plaguing older residents interspersed.
I asked Rev. Andy Bales, who directs the Union Rescue Mission on San Pedro Street, if he knew how many elderly people he shelters.
Two hundred and eighteen and more are on the way, he said. "We predict a tsunami of seniors and families with children."
I wanted to meet some of the older adults and Bales opened the door for me.
"It's a godsend," said Margo Fitzsimmons, 66, an unemployed security officer who lived with a cousin in Inglewood. When he died, she became homeless.
She said she has a relative who might be inclined to have her "curled up in his living room, but his wife doesn't want it." Her car is too expensive to keep, Fitzsimmons said, and not finding a job is a big problem.
Also age discrimination. During an interview, she said, she was told, "We really don't work with people in your age group." She moved to the mission three years ago, where she shares a small room with another woman.
"I'm still trying to move on," said Fitzsimmons, who doesn't feel safe walking the streets of Skid Row. "I'm leaving believing that eventually something will happen… I'm going to break away from it because I'm healthy, I don't smoke and I don't do drugs."
Michael Kelly, a 76-year-old college graduate and Canadian citizen, has lived in the mission for 10 years and earns a scholarship to bring patients to the mission's dental clinic. Kelly told me he started drinking as a young man and also became addicted to painkillers. His marriage ended, he was treated for depression and had various jobs over the years, but "my drinking screwed it up." Several attempts at rehab failed until he finally got clean on the mission.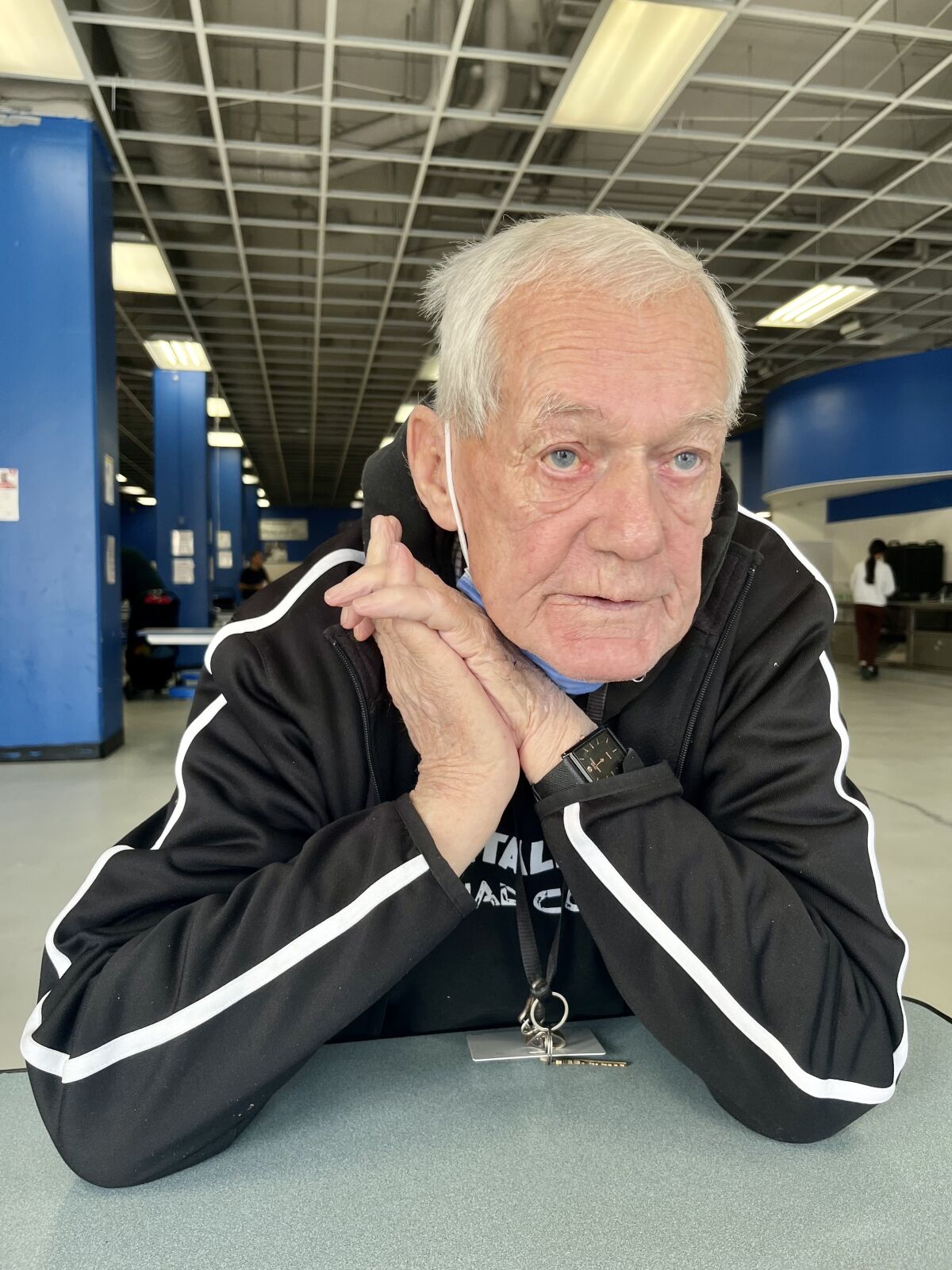 "I came here because I had nothing," says Kelly, who saves the occasional visit to the theater or opera.
He told me he didn't see how he could ever afford to live alone. But he hasn't stopped considering the possibility.
"I have a vision of a house in the country with a creek so I could do some fishing," he said. "That would be my dream."
Michelle Steverson, 70, came to the mission two weeks ago. She did general office work and lived with a stepsister, but was asked to leave after losing her job – she blames ageism – and was no longer able to help with the rent. She has no idea what's coming next.
"I'm just trying to be happy, and I'm looking for every opportunity," Steverson said.
The scary thing is how many more people are about to find themselves in the same predicament. After speaking to Steverson, I heard from a 102-year-old World War II veteran who lives in a one-bedroom apartment in Hollywood. He said the bulk of his income goes into home care, and he's just been hit by a $524 gas bill. He called his caretaker and she said she was struggling too because the pay for home nurses was relatively low.
"Gas bills are going up everywhere, and people on steady incomes might end up having to choose between gas bills and housing," said Professor Donna Benton, a USC gerontologist who helped create California's master plan for aging.
Benton is optimistic about strategies to address and prevent homelessness, but she doesn't downplay the magnitude of the challenges. She says heavier lifting is needed to increase wages, fight ageism and lengthen careers. And a form of long-term insurance is needed so that loneliness, suffering and poverty are not so much a part of growing old.
dr Heidi Behforouz, Housing for Health's chief medical officer, doesn't hold back as she speaks about what she sees as a collective shrug at the struggles of a population treated as disposable.
"One characteristic of civil society is that it respects and takes better care of its people as they get older, and we do that in a terrible way in this country," Behforouz said. "We don't have enough safety nets to catch people as they age who are socially and fiscally disenfranchised."
She said she is trying to launch three initiatives this year. The first would be to strengthen outreach teams that provide medical and social services to people in shelters and on the streets; the second, to provide long-term management to those who need it; and third, better palliative care and hospice services for older adults approaching the end of their lives.
Getting someone like Earlie King in a room, Behforouz said, doesn't mean the job is done because the goal is to help people thrive, not just survive.
King was a bit hesitant to take me to the alley he used to live in, but he feels he needs to face his fears and convince himself that life is behind him. He pointed out to me the spot in front of a red brick wall where he slept all those many nights, except when he was caught for drunk and misdemeanor and serving a prison sentence.
It all began, he said, when his wife died of a heart condition in her early 30s.
"It upset me," said King, who lost his job as a janitor, gave his kids away to relatives, and became another anonymous face who disappeared into the cracks of Skid Row.
A bad urinary tract infection brought him to the hospital late last year. When he recovered, he met Deffner's social worker and embarked on this new path that gives him hope but also frightens him.
King said he's thinking about the years lost and the kids who grew up without him. He'd like to get back into the picture, he told me, if that's even possible. But first he has to work on himself.
"I have to do what I have to do," he said.
Steve.lopez@latimes.com
https://www.latimes.com/california/story/2023-02-04/column-skid-row-is-the-largest-retirement-center-in-the-country Column: 'Skid row is the largest retirement center in the country'