Commissioner Brett Yormark says Big 12's expansion strategy is about 'going out west'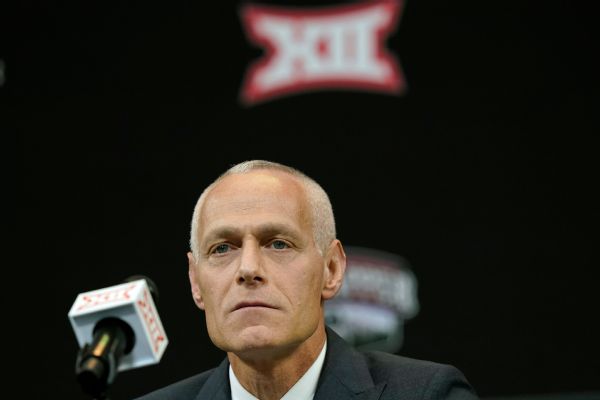 Big 12 Commissioner Brett Yormark isn't shy about his expansion strategy. He wants to go west.
On Wednesday, during a visit to future Big 12 member Cincinnati, Yormark told reporters that the league is interested in accepting members from the Pacific time zone. The new commissioner has taken a bold approach towards expansion, telling football media days: "The Big 12 is open for business."
"Obviously I'd like to go west and enter that fourth time zone," Yormark said Wednesday.
On the Big 12 wish list, he added, "A program that has national recognition, one that competes at the highest level in basketball and football, that stands for the right things, is a good cultural fit."
The Big 12's strategy of targeting potential Pac-12 members for expansion has created tensions between leagues, particularly after Pac-12 lost USC and UCLA to the Big Ten as of 2024.
Pac-12 Commissioner George Kliavkoff, when asked about Yormark's "Open for Business" comment at his league's football media day, replied, "I appreciate that. We haven't decided yet whether we're going to shop there or not."
Kliavkoff later added, "I spent four weeks defending myself against grenades thrown in from every corner of the Big 12 to destabilize our remaining conference."
The Pac-12 declined to comment on Yormark's comments Wednesday.
Both Pac-12 and Big 12 opted to expedite talks with ESPN and Fox over their media rights deals, which are scheduled to expire in 2024 and 2025, respectively. The Big 12's formal, exclusive negotiation window with both media partners was not scheduled to begin until February 2024.
Yormark said Wednesday he had "great meetings" with ESPN last week and will meet with Fox next week, adding that he senses the two are looking to start negotiations soon.
https://www.espn.com/college-sports/story/_/id/34544151/commissioner-brett-yormark-says-big-12-expansion-strategy-going-west Commissioner Brett Yormark says Big 12's expansion strategy is about 'going out west'