Coronation concert recap: Katy Perry rocks out as the gargantuan Quality Street in this bizarre musical confection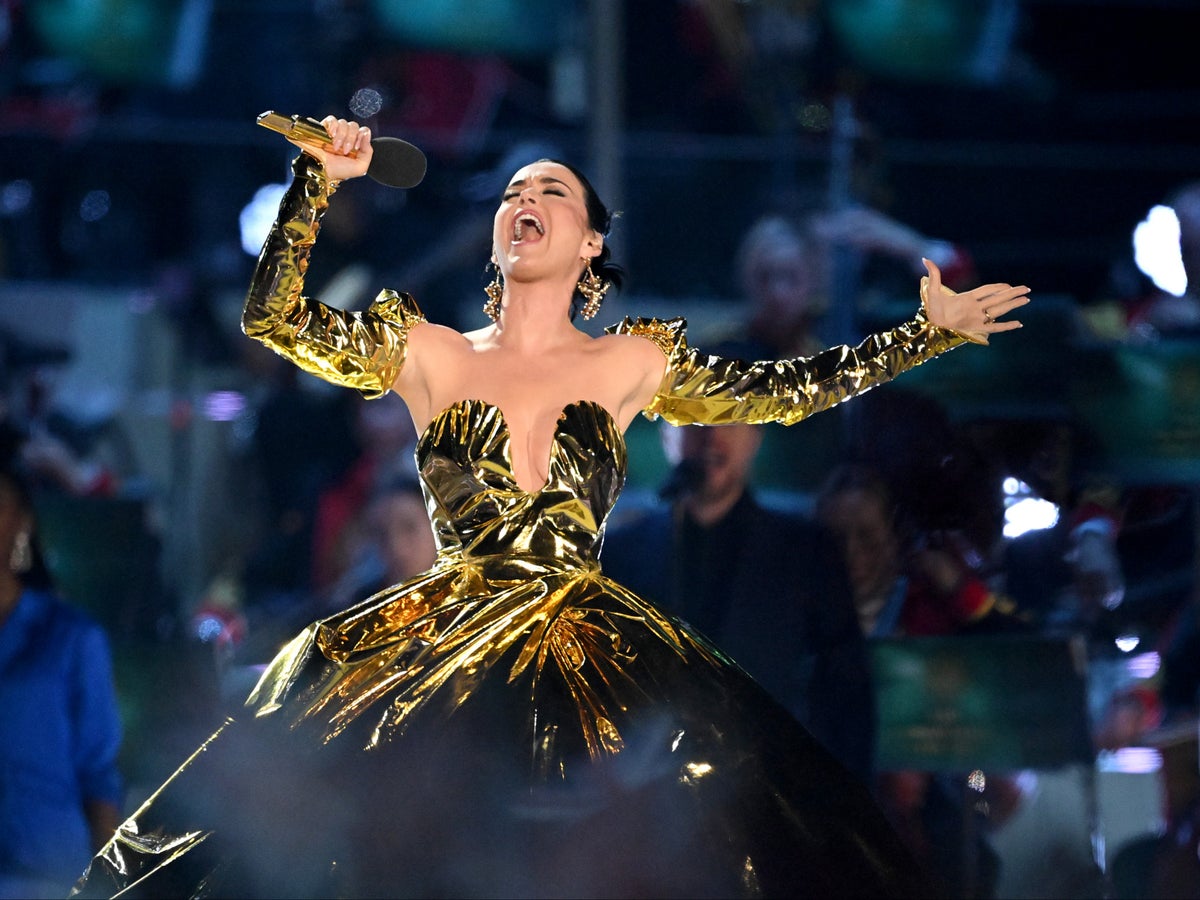 Royal music events are a special beast. Last years Platinum Party at the Palace was a multifaceted affair, with the lineup – George Ezra, Elton John, Rod Stewart – drawn seemingly at random from a "royal-friendly" vote. The coronation concert, the day after the coronation of King Charles III. and Queen Camilla at Westminster Abbey is very similar.
Of course, there were plenty of rumors that last night's reckoning at Windsor Castle was a hodgepodge of US pop, classical and dad rock because the organizers struggled to attract the true megastars. Among those reported to have turned down the event were Ed Sheeran, Adele, Elton John, Harry Styles and the Spice Girls. Oddly enough, Sheeran now steps in Katy Perry as a judge american idolbut his absence has more to do with that he only just got out of winning a major plagiarism lawsuit. Others, on the other hand, might have been less enthusiastic, as each star is limited to just one song. It's hard to imagine throwing Adele off the stage after a lonely "hello."
Instead, we have Olly Murs hopping up and down the purpose-built stage like a toddler who has eaten too much Haribo. Long long, by comparison, is dignified yet passionate as he plays a grand piano medley of classic movie soundtracks, including "Somewhere Over the Rainbow." He later introduces Nicole Scherzinger for her first live performance of "Reflection" from Disney's live-action remake of mulan. It's a truly mesmerizing moment, reminding us that Scherzinger is capable of incredible vocal gymnastics (even if weighed down by some very flashy diamonds).
Much like the Platinum Party, last night's event is a breathless rush of one inexplicably random performance after another. Tiwa Savage is introduced by our host, Hugh Bonneville, who sounds incredibly insecure and calls her the "Queen of Afrobeats". Any sense of dignity from the Downton Abbey Star is lost when the stage is crashed by Kermit the Frog and Miss Piggy, the latter torn between wanting to sit in the royal box and finding a member of the nobility to meet her can burn out.
A shaky one Lionel Richie croons "Easy Like Sunday Morning" (what else?) on the grand piano before someone recharges their batteries in time for a rendition of "All Night Long" that has everyone (including Charles and Cam) dancing. Prince William, who pays a poignant tribute to his father, almost gets away with a gag about not going on all night.
In a nod to King Charles' love of the arts, we also get a ballet and theater medley starring the lead roles Doctor Who's Ncuti Gatwa, who makes a wonderfully charismatic Romeo in a sparkling gold suit. Celebrities also randomly pop up on the big screen – Richard E Grant, Alan Titchmarsh, Hugh Jackman, Winnie the Pooh – to share their favorite things about our new monarch, from his passion for the environment to his love of painting.
Never one for subtlety, headliner Katy Perry shows up in a Quality Street wrapper belting out "Roar" under a CGI tiger head. Fellow headliners Richie and Take That just can't keep up, but they do their best. Take That rolls out at the very end, some of them looking oddly frail as they dance to the bland ballad "Greatest Day," made worse, if that were possible, by superstar DJ Calum Scott's tinny synth remix . Mark Owens, in particular, seems to be struggling to get the right notes, sounding more like the late Bernard Cribbins than a '90s boy band star.
There is absolutely no clear theme for the evening. Take That are suddenly devoured by a bevy of Katy Perry lookalikes, resplendent in their very own Quality Street covers. A giant whale of color-coded drones swims through the sky. Tom cruise offers Charles a spot as wingman. It sure isn't Glastonbury. But it was a lot of fun.