Counties cast rivalry aside and honour the life of Matt Dunn's daughter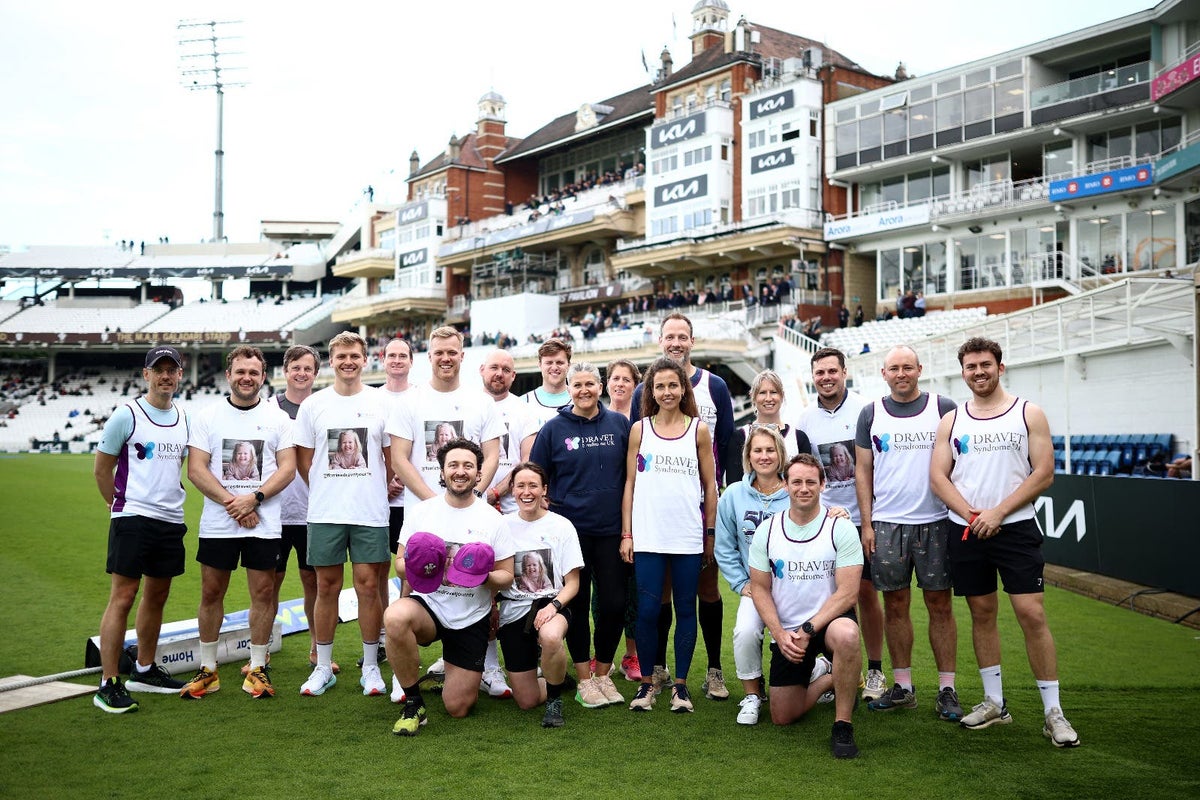 The cricket rivalry was thereby put aside surrey And Middlesex on Thursday to honor the life of the "incredible". Florence Dunn, the daughter of Matt Dunn, who died in March.
Surrey bowler Dunn led a team of runners from Lord's to the Kia Oval on day one of the LV= Insurance County Championship to raise funds for the charity Dravet Syndrome UK.
Dunn's daughter Florence was diagnosed with the rare and severe form of epilepsy when she was 11 months old and died earlier this year at the age of two.
Former England Lions seaman Dunn and his wife Jessica have decided to run 5km every day in May to raise funds and raise awareness of Dravet Syndrome in the UK. They are following the example of Regional Pride of Britain winner Tamara Ward, who created the Every Day in May for Dravet challenge.
The Division 1 game between the London rivals is dedicated to the charity. Both teams will wear special warm-up t-shirts with a picture of Florence, while commemorative caps have been autographed by each member of the Surrey and Middlesex starting line-up.
These will now be auctioned off and Dunn, along with his team of runners, received applause from the Kia Oval crowd as they took the field before play resumed at 3pm after completing the Lord's 5K before lunch was taken.
Dunn had a long hug with the Surrey captain Rory Burns and hugged Middlesex's Toby Roland-Jones, who is currently focusing on fundraising and raising awareness for a severe form of epilepsy, which affects one in 15,000 people in the UK.
"The awareness aspect is probably the biggest for us," Dunn told Surrey's YouTube channel.
"Because it's such a rare condition, nobody really knew anything about it, and even epilepsy in general is such uncharted territory," Dunn reflected.
"I myself knew very little before our trip with Florence. For me, it means shedding light on the daily struggles and challenges faced by people with Dravet Syndrome and epilepsy.
"It's one of those pretty lonely diseases and one of those diseases that you don't see in everyday life because the risk for people with epilepsy is too great to take on in everyday activities."
Life Because the Dunn family was turned upside down after Florence's diagnosis, spending much of her second year in the hospital after life-threatening seizures, despite new emergency medication having a transformative effect.
The medication meant that shortly after her second birthday, Florence could be treated immediately after a seizure at home and therefore recovered from it much more quickly, having previously suffered seizures lasting up to two hours during regular visits to Milton Keynes hospital.
Dunn added: "At two we finally got emergency medicine that we could safely use at home and it changed our lives for eight months.
"This meant that as soon as she started having a seizure at home, we could give it to her right away and we could stop the seizure within a minute or two. It was tremendous for her and her recovery time.
"It meant that in between periods of illness or periods when she was exhausted, we could go out there and do all the things that every kid should be doing. For eight months it really gave us a lifetime of joy and we saw a change in her."
The danger with Dravet syndrome and other forms of epilepsy is the risk of Sudden Unexpected Death from Epilepsy (SUDEP), which happened to Florence on March 11.
It broke the heart of the Dunn family, but after watching Florence repeatedly defy doctors' expectations by walking and talking, they were inspired by her strength.
"As a character, she was pretty incredible. She was a character who loved life," Dunn recalled.
"It showed throughout her time and even during the hospital stay. She woke up, standing right at the door of the ward, thinking, 'I'm better now, let's go home and get on with life.'
"It's really given me and my wife strength for what we're doing now, because despite all the barriers she's had her entire life, she has never once let them define her, and for me it's tremendous that." I now have this power."