Couture designs help raise money for Seattle Children's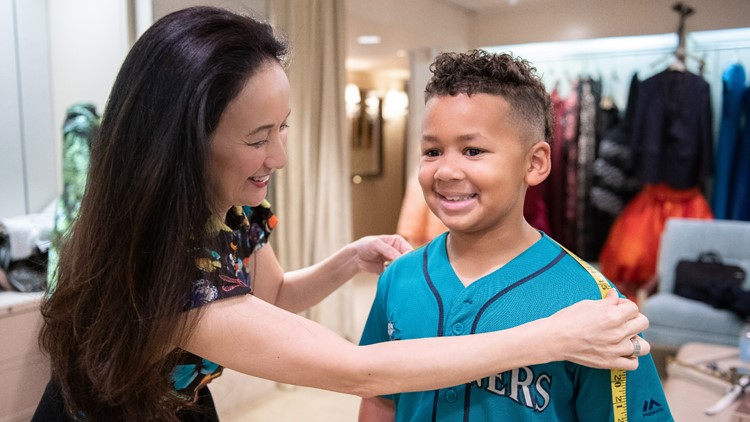 100% of proceeds from Luly Yang's annual couture collection event will be donated to the hospital. #k5evening
One of them is Isaac Williams, a 7-year-old cancer survivor.
His father, Dennis Williams, Jr., said: "Isaac was diagnosed with stage 4 neuroblastoma at the age of 17 months. He has a tumor in his abdomen the size of a nerf soccer ball," said his father, Dennis Williams, Jr. said. "Seattle Children's saved his life."
Five years later, he's fine — and looking fit, thanks to Yang.
Based on his favorite colors and fabrics, she designed him a one-of-a-kind three-piece suit. He'll be wearing it as he walks the runway during her September 30 fashion show.
"It's amazing," Williams said, grinning.
Yang has seen similar reactions over the years.
"That's why I really like custom pieces, couture and bespoke," says Yang. It can really do that magic."
For over a decade, Yang has invited young patients to join his program and donate proceeds from the event to Seattle Children's Hospital. She said it was deeply personal.
"Having been in business for over 20 years, I have quite a few clients and friends who have been touched by Seattle Children's Foundation," said Yang through tears. "I just think of all the faces – too many."
But there's also hope at Building Cure, the Seattle Children's Research Facility in downtown Seattle.
"There are so many different labs that are studying different types of pediatric patients," said Dr. "The aim and goal of everyone here is that every child with a disease like cancer can be treated safely and effectively, with minimal disruption to normal life."
Yang toured the so-called "Healing Factory" floor, where researchers are manufacturing new cellular immunotherapy products used to treat children with cancer.
Dr Annesley said: "Just to hear their voices how grateful and happy this is that this is available to them and it gives them a future, there are no words to describe how that can be. what does it mean?"
Yang hopes her donations will help fund important future patient needs. And her interactions with the families she designs also give them something immeasurable.
"I can't imagine what they've been through and to be able to create this memory of joy, beauty and celebration – that's the least I can do," Yang said.
Yang's 2023 couture collection is called "Made in Nature" and is inspired by biomimicry. Ticket starts at $150 and includes a pre-show cocktail party. 100% of proceeds will benefit Seattle Children's Hospital.
RELATED: From high-end dresses to Amazon driver uniforms, Seattle-based designer Luly Yang does it all