Craig Robinson will make you want to hug a shark in 'The Bad Guys'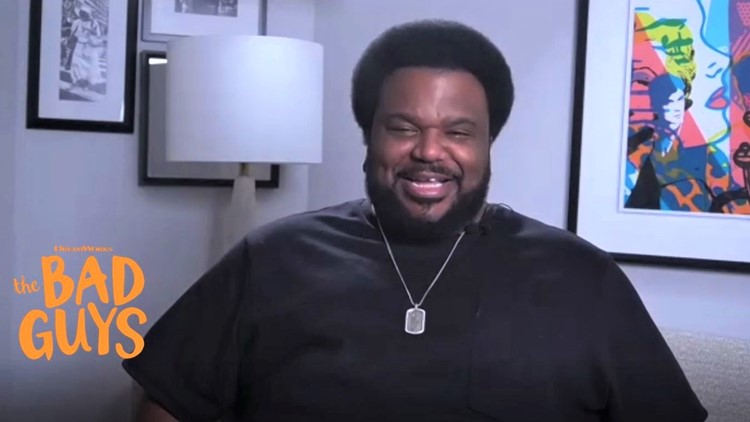 The new comedy from DreamWorks Animation hits theaters on April 22nd. #k5evening
SEATTLE — Known for his roles in 'The Office' and a variety of comedy films, Craig Robinson can now add 'great white shark' to his credits.
He voiced the character Mr. Shark in The Bad Guys, the new animated comedy from DreamWorks Animation and Universal Pictures.
Based on a best-selling children's book series, the film follows a gang of "scary" animals (including a wolf, a snake and a piranha) who must decide whether they are evil or good.
Entertainment reporter Kim Holcomb spoke to Robinson about the role.
HOLCOMB: "Can we now assume that Craig Robinson Week will take place instead of Shark Week?"
ROBINSON: "Let's go with it." (Laugh)
HOLCOMB: "You're going to be the nicest tall white guy they've ever featured on the channel."
ROBINSON: "He's a lovable character, I can say that much."
HOLCOMB: "I also love that he is described as a master of disguise. He just disappeared disguising himself as a woman, I had no idea it was him."
ROBINSON: "He's gone, you don't know it's him. That's his thing."
HOLCOMB: "If you go out in public, I imagine that you will often be recognized. Have you ever had those days where you're like, 'I can't. I just want to go to the store and buy orange juice.' Can you put on a hat and sunglasses and dress up to go out?"
ROBINSON: "It's hard, it's hard. I don't know it can happen. I'm saying that as humbly as I can – I think there's the aura there too."
ROBINSON: "If they don't recognize me, maybe I'm wearing a ski mask, who knows? They don't recognize me and still come closer to me."
HOLCOMB: "I know the vast majority of voice sessions have been remotely recorded during the pandemic. Be honest, did you do the same thing most of us do when checking the back of your co-stars' homes to see what they looked like? "
ROBINSON: "1,000%. But I mostly look at my own face, that's the weirdest thing. There's always something to fix where I am (gestures around hair and face.)"
HOLCOMB: "Mr. Shark, as I said, very sweet. Huge heart. But willing to fight literally to the death for a push pop. I'm curious, what food would you do the same for? Like me, a burrito, don't take mine." burrito."
ROBINSON: "Probably some cheese caramel popcorn from Garrett Chicago."
HOLCOMB: "Craig, thank you very much. Nice to see you."
ROBINSON: "Go say hello to the troll under the bridge."
HOLCOMB: "You have to come back here and play some clubs here again soon."
ROBINSON: "Absolutely. Bye Seattle."
The Bad Guys is rated PG and hits theaters on April 22nd. It is now available on Blu-Ray.
The evening of KING 5 celebrates the Northwest. Contact us: Facebook, TwitterInstagram, email.
https://www.king5.com/article/entertainment/television/programs/evening/craig-robinson-will-make-you-want-to-hug-a-shark-in-the-bad-guys/281-c5fb87cf-8e57-41a4-a2ca-a598cada5a0e Craig Robinson will make you want to hug a shark in 'The Bad Guys'