Creators of social media project say LGBTQ+ people should be able to be their whole self at work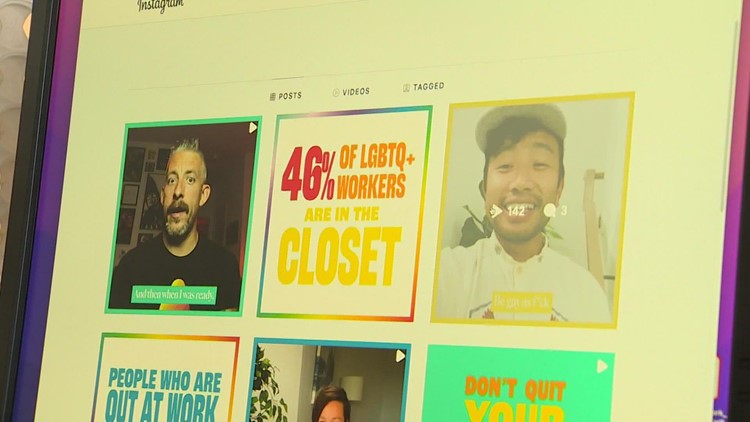 The account, dubbed Come Out To Work, asks the question: Are you "out" for your co-workers?
SEATTLE – Jessica Obrist's job description sounds about right from her job at Wongdoody advertising agency in Seattle.
"Sort of senior project manager, but I'm interested in changing processes and helping people change," she said.
Jessica was married to a man for 11 years before getting divorced and realizing things had changed. She wasn't straight.
Her family had already had a feeling, but she wasn't sure how everyone felt at work.
"I remember having concerns about changing the way I talk about myself," she says. "I think everyone goes through that. You live in that kind of fear. will they accept me Will they still treat me the same way?"
One day, when Jessica's new partner sent flowers to her workplace, she had this conversation with her co-workers, who accepted her without hesitation.
"I live a happier life because I know my peers have my back and I know my peers have my partner's back," she said.
>> Download KING 5's Roku and Amazon Fire apps to watch live newscasts and videos on demand
Recent polls have found that 46% of LGBTQ+ people are not "out" at work. Thirty percent faced discrimination at work. Almost 20% of those who have come out at work say they are happier there.
Hoping to foster a sense of community, Seattle advertising company DNA launched an Instagram campaign called "Come Out To Work."
It contains personal videos of people who have done just that – the positive and the negative.
"Everyone has their own story and every story is different," said DNA founder Alan Brown. "It was a joy for some. For some it was painful. One person was outed at work so it wasn't planned, but it turns out he was fine with it. The emotions run the gamut."
The campaign posts a new video every day. Contributions include Seattle author Dan Savage and the story of four-time Olympic gold medalist Daniel Kowalski, which is expected in the coming weeks.
Brown acknowledged that coming out at work is risky, but certainly worth considering.
"They should be able to come to work and contribute themselves," he said. "That's the idea. You should be considered an employee and a member of an organization based on the work and the output you produce."
Jessica, who describes herself as a "wild, fat, queer woman" in her Come Out To Work video, said she hopes her story will take a turn for the better.
"I am grateful to those who came before me," she said. "There needs to be more of us who are open, who use our privilege to allow other people to have the same joyful experience that I had. I think that's kind of the point of the campaign: if you take the risk, you'll be surprised."
https://www.king5.com/article/news/local/social-media-project-lgbtq-workplace-come-out-to-work-instagram/281-0938ce2e-5d92-4260-8681-8353ed6b4ea5 Creators of social media project say LGBTQ+ people should be able to be their whole self at work