Crews continue to battle cargo ship blaze that killed 2 New Jersey firefighters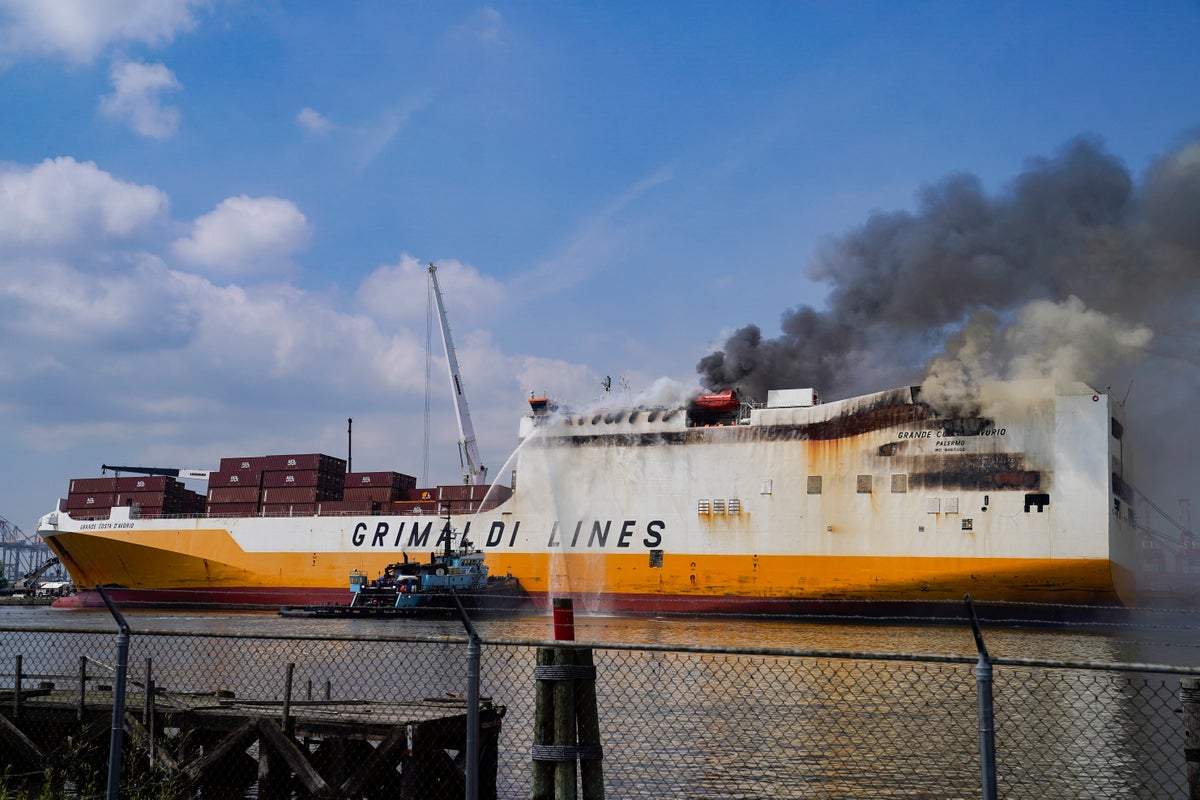 Firefighters continued to battle blazes smoldering inside a cargo ship at the East Coast's largest port on Saturday, days after the blaze killed two New Jersey firefighters and injured five others.
Newark firefighters Augusto "Augie" Acabou and Wayne "Bear" Brooks Jr. died in Wednesday night's fire aboard the Grande Costa d'Avorio, an Italian-flagged ship carrying thousands of vehicles and other goods, docked in the port of Newark lay.
The Coast Guard said Saturday that marine firefighting specialists were "actively conducting firefighting both on the pier and on the water."
Officials said firefighters, who arrived around 9:30 p.m. Wednesday, reported a fire in the stern of the ship at levels 10 through 12. About an hour later, an 911 call was made after a firefighter was trapped inside, and a second 911 call was made for another firefighter.
Acabou, a firefighter for more than nine years, was rescued from the ship before midnight and later taken to a hospital where he died Thursday morning. Brooks, a firefighter for more than 16 years, died early Thursday morning after being rescued. Gov. Phil Murphy ordered flags to be flown halfway up in honor of the two, whose friends and family commemorated Friday at a memorial service.
Officials said five other firefighters were injured, one suffered "steam burns from water pooling on the bottom of the cargo ship" and the other four – two from Newark and two from neighboring Elizabeth – suffered from heat exhaustion, smoke inhalation and shortness of breath. Public safety officials said all three Newark firefighters have been discharged from the hospital and the burn victim is in stable condition and has completed his recovery at home.
According to the authorities, an investigation to determine the cause of the fire cannot begin until the fire is extinguished. Officials said: "A salvage plan will be developed and implemented once the fire is extinguished and the ship has been found safe to move."
Authorities had said debris inside the ship was clogging the drain pipes, preventing the large amount of water that was dumped on it from draining, causing the ship to overturn. However, they said on Saturday that efforts to remove water – which included poking holes in the hull – had improved the situation. The ship is stable "with a slight tilt to the starboard side" and a one to two degree tilt would remain "to speed up the dewatering process," they said.
Officials also said Saturday that aerial surveillance revealed nothing "above usable levels." Aboard the cargo containers was mostly food, but the cars are "the bigger concern," the governor said. Grimaldi Deep Sea said there were no electric cars or dangerous cargo on board and no fuel spills were detected.
In 2020, aboard the USS Bonhomme Richard, a $1.2 billion Navy amphibious assault ship, burned in San Diego for nearly five days and the ship eventually had to be sunk.