Crews prepare roads, cold shelters in Pierce and King Counties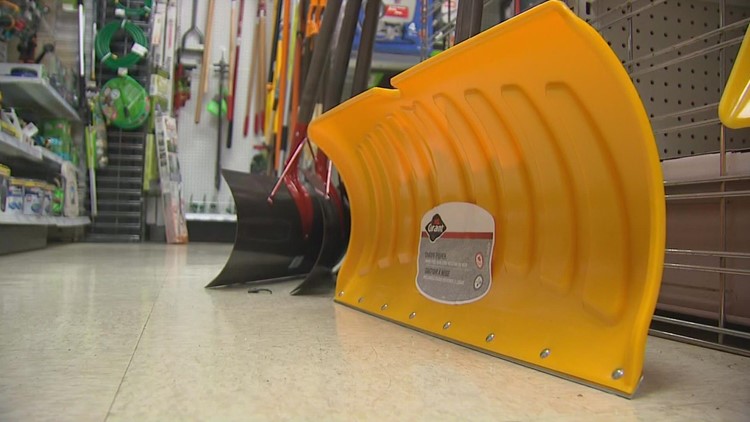 The National Weather Service has issued a Winter Storm Warning for King and parts of Pierce counties extending through Tuesday night.
SEATTLE — Agencies in King and Pierce counties are bracing for another snowfall Monday night.
Keith Jones, owner of AgriShop Ace Hardware, says he has everything residents need to get ready.
Jones has been running this hardware store in Tacoma for the past 12 years and has noticed that the area has been getting more snow lately.
"I live on a lake and it used to freeze and now I don't," he said. "But in the last few years, it's snowed heavily."
That's why he says it's important to be prepared.
Jones says that when it comes to this kind of weather, it's better to be proactive than reactive.
"An ounce of prevention is worth a pound of cure," he said. "When it's snowing on the ground, now you're running outside to get a shovel, and then the ice melts, if you have it on hand, it's easier to get out of the house and get what you need."
The National Weather Service has issued a Winter Weather Advisory for Pierce County extending through Tuesday night, with freezing temperatures and possible snowfall for the next two days.
Pierce County's Public Works & Planning Authority said its crews will patrol the main roads, with plows and salt available all night and tomorrow in the event of snow. People can visit the county website for weather updates and can also learn how to make emergency kits for their vehicles.
The Seattle Department of Transportation is also preparing for the storm on Monday.
"We are doing everything we can to be as prepared as possible," said Darren Morgan, of SDOT, which activated 24/7 operations on Sunday night. "We have 50 snow and ice units and more than 75 people working around the clock to help mitigate the impact of this winter weather."
Preparations for winter storms have been in the works for some time. Just last month, SDOT snow plow drivers took to the streets for a dry run to check their equipment and make sure they knew their route to prepare for a blizzard. SDOT plows more than 1,200 miles of roads connected to key transportation routes. It doesn't plow every road, but it will work to keep the main roads clear. SDOT officials recommend staying off the streets if possible.
"Use public transport whenever possible, avoid driving as much as possible, talk to your neighbors and be prepared to clean sidewalks and curbs around your neighborhood," says Morgan. .
The City of Tacoma is also preparing space for those who may not have a place to stay warm. Various heating centers have been activated and the Lighthouse Activity Center is open to people of all ages and will be open until Christmas Eve from 8:30am to 5:30pm. For a complete list of emergency weather shelters available in Pierce County, click here.
For a list of cold weather shelters in King County, click here.
https://www.king5.com/article/weather/pierce-king-counties-prepare-snow-low-temperatures/281-83044015-5821-4a20-8cd4-b55a788358a0 Crews prepare roads, cold shelters in Pierce and King Counties