Crews will start to pave over 'infamous bumps' on SB I-5 near Spokane Street in Seattle this weekend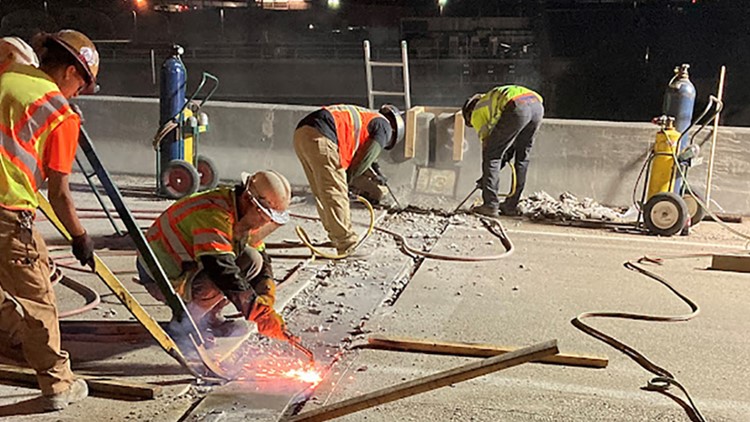 The paving will take place near Spokane Street, where new expansion joints will replace the old ones.
SEATTLE — Crews will begin paving the "infamous bumps" along a portion of southbound I-5 in Seattle as work to revitalize I-5 continues this weekend.
The paving will occur near Spokane Street, where new expansion joints will replace old ones that were placed about three-quarters of an inch below the new street's surface.
"We've been working on a fix since then and we're ready to go now," the Washington State Department of Transportation (WSDOT) said in a post.
It took a while to resolve the issue because, according to the WSDOT, funding had to be secured and the contract needed to find a subcontractor to carry out the work.
"This is the peak of the construction season, so many contractors already have other work to do," the post said. "The job market is very tight at the moment, so finding people to work was also a challenge. But we now have a schedule to smooth out those bumps while we replace expansion joints."
Over approximately four weekends, WSDOT will also replace expansion joints and extend lane reductions to rehabilitate the section of highway.
Work began on Friday at 7:30 p.m. and will continue until Monday, August 15, at 5 a.m. The crews will work on the left lanes.
Drivers should be prepared for the following:
All traffic uses the collector/distributor
The I-90 southbound ramps to I-5 will be closed except for two hours after stadium events
The express lanes will also remain northbound throughout the weekend as the southbound merge point is within the work zone
CLOCK: New HOV lanes on I-5 through Tacoma will be "monumental."
https://www.king5.com/article/traffic/traffic-news/weekend-revive-i5-work-seattle/281-a70c1206-bbe3-4207-8e69-d15a03969077 Crews will start to pave over 'infamous bumps' on SB I-5 near Spokane Street in Seattle this weekend