Dana White — Fight fixing 'a huge concern' for UFC amid investigations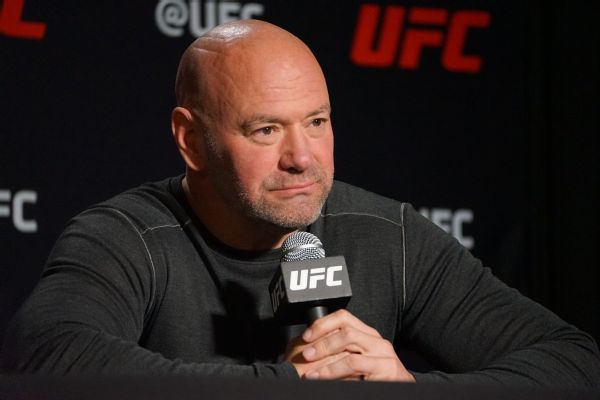 Fight fixation is now a "major concern" for the UFC as multiple investigations into suspicious betting activity surrounding a fight have been conducted over the past month, UFC President Dana White told ESPN.
A Nov. 5 UFC fight between Darrick Minner and Shayilan Nuerdanbieke is under scrutiny after a dramatic movement of the betting lines in the hours leading up to the event. The Nevada State Athletic Commission (NSAC) has suspended both Minner and his trainer James Krause, who ran an MMA betting discord page and podcast pending their investigation.
When asked by ESPN's Brett Okamoto in an interview Thursday if fight fixation was a problem, White said: "Huge concern. … Now that there's an investigation and it could be possible it happened, yes."
The FBI is gathering information and has spoken to people about the fight between Minner and Nuerdanbieke, multiple sources told ESPN. White declined to comment on possible FBI involvement.
"An investigation is ongoing," he said. "I can't talk about any of this stuff. It's crazy."
The UFC previously said it was cooperating "with multiple ongoing government investigations" into the fight.
Last week the promotion announced that any fighter who continues to train under Krause at Glory MMA in Missouri will be banned from participating in UFC events while the probes are ongoing. The UFC released Minner on December 2, the day it announced its sanctions against Krause.
Since the fight between Minner and Nuerdanbieke, the Canadian provinces of Ontario and Alberta have banned betting on UFC fights and the state of New Jersey has banned betting on fights involving Krause. Alberta Gaming, Liquor and Cannabis resumed UFC betting on Friday based on actions taken by the promotion against Krause and the investigation by the NSAC.
White said Ontario and Alberta "overreacted" when announcing the initial bans.
"Am I shocked that the Canadian government overreacted?" he said. "I'm not."
Several sportsbooks reported unusual betting interest that Nuerdanbieke wins by knockout in the first round and the fight lasts less than 2.5 rounds. The odds of the fight have changed dramatically in the hours leading up to the featherweight fight in Las Vegas, with Nuerdanbieke going from a -220 favorite to a -420 favorite.
Just 30 seconds into the fight, Minner threw a left kick at Nuerdanbieke's body and immediately grimaced and grabbed his left leg. Nuerdanbieke closed in and Minner launched another left body kick before Nuerdanbieke dropped Minner with a knee to his head, landing with his elbows on the ground. The TKO stop came at 1:07 of the first round.
The unusual betting action led to an investigation by US Integrity, a Las Vegas firm that works with sports betting and gaming regulators to monitor the betting market. The UFC also said it is investigating the fight with partner Don Best Sports.
On October 17, three weeks before the Minner vs. Nuerdanbieke fight, the UFC informed fighters and teams that fighters, coaches and other team members are prohibited from betting on future UFC fights.
"We were always telling fighters to stay away from gambling when all the gambling stuff started heating up," White said. "Do you know how stupid you have to be to do something like that?"
White called the situation "unfortunate" but said it "has happened in every sport."
"In every sport, someone thinks they're smarter than everyone else when they're actually the dumbest guy in the room," White said. "And you'll get caught – you'll get caught and you'll go to jail. It is what it is. If you are so dumb and willing to take that risk for money. Ruin your life for money. We can tell people until we're blue in the face. Same as steroids, performance enhancing drugs. 'Don't do it, USADA is testing, you'll get caught.' But that's a whole other level. … If you're that dumb, have fun in prison.
White previously said on Nov. 11 that there was "absolutely no evidence that anyone involved in this bet on the fight."
"There were some indications that something was wrong, but there is absolutely no proof of it [anybody] did something wrong," White said.
https://www.espn.com/mma/story/_/id/35221179/dana-white-fight-fixing-huge-concern-ufc-amid-investigations Dana White — Fight fixing 'a huge concern' for UFC amid investigations