Daniil Medvedev warns a player could die in US Open heat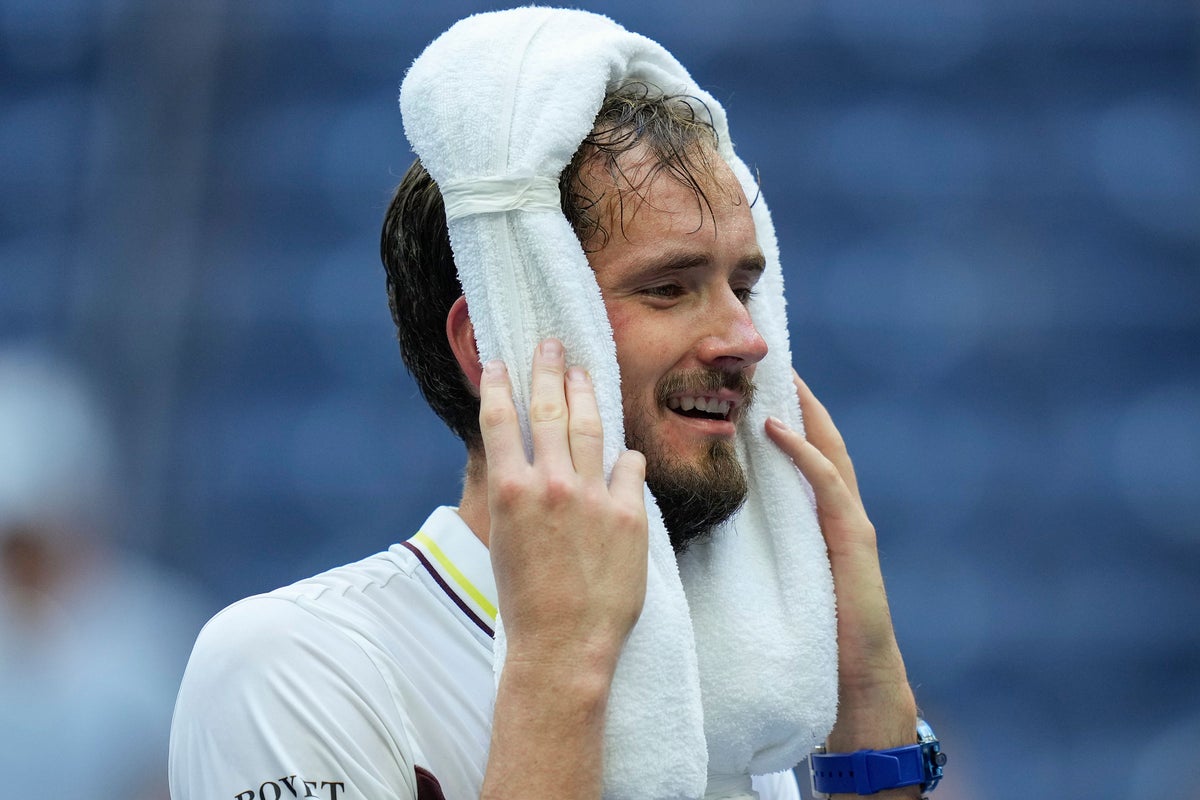 Daniil Medvedev warned a player could die in the 90 degree heat at the US Open.
Medvedev needed medical attention and an inhaler as he struggled in the hot and humid conditions before beating fellow countryman Andrey Rublev.
Arthur Ashe Stadium's roof was partially closed to protect the players from the sun's rays, but both had visibly decayed during the two-hour and 48-minute battle.
As Medvedev went to his towel at the end of the third set, he said to a TV camera: "A player will die and they will see it."
After his 6-4, 6-3, 6-4 quarterfinal win, the 2021 champions recalled an incident earlier this summer when Chinese player Wu Yibing collapsed during a game in Washington.
He said: "I could talk a lot, brutal conditions for both of us."
"I don't know if you could see it through the camera because we sweat so much and use a lot of towels.
"I have no skin here on my nose, and here it's red, but it's not because of the sun, so it's not like you have a burn, but I have no skin."
He continued, "I just saw Andrey in the dressing room and his face is very red and that's not because of the sun either so I think it's the same." That says it all like we left it all out there .
"The thing is, even if it went further, I think we'd be leaving even more. Then I don't think I had anything left, but if the game went on I would find some more.
"And the only thing that's a bit, let's call it dangerous, is how far could we go? Maybe we could do five sets and it would be … if I say fine, yeah we would fight a little bit the next day and it would be fine, or we have one person in Wu who fell."
Medvedev said he felt shaky as he tried to recover from the game.
"I'm doing reasonably well now. I'm just pretty exhausted. Let's say yeah I did a few interviews here and there right away and it was tough.
"I was there with an ice sheet. Everything was foggy as if I couldn't see clearly. Because the game is over and the adrenaline is gone.
"So I was a little shaky. Then I get into the dressing room and that's the hardest part because you just want to sit there for hours. But you know it's not a good recovery if you do."
He continued, "So I sat there for like 10, 15 minutes and did a quick ice bath. Changed. I went out to eat. But had, I don't know how to call it in English, when the level of sugar in the blood rises, the level of sugar rises. I started sweating, my head started spinning.
"I said to my team, please bring me something to eat. I sat there sweating like hell even though the air conditioner was on and they brought some food and then I felt better. Yes, that's how it is sometimes."
Rublev, who has now lost nine out of nine quarter-final Grand Slams matches, said: "I don't even think about my health.
"I don't know. In those moments, those moments, I think I have to fight. No matter how, it's tough.
"I mean, the sport is not easy. And you have to be prepared for anything that can happen."