Dante Moore sacked 7 times in Utah's victory over UCLA
SALT LAKE CITY –
Knowing that he would face moments like this, Dante Moore prepared as best he could for the possibility of being whipped.
"Nothing is going to be great, nothing is going to be perfect," the UCLA freshman said earlier this week when asked about his biggest challenge as a college quarterback, "so a lot of ups and downs."
The lows started immediately.
As a metaphor for Saturday afternoon at boisterous Rice-Eccles Stadium, Moore threw his first pass into the hands of an opposing linebacker, who returned the interception for a touchdown.
Utah took the lead just 12 seconds into the game and never gave it back. The No. 11 Utes earned a 14-7 victory that showed just how far Moore and the No. 22 Bruins have to go to compete in the Pac-12 Conference.
Moore provided some late drama by driving the Bruins 91 yards in nine plays. He converted on fourth down before connecting with Josiah Norwood on a 17-yard touchdown pass with 3 minutes, 39 seconds left to cut the deficit in half.
UCLA's strong defense was quickly stopped and the Bruins got the ball back at their own 18-yard line with 3:14 left. But Moore was sacked on the next two plays, backing his team up to the one-yard line. He completed an 11-yard pass to Logan Loya to escape the shadow of the goal line.
But on fourth down, Utah's relentless defense closed in around him for the seventh and final sack of the day.
It was a predictably inconsistent performance from Moore, who also lost a fumble inside Utah's 10-yard line and suffered from a series of issues that resulted in the flimsiest offensive performance of the Chip Kelly era.
There were questionable play calling, dropped passes and poor offensive line play, all of which contributed to limiting Moore's effectiveness while also leading to a sluggish running game. UCLA averaged just 0.3 yards per carry, largely due to heavy sacks, while managing nine yards on the ground.
Carson Steele started as a running back and gained 29 yards on 11 carries. Backup TJ Harden gained 31 yards on 11 carries and made his difficult day worse by dropping a deep pass on third down early in the fourth quarter.
Even a stout defense that held Utah to 222 yards of offense couldn't overcome the Bruins' inability to move the ball against the two-time defending Pac-12 champions. UCLA (3-1 overall, 0-1 Pac-12) managed 243 yards of offense and appeared to be in danger of being shut out before the late touchdown for the first time since its infamous 50-0 loss to USC in 2011.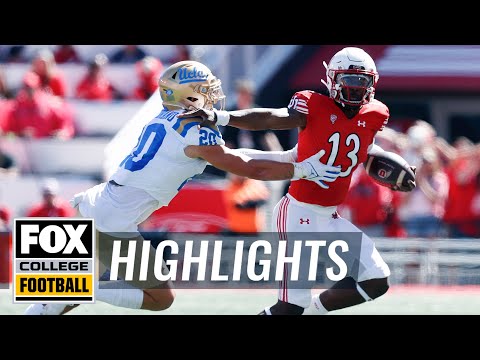 Moore was under pressure from the start and completed 15 of 35 passes for 234 yards. His stats suffered from several dips, including a touchdown that slipped through Norwood's hands in the first quarter. Utah's constant pressure prevented him from finding any sustainable rhythm.
Shortly after Moore completed a 41-yard pass to J. Michael Sturdivant late in the third quarter, the Bruins reached the Utah 12-yard line with the help of a targeted call against the Utes. But on third-and-six, Moore ran away and had the ball stripped away. Utah's Tao Johnson recovered at the nine-yard line, ending the threat.
It was a painfully long afternoon for the Bruins after Utah linebacker Karene Reid literally jumped on Moore's first pass, recognized the route and jumped in mid-air to snag the ball. Reid ran the interception back 21 yards for a touchdown and put his hands to his ears as he ran into the end zone in front of a sellout crowd of 52,919 who cheered in recognition.
The Utes (4-0, 1-0) had their own issues on offense without quarterback Cam Rising, who took part in warmups for the first time this season but was unable to play. Quarterback Nate Johnson proved slippery early on before the Bruins finally began to take him down in the backfield with some regularity.
In his most impressive performance as a Bruin, linebacker Kain Medrano forced a fumble on one sack and dragged Johnson to the ground, resulting in a nine-yard loss on another. Johnson almost went down for a safety late in the third quarter when he had a fumble and was barely able to find his way out of the end zone.
But he did just enough. A well-designed play with Johnson rolling out gave him the time he needed to find tight end Landen King for a seven-yard touchdown pass that doubled Utah's lead.
The Utes were on their way to their fourth straight win over the Bruins on their home field while also giving Moore a harsh lesson about how cruel the college game can be for a young player.