Dartmouth football coach Buddy Teevens has leg amputated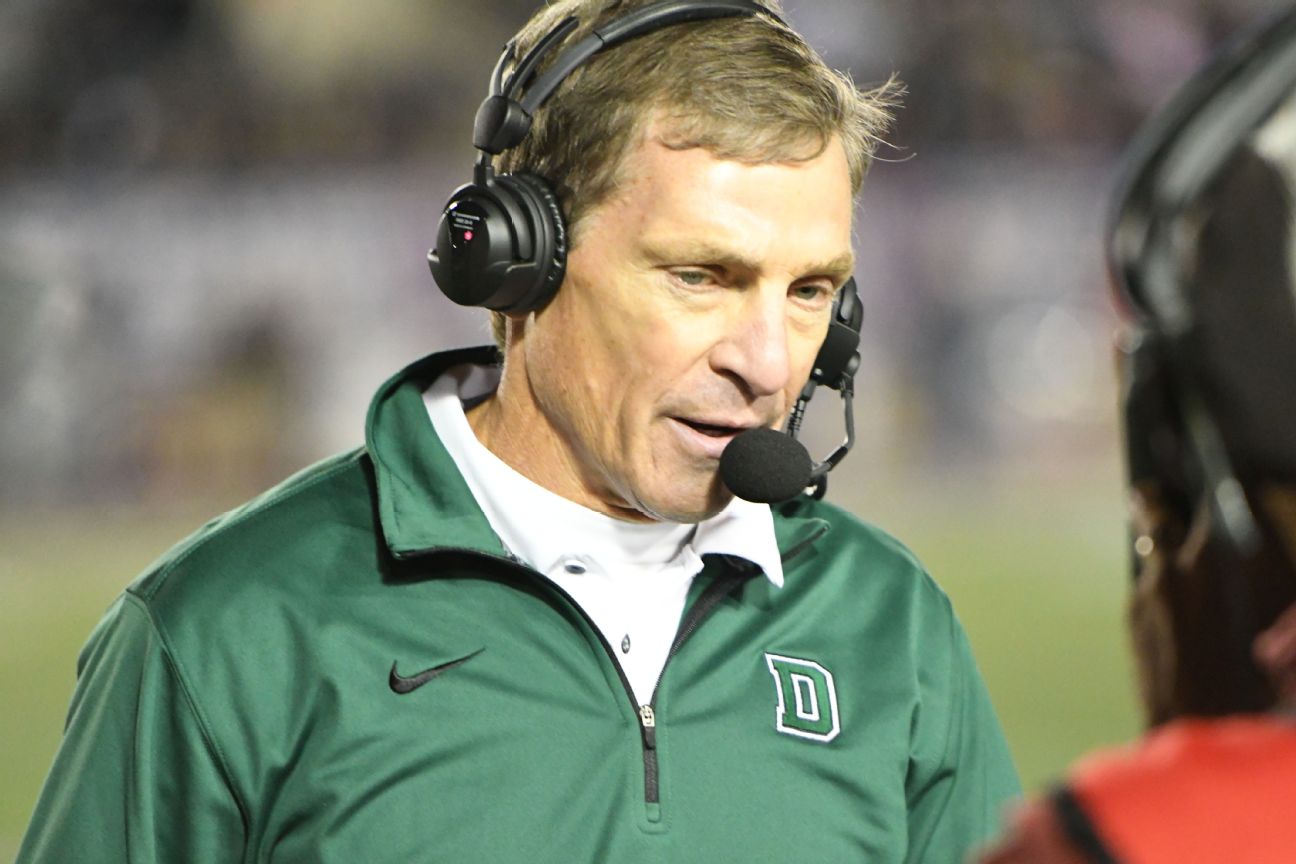 Dartmouth football coach Buddy Teevens had his right leg amputated and suffered spinal cord injuries after his bike was hit by a pickup truck traveling 50mph last month, his wife announced Tuesday night.
"We want to thank everyone for the incredible love and support for Buddy," his wife Kirsten said in a statement provided by the university. "It was just amazing and we are so grateful. As Buddy navigates through the healing of his injuries, he experiences many positive improvements. Unfortunately, as a result of the accident, Buddy's right leg was amputated due to the severity of the injury."
Teevens, 66, was hit by a truck at 8:40 p.m. on March 20 as he and his wife were riding their bikes home from a restaurant in St. Augustine, Fla., according to a Florida Highway Patrol report, Extant in the Valley News of Lebanon, New Hampshire.
According to Valley News, the FHP report said Teevens, not wearing a helmet, was attempting to cross the A1A state highway when he was struck by a truck driver traveling at 50 mph. The report also said the bike had "no illuminated lights" and that the accident "did not occur at a crosswalk or designated crossing area."
"He is alert and communicating with us and is ready for transfer to a top-notch rehabilitation facility to continue healing," his wife added. "Spinal cord injuries are a challenge, and if anyone rises to the challenge, it's Buddy. We appreciate your continued respect for our privacy as we navigate this ongoing process of recovery as a family."
Teevens, who played quarterback for Dartmouth and coached the program in two stints for 23 seasons, has a 117-101-2 record with the big green, including 3-7 last season. During that span, he has won or shared five Ivy League conference titles.
After leaving Dartmouth in 1991, he held head coaching jobs at Tulane and Stanford before returning to the Big Green in 2005. Teevens has also trained in Maine and has a career record of 151-178-2.
Teevens, an advocate for implementing measures to reduce head injuries in football, has led Dartmouth to remove live tackling in training since 2010 to reduce the risk of concussions. Known as the "Dartmouth Way", traditional tackling dummies and robotic "moving" dummies developed at Dartmouth Engineering School are used to practice tackling.
Assistant head coach Sammy McCorkle, who coached the defensive secondary and special teams, had been named acting head coach for spring training in Teeven's absence. Spring training concludes with the annual green-white scramble on May 6th.
The Associated Press contributed to this report.