David Moyes concerned for family after trouble mars West Ham victory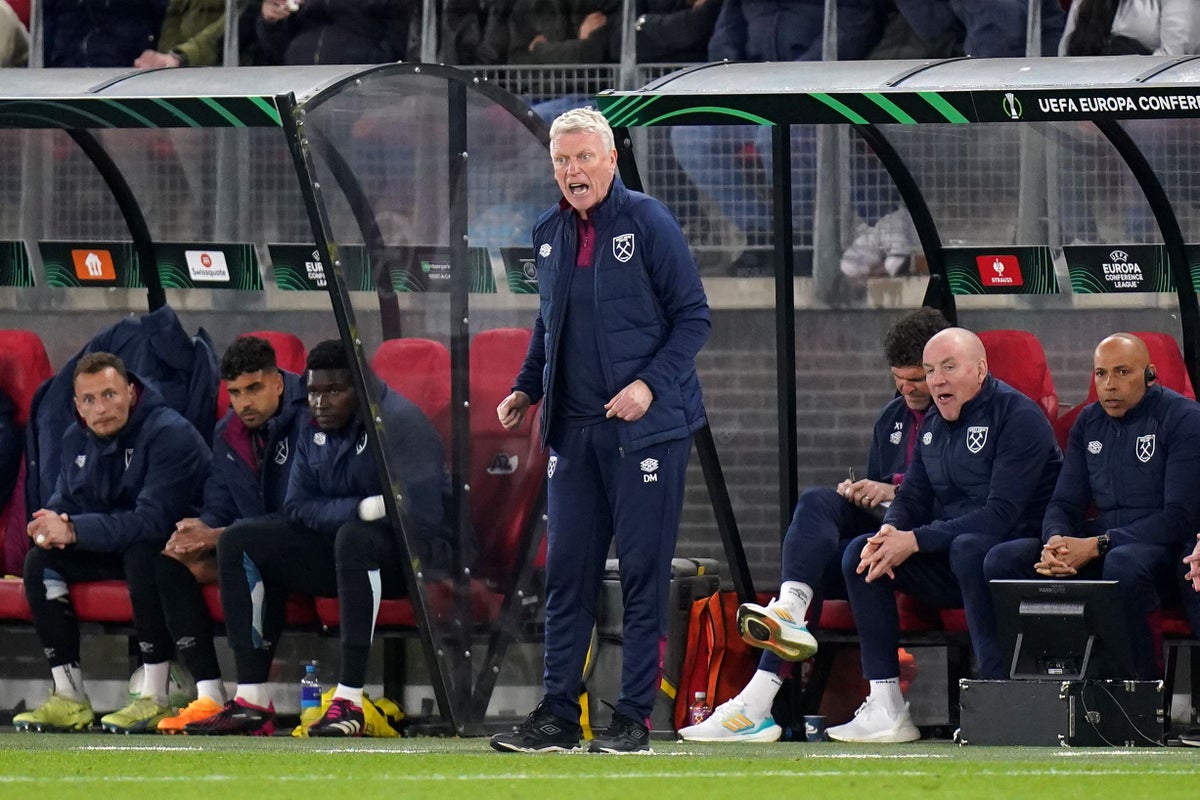 David Moyes worried for members of his family after AZ Alkmaar fans attempted to attack some of West Ham's supporters following their Europa Conference League semi-final win in the Netherlands.
Pablo Fornals' added-time winner prompted a group of black-shirted and hooded AZ Ultras to attempt to charge into the area reserved for friends and family behind the dugout.
Players like Michail Antonio, Said Benrahma, Aaron Creswell and Flynn Downes climbed over the billboards to stop the trouble.
Moyes, whose 87-year-old father David Snr was at the game, said: "I can't explain what happened and why it happened.
"All I can say is that the players were involved because it was the family area and most of their family and friends were there. That was probably the reason for the reaction.
"Was I worried? Yes, my family was there and I had friends in that section. They hope they would try to get away from it.
"I didn't realize it because I had walked onto the pitch. Security wanted to get me in, but I had to make sure my players weren't involved.
"What we absolutely don't want is to spoil the evening in any way because it certainly wasn't the West Ham fans looking for trouble. Hopefully they will take care of that."
Hammers goalkeeper Alphonse Areola added: "When families or friends come to the stadium, we don't want to see that. They want to enjoy the event and we want to enjoy it with them too. We worried about her."
During last week's first leg at the London Stadium, a confrontation broke out between family members of AZ players and West Ham fans.
AZ boss Pascal Jansen said: "What happened last week was very unfortunate and then you have the same feeling as tonight."
"I'm a little ashamed that this happened at our stadium, but you have to keep your emotions under control."
The incident overshadowed West Ham as they reached a European final for the first time in 47 years and were just one game away from their first trophy since the 1980 FA Cup.
A year earlier, West Ham had lost the ball at the same stage of the Europa League and were eliminated at Eintracht Frankfurt after Creswell was sent off and Moyes fired a ball at a ball boy.
But this time West Ham kept their composure and no ball children were harmed as they won 3-1 on aggregate and met Fiorentina in Prague on 7 June.
Despite the less illustrious opposition, it was no easy task. AZ have a phenomenal home record in Europe, unbeaten in their last 25 games and losing just once to an English side here – Moyes' Everton in 2007, ending a 32-game unbeaten run.
West Ham's 2-1 lead from the first leg always looked paltry, especially when AZ striker Jesper Karlsson's shot was deflected just a minute from time.
But West Ham kept their nerve and were rewarded for their disciplined performance as substitute Fornals sped through and scored the winner.
"I'm very happy to reach a European final," added Moyes. "Last year we came close. Maybe you shouldn't be too surprised. We've won 13 and drawn one in this competition and now we have to make one more try to see if we can win it. We've done a really good job in Europe this season and we're excited.
"The lockerroom? "Intoxication" is the word I would use. I don't want to give too much away but it was great. It's something you don't experience too often as a player and manager in your career, so we're going to enjoy it."