Days before Iowa building collapsed, engineers warned it could crumble
Four days before part of an Iowa apartment building collapsed, an engineering firm warned it appeared to be in danger of collapsing.
Select Structural Engineering said in a letter dated May 24th that large pieces of brick "appear to be about to collapse" and recommendations were made for repairs "to prevent the entire facade of the building from collapsing if the floor area(s) come loose".
Engineers also warned that "the brick facade is unlikely to remain in place, but can be demolished in a safe and controlled manner."
City officials said Thursday they did not order residents to evict because they relied on assurances from the engineering team that the building was safe.
The 116-year-old building in Davenport partially collapsed over the weekend and three people are still missing, police said Thursday.
They have been identified as Branden Colvin, Ryan Hitchcock and Daniel Prien (60).
Police said this week that five people were missing but two of them have been found: one moved out a month ago and was in Texas, the other in Davenport.
Davenport Police Chief Jeffery Bladel said there was a "high probability" that the three missing people were at home when part of the building collapsed and that they were in "this collapsed room."
"All the information we've been given is that space is not sustainable for life," he said.
Mayor Mike Matson said there is no timeline for the demolition as officials are working with experts to find a way to demolish the building safely while also recognizing it as a "resting place."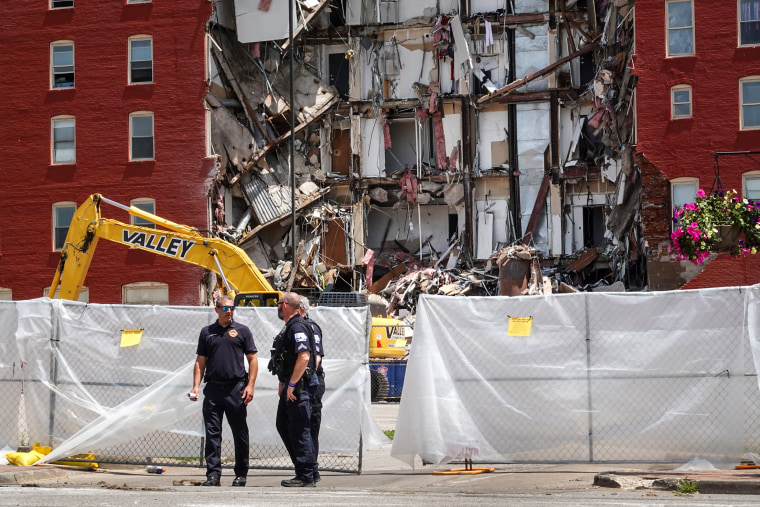 Ryan Shaffer, co-owner of RA Masonry, said he repeatedly warned the builders of that building, as well as the building's owner, about the dangers there.
RA Masonry submitted a bid for work on the building, but it was turned down, Shaffer said, but he pursued the project.
He said he warned workers there on Saturday, a day before the full collapse, after seeing inner layers of bricks – not just outer bricks – fall off.
"This is the main structure of the building. When that falls, it's on," Shaffer said. "So on Saturday I turned to the workers and said, 'You guys have to go.' It will fall.'"
Documents show that the city has interacted with the building and owner over 100 times over the past three years
The city released a series of documents and permits Wednesday night that reveal a number of tenant grievances and issues at 324 Main St.
When asked by reporters at a news conference Thursday why the building wasn't closed despite a myriad of problems, city officials replied that the collapse was "a new thing for our city" and that they trusted a May report by a city-contracted engineering firm Property owner who deemed the structure safe.
Here are the most damning revelations in the released documents:
From 2020 to 2023, there were 145 interactions between the city and the property and its owner, Andrew Wold.
Interactions have included inspections and documented tenant complaints ranging from water leaking through the ceiling to faulty plumbing to months of no heating, overflowing trash and increasing cracks in the walls.
From 2020 to 2023, five "eviction letters" were issued to various housing units for "poor conditions" and after multiple inspections found the issues had not been addressed.
Fire Marshal Jim Morris said in a March 13 letter that an inspection found several fire-hazard issues, including faulty emergency lights, improperly functioning fire doors and outdated smoke detectors. The letter stated, "The lack of responsiveness of this property is unacceptable."
There were also several indications that city order inspectors were not allowed into the building.
The building was declared a disturbance in May 2022 due to multiple waste management violations. Wold was fined $4,500 after failing to appear in court. The Associated Press reported.
A Feb. 2 city announcement said an on-site inspection revealed issues that needed immediate attention. It said that "part of the southwest wall is beginning to fail," adding, "It can be seen that this load-bearing outer wall is crumbling under the support beam." It also said the outer brick facing had come loose, causing rain and ice accumulated and caused "further damage". It stated that "emergency evacuation orders will be posted on the building if the defective masonry area is not secured in accordance with this letter."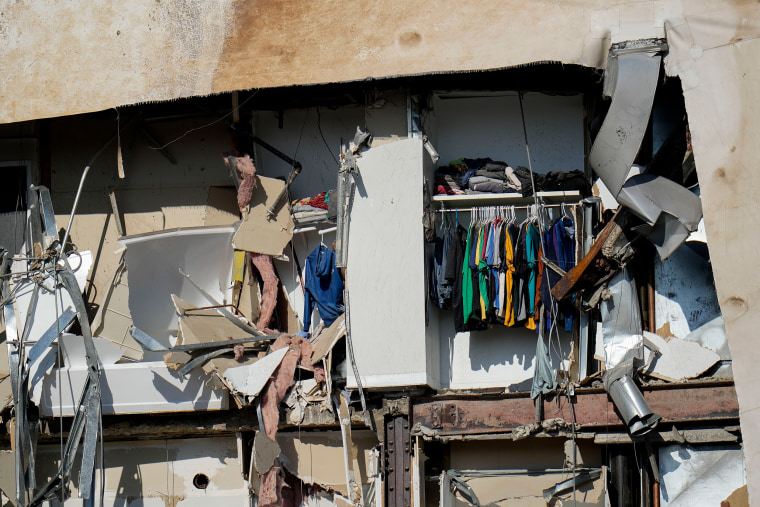 Property owner quoted
An indictment was filed against Wold in Scott County Court on Tuesday for failing to keep the building in a safe and sanitary condition. The city asked for a $300 fine plus court fees.
"The City of Davenport requests that the court prohibit the defendant from committing further violations of the provisions of the city statute," the statement read.
Prosecutor Tom Warner said the subpoena was filed to prevent Wold from transferring the property and thereby avoiding the demolition order.
A court date is scheduled for June 9th.
There was outrage and frustration at the city's handling of the building and the aftermath of the collapse.
Former and new tenants of the historic home said they had complained to management for years about cracks in the walls, plumbing problems and lack of heating and air conditioning – but were consistently ignored.
When asked Thursday whether the city should have vacated the building to prevent such a disaster, Mayor Matson simply replied, "I have the same anger and concern."
Wold, who bought the property in June 2021, made his first public comment since the collapse on Tuesday.
"Our thoughts and prayers are with our tenants and families at this difficult time," read a statement signed by Wold and the Village Property Management team.
"We have been working closely with the American Red Cross and other agencies to assist evicted tenants affected by this event. We are eternally grateful to them for their support for our tenants," the brief statement said.