Dead bodies line the streets amid fighting in Sudan; American confirmed among fatalities
NEW YORK – Bodies lined the streets of the Sudanese capital Khartoum as intense fighting between the Sudanese military and rapid support forces continued for the sixth day. The fighting has left thousands in Khartoum and across the country seeking shelter with limited food, electricity and water while an all-out war rages in the streets.
At least 330 people have been killed and 3,200 injured in the fighting so far, according to the World Health Organization, but those numbers are likely an "underestimate of the true impact of the crisis," said WHO regional director for the Eastern Mediterranean, Ahmed Al-Mandhari told a news conference on Thursday .
A US citizen was among the dead in the ongoing conflict in Sudan, a State Department spokesman said on Thursday.
A third of Sudan's health facilities are out of order, WHO representative in Sudan Nima Saeed Abid said on Thursday.
"20 hospitals have been forced to close due to attacks or lack of resources, and another eight health facilities are at risk of closure due to staff exhaustion or shortage of medical staff and supplies," Al-Mandhari said.
Since the fighting began, nine hospitals have been hit by artillery and 19 have been forced to evacuate, the Sudanese doctors' union said on Thursday. Several aid organizations said they had received reports from workers on the ground who were being attacked and targeted.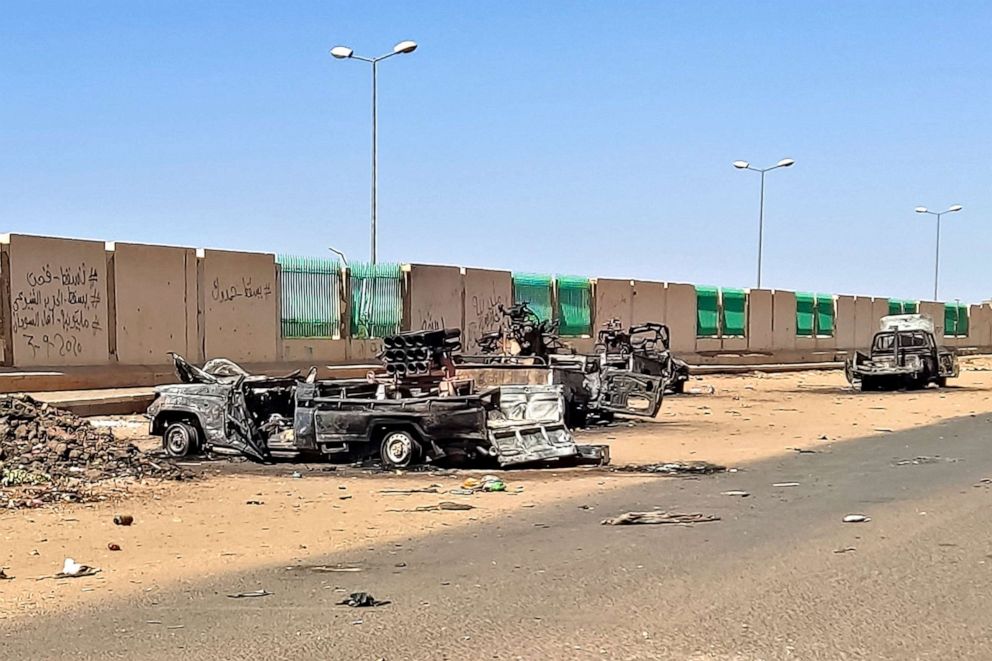 Two unsuccessful ceasefires called earlier this week left the injured and those in need stranded with no resources in place. The ceasefires were called to allow injured people access to hospitals and aid organizations to provide needed assistance, but calm did not return to the capital or other parts of the country.
UN Secretary-General Antonio Guterres on Thursday called for a three-day ceasefire during Eid al-Fitr celebrations "to allow citizens trapped in conflict zones to escape and receive medical treatment."
The cessation of hostilities must be followed by "serious dialogue that will enable a successful transition, beginning with the appointment of a civilian government," Guterres said.
"The fighting must stop immediately," he added.
The head of Sudan's Transitional Council of Sovereignty, Army Commander Abdel Fattah Al-Burhan, said in a TV interview with Al-Jazeera on Thursday there was "no room" for talks with the Rapid Support Forces after Guterres called for a three-day ceasefire.
In the capital, residents saw bodies from both sides of the conflict lining the streets.
"There were dead bodies all over the ground on a main street in Al-Taif and on West Street outside Khartoum," Hadeel Mohamed, a resident of Khartoum's Al-Taif district, told ABC News.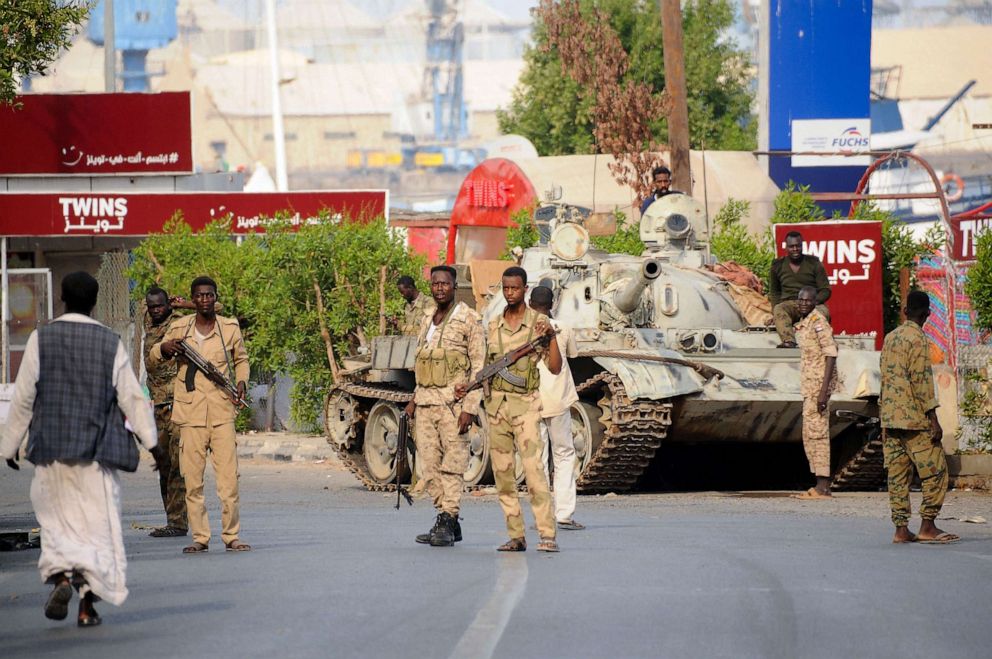 Al-Taif is about five miles from the main battlefront around military headquarters in Khartoum. Mohamed fled to her family's home on the outskirts of the capital on Wednesday.
"Everyone stayed at home. No one could move," Mohamed said of the situation in Khartoum. "Nobody dared to move. We had food supplies, but people who ran out of supplies went out to try and find stores to get food."
Mohamed and Mosdalefa, a resident of the Jabra district in western Khartoum, said most shops and banks are closed in the capital, making it difficult for residents venturing for more supplies to find anything.
"I went to the grocery store today and didn't find most of the things I needed," Mosdalefa told ABC News. "The shopkeeper said the suppliers had stopped delivering dairy, chicken and other products since Saturday due to the poor security situation."
At least nine children have been killed and more than 50 children injured in Khartoum, UNICEF Executive Director Catherine Russell said in a statement Thursday.
The fighting has "already disrupted life-saving care for an estimated 50,000 severely acutely malnourished children," Russell said.
The UN World Food Program estimated in a statement released Thursday that the conflict "has the potential to plunge millions more into hunger." The UN WFP was "forced" to temporarily suspend operations in Sudan because of the fighting.
For people brave enough to walk amidst the fighting, there is an option to walk or drive. The airspace over Sudan is closed.
An estimated 10,000 to 20,000 refugees have arrived in Chad over the past two days fleeing the conflict in Sudan, the UN High Commissioner for Refugees said in a news release on Thursday.
"The majority of those arriving are women and children who are currently sheltering outdoors," UNHCR said in the press release.
Meanwhile, the fighting continues with no sign of abating.
Mohamed described the fighting in the capital as "militias fighting each other" because "the military acts like a militia," she said.
"There was no truce," Mohamed said. "They both never stopped shooting."