Deadly downtown Seattle beating shown in new surveillance video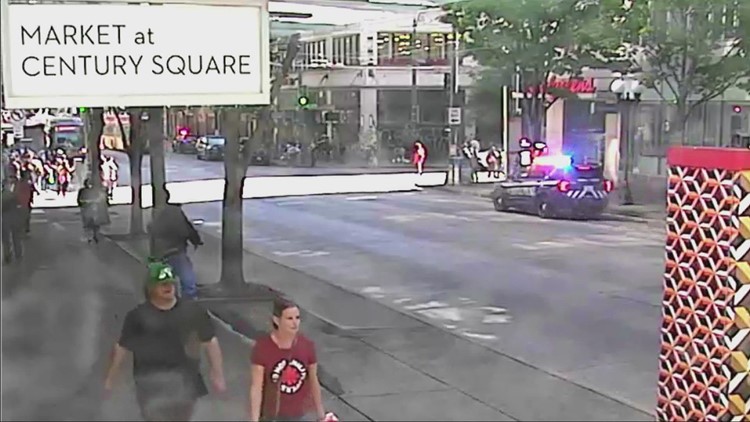 The suspect in this case is being held in custody and charged with murder.
SEATTLE — New surveillance video shows a violent random attack in downtown Seattle on Aug. 2 that ended in the death of a 66-year-old man.
In the video, Aaron Fulk, 48, and the 66-year-old man can first be seen talking to each other. Fulk then appears to take out a metal bar and swings it at the man.
Fulk is arrested a short time later.
According to the indictment, a Seattle police officer was traveling east on Pike Street in a squad car around 3 p.m. on Aug. 2 when she heard the 66-year-old man yell, "Help me, help me."
The officer saw Fulk raise a 3-foot-4-inch metal pull-up bar down over his head to hit the victim, court documents said. The officer said the victim fell to the ground "motionless" as the suspect hit the side of the victim's head.
The attack happened on a busy street "in front of a Seattle Police Department officer and several witnesses," court documents detail.
According to police, the victim was unarmed and needed a walker to get around. He was 5ft 6 tall and weighed about 120 pounds, according to the King County Attorney's Office.
Rescue workers arrived to tend the victim, who regained a pulse minutes after the attack but remained unconscious. Court documents say the victim was in "severe" condition at Harborview Medical Center," but an SPD blotter said he died of his injuries.
Officials at the scene said Fulk showed no remorse for the attack and told medics, "He's crippled now, isn't he?" Fulk reportedly said. "If I have to go to jail for this. I will," signaling his intent to kill him when he said, "I'll kill him a million times over."
Fulk told officers he hit the older man because "he was doing the devil's work."
Fulk is charged with first-degree murder. He remains in the King County Jail, where he is being held on $2.5 million bail. His next court appearance is on September 8th.
https://www.king5.com/article/news/local/seattle/surveillance-video-deadly-seattle-beating/281-ad147f92-cb44-4f1c-8fd0-c796b5dcf5c7 Deadly downtown Seattle beating shown in new surveillance video