Decathlete Trey Hardee's mental health struggles began after celebrated career ended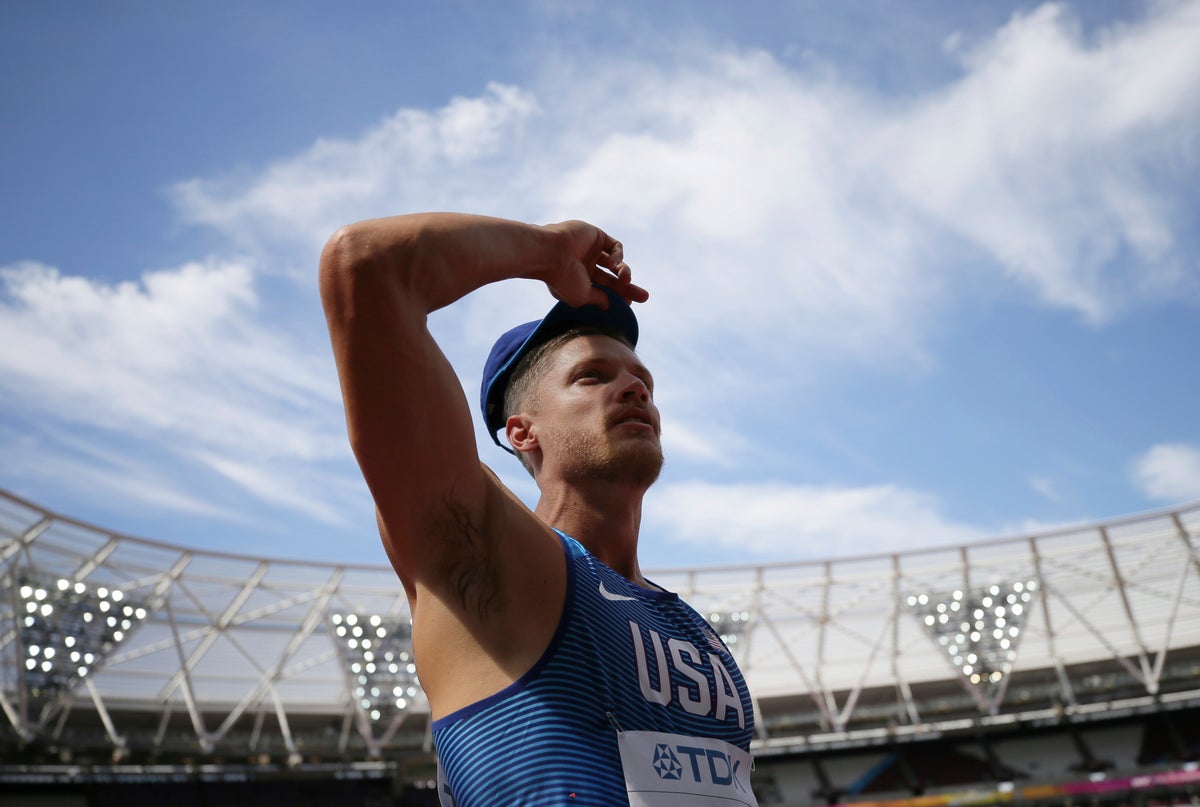 A year ago, Trey Hardee found himself alone in a hotel room and hit rock bottom.
The father of three, a two-time world champion and Olympic silver medalist in the decathlon, struggled with the realities of life after a successful athletics career and considered ending his life.
"I read my journal entry from that night," the 39-year-old said in phone interviews with The Associated Press this summer from Austin, Texas, where he lives. "I don't know who that was."
His darkest moment came in July 2022 at last year's World Championships in Oregon as he prepared for another day in his role as TV analyst. At this year's World Championships, which begin in Hungary on Saturday, Hardee will be behind the mic again, but much calmer, and he hopes his story could serve as a cautionary tale to the hundreds of athletes struggling with their mental health .
"I took counsel and found a way to mature in the relationship I had with him," he said of his 14-year decathlon competitive career, which ended in 2017.
Hardee's story is not unknown to world-class athletes retiring. Often they don't know what to do next. In Hardee's case, these questions were compounded by something he wasn't aware of in the days, weeks, and even years after his retirement was officially announced: In his rush to transition to "normal life," he had forgotten to give his career the right framework The farewell was deserved.
"I've never grieved the loss the way one might grieve the loss of a loved one," Hardee said. "Without that process, without doing any of this, it was like a wound and an illness for me that just went untreated for five years. I spent the entire third, fourth and fifth year after retirement really struggling, really ashamed and not knowing why. I was ashamed to be ashamed."
Telling the world about it, even years later, is a relatively new phenomenon among elite athletes. For decades, so many feared that disclosing concerns about their mental well-being would be taken as a sign of weakness—to opponents, coaches, and the people who decide who plays on Olympic teams.
The COVID-19 pandemic and the havoc it wreaked on the lives of many Olympic athletes played a huge role in changing that dynamic. Simone Biles, Noah Lyles and Sha'Carri Richardson are among the top athletes whose mental health has transformed their careers. All were not afraid to acknowledge their reality.
"It's okay not to be okay," was the mantra shared by Biles and others after the gymnast shockingly retired from the all-around team at the Tokyo Olympics two years ago.
Hardee said the recent death of Olympic gold medalist Tori Bowie hit her particularly hard. The 32-year-old sprint champion, who died at home alone of complications from childbirth in April, had a history of mental health issues – her bipolar disorder was listed in her autopsy report. Hardee knew Bowie from the same teams and spoke to her at photo shoots.
"It's just a heavy, heavy sadness," Hardee said.
Jess Bartley, director of mental health at the US Olympic and Paralympic Committee, said despite some clear changes in public opinion, there is still a "huge stigma" attached to mental health.
She said one of her department's most important responsibilities is to help athletes navigate their retirement, both before and after they say goodbye.
"There's a lot of information and research out there that in the back of your mind you might actually be worried about retirement," she said. "So why shouldn't you consider retiring? After you retire, why not think about how your skills are transferrable?
By the time he was in his early 30s and had one child – he and his wife Chelsea had two more – Hardee believed he was on the road to success after retiring from athletics.
He found new roles and new goals—as a family man, NBC track commentator, and high-performance coach. He felt he had turned the page so effortlessly.
Maybe too effortless.
Hardee admits he had a hard time voicing his concerns. It was difficult to let anyone in – not his wife, who could have brought her own insights as a retired world-class pole vaulter, or his friends, some of whom were also pursuing similar career paths as elite athletes.
Hardee said that in retirement he did not seek any of the mental health services made increasingly available through the US Olympic and Paralympic Committees and US Athletics, both of which have played a role in his training over the years.
"You don't know what you don't know," he said of the benefits of the later consultation that he took advantage of.
"You can plan and plan and plan, but unless you've spoken to a professional and really just been working on yourself – and this isn't about a job, this isn't about having a back-up plan, it's not going to work for a safety net. This is about your soul and your consciousness."
Now, a year after his darkest moment, things look and feel different in the Hardee household.
Some of the images and memorabilia that were hidden in closets or dusty corners so they wouldn't evoke memories of the career he wanted to leave behind resurface. One of his favorite pictures – of him throwing a discus – now has a prime spot near the piano.
For one of the world's most talented athletes, a man who had to master not one, but ten different disciplines to become a two-time world champion, the simple act of bringing some memories of his career back to the fore has been one of his most consequential challenges breakthroughs.
"It took a while, but I got back on my feet," said Hardee, who also spoke about mental health issues with former NFL offensive lineman Joe Hawley on a podcast called Life Beyond The Game.
"And then when I got back on my feet, I found my balance again. And then, once I regained my balance, I began to look up. And after I started looking up, I started climbing out. I'm in a place right now where my head is over the edge of the well or cave and I'm breathing fresh air again.
"I can see the sun," he said. "I can see life."
___
AP Sport: