Declan Rice cheered in Arsenal debut as Gunners thump MLS All-Stars 5-0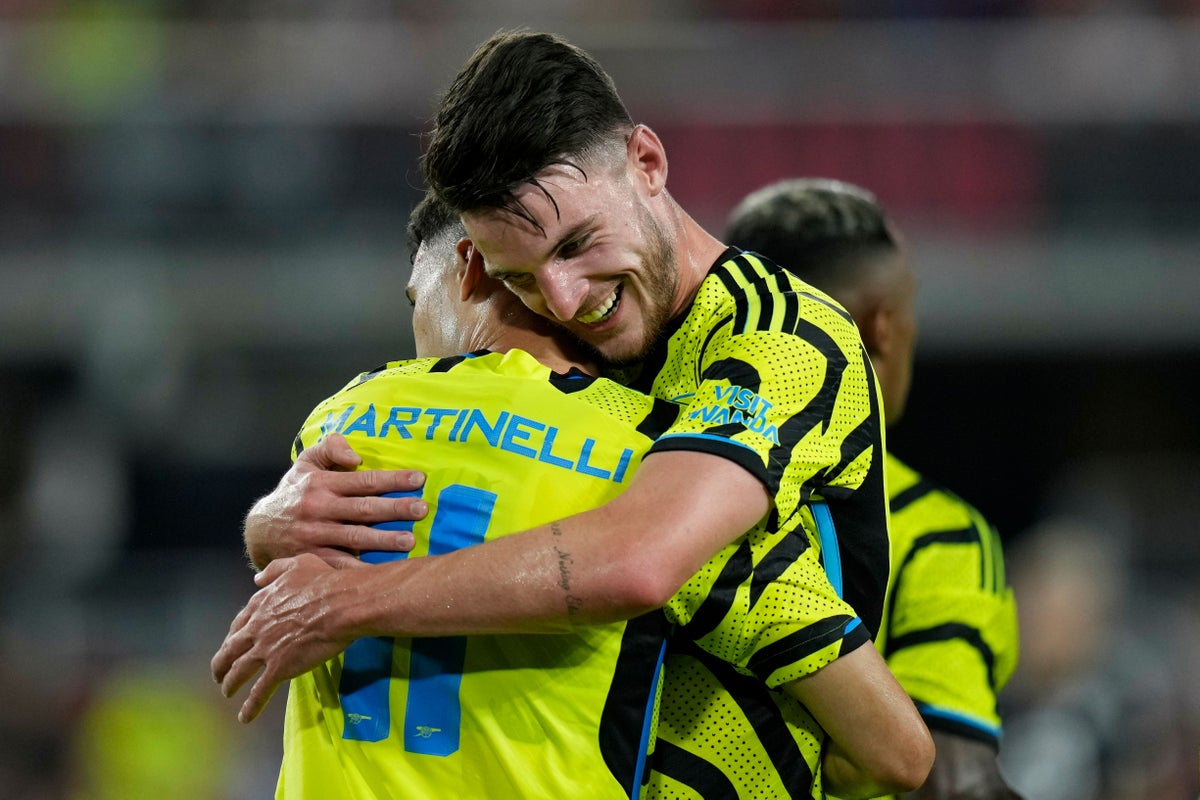 High-profile signing Declan Rice made his Arsenal debut as his new side opened their US tour with a comprehensive win over Wayne Rooney's MLS All-Stars.
The 24-year-old midfielder completed his £105million move from West Ham on Saturday and made his departure just four days later 3,660 miles from the Emirates Stadium.
Rice came on as a second-half substitute in Washington DC as Arsenal beat the Rooney-managed MLS All-Stars 5-0 in muggy temperatures.
Gabriel Jesus' bold shot gave the Gunners an early lead, which Leandro Trossard converted with a shot from the edge of the box.
Jorginho's penalty, a fine finish from Gabriel Martinelli and Kai Havertz's first goal in an Arsenal shirt completed the win on a night which saw newcomers Jurrien Timber and Rice making their first appearances for the club.
There was a strong Arsenal line-up at Audi Field, where director Josh Kroenke received a warm round of applause before Manchester United and England star Rooney was mocked.
The Gunners fans in attendance only had to wait five minutes before celebrating a magical moment.
The All-Stars seemed to have stopped a dangerous attack, only for Jesus to parry a loose ball with a bold shot from the edge of the box that rolled past the far post.
Rooney's side responded with determination but failed to free the visitors, who increased their lead midway through the first half.
Bukayo Saka was sent back down the right flank and passed to Trossard, who veered away from his man and fired in a powerful right-footed shot from 22 yards out.
Arsenal's top scorers nearly scored a third shortly after, but Jesus could only head Trossard's long cross into the side netting.
The impressive Trossard fired a free-kick just wide before the opening period, which somehow saw five yellow cards, came to an end.
Just seconds after the restart, a handball from Tim Parker gave Arsenal a chance to score a third goal.
Jorginho scored the resulting penalty and the Gunners are hoping Trossard's limping away in the 55th minute avoided any major problems.
Referee Ted Unkel did not award another penalty for Arsenal despite being advised by VAR to review a decision, but instead instructed the visitors to make their planned substitutions.
Timber came out for his first performance and Rice received the biggest cheers.
Arsenal continued to control the game and Martinelli scored coolly in the 84th minute after being put in place by a superb Martin Odegaard pass.
Havertz completed the one-sided victory when he controlled and completed from close range in the 89th minute.