Delivery man stays with lost boy walking around Olympia gas station, helps him reunite with his mom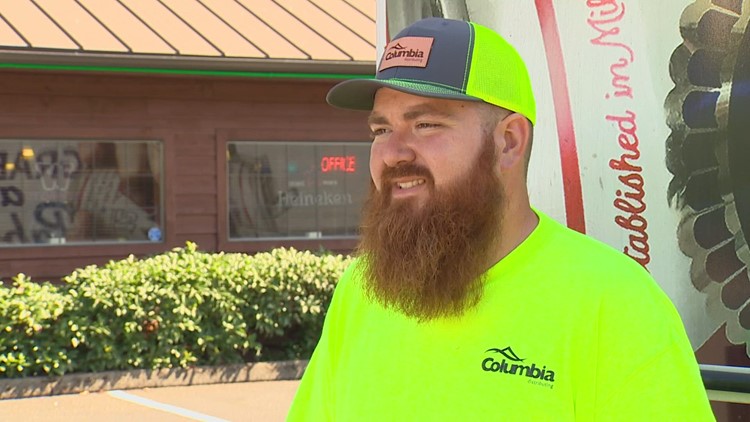 The 5-year-old boy left the family's apartment and went to a nearby gas station. Phillip Jackson was with him until he was reunited with his mother.
OLYMPIA, Wash. — Phillip Jackson delivers hundreds of cases of beer and wine to businesses around Thurston County.
Wednesday, he helped deliver a lost 5-year-old to the boy's mother.
"There's definitely something wrong," Jackson said.
He said that around 6 a.m. Wednesday, he was delivering groceries to a store west of Olympia Texaco when he noticed a young boy walking into the convenience store alone.
"I noticed he wasn't wearing shoes or a shirt," Jackson said, "The next thing I knew, he grabbed a bag of M&Ms and ran out the door. So I immediately called 911, not because it was stolen, but because it was small and there were no adults around."
Two minutes earlier, the boy's mother had also called 911 to report her son missing.
"He can't talk and has autism, he's only five years old," the mother told the dispatcher.
Jackson followed the boy back to the parking lot of an apartment complex near Texaco.
For a moment, the mother saw her son in the parking lot.
She is still on the phone with the dispatcher.
"I caught him, I caught him, I caught him, I caught him, I caught him," she is heard saying in the 911 recording.
Jackson said the mother was grateful and the boy was not harmed.
Jackson credits his actions to the training he recently received at his agency, Columbia Distributing.
Earlier this year, the company required all of its 3,000 employees to undergo training on how to spot victims of sex trafficking or children in trouble, according to its Director of Learning and Development Nick Bade. .
He said the company was overjoyed to learn Jackson had seen something strange and had taken action.
"I'm so proud of you being able to see the results, yes, of the training we did," says Bade, "Now that something like this happens, you'd think, ' Oh, perfect, they did exactly what they needed to do.'"
Jackson said he was glad he could help. He offered to pay for the M&M candy but said the Texaco owner wouldn't let him.
Watch playlist of KING 5 top stories: