Denny Hamlin wins at Kansas; Chastain, Gragson tussle on pit road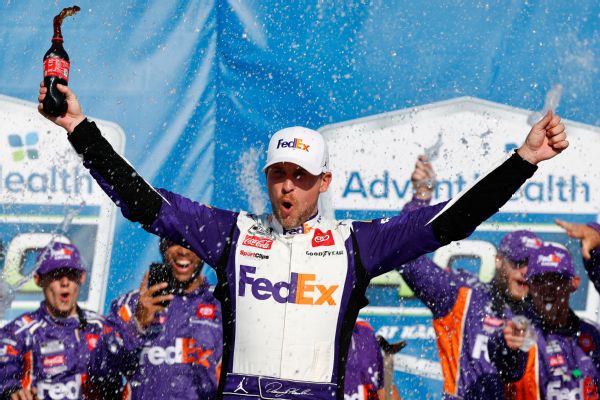 KANSAS CITY, Kan. — Denny Hamlin had left victory lane after winning a thrilling NASCAR Cup Series duel against Kyle Larson with a last-lap pass at Kansas Speedway on Sunday, just in time to hear his crew chief, Chris Gabehart, make a bold proclamation .
"He's the most talented racing driver in the world," said Gabehart.
Awkward because Gabehart did not speak of his own driver.
"Tell you what he thinks of me," Hamlin said with a crooked grin.
Gabehart talked about Larson leading the closing laps on a hot day in the heartland. But this time Hamlin was better. He spent about 30 laps chasing Larson before making a few failed attempts to take the lead in the final few laps. As Hamlin finally headed for the backstretch on the final stretch, he pulled alongside Larson and made the slightest contact, hitting the outside wall and giving Hamlin a clear path to the finish line.
The win ended a 33-race winless drought for Hamlin dating back to last year's Coca-Cola 600. And along with Hamlin's fourth record win in Kansas, it gave Joe Gibbs Racing their 400th overall win in NASCAR's top series.
"I was sideways. He was sideways. I knew it was going to be close if he could clear me," Hamlin said. "I sanded his left side and tried to keep the lateral pull as much as possible. It's such a super sensitive part and I ended up hooking it in."
Hamlin said he plans to talk to Larson about the target at some point.
"I was really easy going," Larson said. "He was finally able to get my inside of two. It seemed like he was aggressively pulling me aside. I don't know if he ended up turning me sideways, but he turned me into the outside wall and he won."
So what does Gabehart think of his own driver?
"I'm so proud that I think Denny is the most talented racer in the world," he said.
Larson was second and William Byron, two laps down for more than 50 laps in the middle part of the race, rallied to join his Hendrick Motorsports teammate in the top three. Bubba Wallace, who won the fall race in Kansas, was fourth while Ross Chastain rounded out the top five before pitlane spirits soared.
Chastain, who has drawn the ire of many drivers this season with his aggressiveness on track, found himself in another heated confrontation on Sunday. He had run into Noah Gragson with about 60 laps to go and sent him out for a spin and Gragson then went to the Trackhouse Racing driver to vent his displeasure.
Gragson placed his hands on Chastain, who responded with a sweeping right hook that seemed to connect. Gragson attempted to return the punch, but he was pulled away by security and NASCAR officials.
"I'm sick of it," Gragson said of Chastain's driving style. "The guy meets everyone. When you have guys like Chase Elliott and other guys telling you to slap his ass, everyone just gets fed up with him."
Chastain accepted some blame for the spin but didn't have much to say about the shot.
"I'm definitely close to four," Chastain said. "Noah and I have a very similar attitude on the track. We train together, we prepare together, we know every bit of each other. I definitely beat him out of four."
Kyle Busch had railed against Chastain over the radio before falling out of the race on a restart. After that, Busch appeared to be targeting the performance of the next-gen car, which he felt made it too difficult to overtake.
"Not racing like I used to," he said after dropping an on-air explosive sound. "You're faster than a guy, you run over him three tenths a lap and stop when you get there. Part of that is the car. They can aerolock you, pinch you, burn your tires, and do anything else to hold their position and then be passed from behind. Very frustrating."