Denver Nuggets, Kentavious Caldwell-Pope agree to 2-year, $30 million contract extension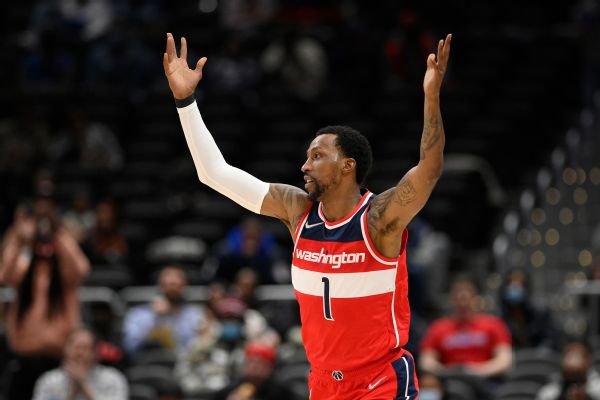 Denver Nuggets guard Kentavious Caldwell-Pope has agreed to a two-year, $30 million extension, his agent, Klutch Sports CEO Rich Paul, told ESPN on Wednesday night.
The deal, which begins with the 2023-24 season, includes a player option, Paul said.
Caldwell-Pope had entered the final year of his contract, which will net him $14 million. The guaranteed money in the deal will take Caldwell-Pope's career earnings to $120 million.
Caldwell-Pope, 29, joined the Nuggets in a trade with the Washington Wizards two weeks ago and is expected to be a key 3-and-D performer to join MVP Nikola Jokic, Jamal Murray and Michael Porter Jr.
Caldwell-Pope is expected to benefit from Jokic's great passing ability. He's a 41% catch-and-shoot 3-point shooter over the past two years and ranks in the top 10 out of 59 players who attempt 500 of those shots, according to ESPN Stats & Information Research.
Caldwell-Pope shot 44.8% at open 3-pointers with Washington last season, which put him in the top 10 players with 150 tries, according to ESPN Stats & Information.
Nuggets general manager Calvin Booth acquired Caldwell-Pope in the trade that sent Will Barton and Monte Morris to Washington. In Caldwell-Pope's first full season with the Wizards, he started in 77 games, averaging 13.2 points, 3.4 rebounds and 1.9 assists per game.
In his career — including stints with the Detroit Pistons and Los Angeles Lakers — Caldwell-Pope has averaged 11.6 points, 3.1 rebounds and 1.7 assists per game.
https://www.espn.com/nba/story/_/id/34240221/denver-nuggets-kentavious-caldwell-pope-agree-2-year-30-million-contract-extension Denver Nuggets, Kentavious Caldwell-Pope agree to 2-year, $30 million contract extension